Banff Playwrights Lab 2022
Performing Arts - Theatre | In Person
Program Information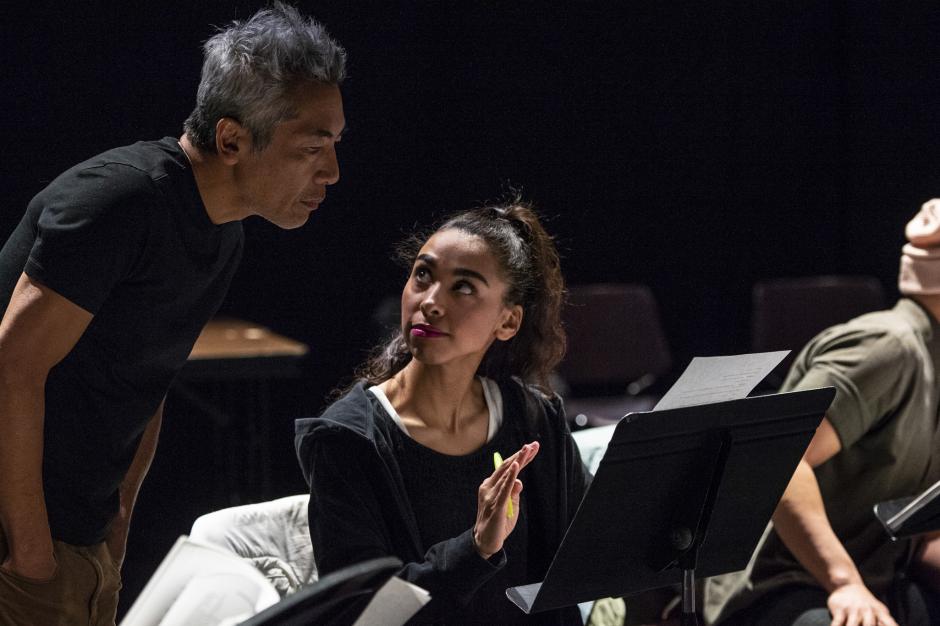 Overview
Experience an inspiring, interdisciplinary, and inclusive environment to work on your play while surrounded by performing artists from across the country and around the world. The Lab supports challenging, multi-disciplinary, provocative approaches to telling stories. We are proud to gather on Treaty 7 territory to create, share, and explore theatrical storytelling.
In 2022, the Lab will investigate hybrid projects that are working across disciplines, landscapes and media. We are interested in all hybrids that playwrights are working within; examples could include projects incorporating multiple languages into new works; creating works that bridge theatre/dance and/or indoor/outdoor spaces; and projects whose goals reach beyond the theatre space to changing practices, systems and communities. As we consider the forms of new work that playwrights have engaged in during the pandemic, we want in particular to acknowledge and examine approaches to storytelling that combine live and digital components.
We invite participants developing new works for both adults and young audiences to join us in a dynamic conversation about storytelling and contemporary performance as we push Canadian theatre into the future.
What does the program offer?
Eight Canadian writers will be offered a two-week residency at Banff Centre; each writer may invite a collaborator to attend for up to four days to work on their project. For example, that collaborator could be a dramaturg, director, digital creator, actor, designer, musician, choreographer, or translator. We encourage writers to consider inviting a non-theatre artist or individual essential to their creation process.
The Lab's dramaturgical team – Lab Director, Dramaturg, Associate Dramaturg, Senior Playwright-in-Residence and Indigenous Creator-in-Residence – will support these residencies throughout the Lab. As well, the Lab may include online activities designed to bring artists together across distance, and opportunities for the Lab community to stay in touch following the residency period.
Note: due to the impact of the pandemic on the Banff Centre, the 2022 Lab will operate at reduced capacity and will not include a company of actors. International writers may be in residence to work on new plays and provide their perspective on theatrical creation beyond Canada, subject to resources and travel guidelines. Due to changes in timelines, the Retreat component of the Lab in February 2022 has been curated by invitation. If in-person residencies at the Banff Centre are not possible in April 2022 due to COVID-19 restrictions, the Lab may be conducted as an online program during the same time period.
Who should apply?
The Lab seeks artists who are exploring theatrical form, taking risks, and asking questions about our society. We value strong storytelling, diversity (in form, discipline, culture, and community), beautiful language, bold experimentation, and collaboration. We seek artists who demand that theatre have social and political impact, and who are writing plays that seek to challenge and change our world.
We want to support writers and plays telling stories not commonly told on Canadian stages; stories that embrace outrage and wrestle with wild ideas, images, and individuals. We encourage artists working with Indigenous languages and those working on projects with little or no language to apply.
We invite playwrights to consider this year's focus on hybrid projects when preparing their application. However, this is not mandatory – all applications will be considered by the adjudication committee regardless of whether they incorporate hybrid components. 
The Lab is conducted in English.
For full details on vaccination requirements, masking, safety protocols, and COVID related policies please visit: www.banffcentre.ca/covid-19-measures   
What's Included
Your program fee includes a single bedroom on the Banff Centre campus for the duration of your program.
Get connected with other artists on campus and focus on your projects in a creative environment while we take care of the day-to-day essentials.
Using a credit-based system to dine on campus, our flexible meal plans allow you to select meals according to your own needs during your stay.
The Full Flex meal plan includes $58 credit per day, equivalent to breakfast, lunch and dinner at our buffet service.
A financial award towards your travel costs to and from Banff. Regional maximums apply.
Enjoy special artist rates for ticketed performances or complimentary access to events.
Enrich your experience and get to know other artists on campus by taking advantage of the activities and support provided by our Participant Resources team.
Fees & Financial Assistance
Application fee: $65 ($35 for applicants who identify as Indigenous)
*Lab participants will receive 100% scholarship to cover the program cost.
Application fees are not refundable.
In addition, the Lab will provide invited collaborators with a single room for up to four nights and a full meal plan (scheduled in consultation with the Lab Director). All Lab participants and collaborators will receive a financial award towards travel costs to and from Banff. Regional maximums apply.
Note: Playwrights do not receive a fee or honourarium to attend the Lab. The Lab is focused on providing every resource writers need to focus on their creative work, including travel support, accommodation, meals, collaborators, and dramaturgy.
Banff Centre will issue official tax receipts for eligible tuition fees and financial assistance and awards as required by the Income Tax Act. You will receive a T2202 (Tuition and Enrolment Certificate) for eligible tuition fees paid and a T4A (Statement of Pension, Retirement, Annuity, and Other Income) for applicable financial assistance and awards.
How to Apply
Artistic Statement
No more than two pages outlining:
•   Your project status, what you would like to accomplish at the Lab, what you are striving to achieve with the story, and your developmental goals.
•   Whether there is a collaborator you wish to attend the Lab, and their name, relationship to the project, and availability.
IF APPLICABLE: 
– please address the relationship of your project to the Lab focus on hybrid projects; 
– include a list of readings, workshops and presentations, plus relationship with play development centres and/or producing companies or collaborators; 
– if previously produced, articulate why you are returning to a developmental/writing process on the project.
 
Note:  You may apply with written materials as outlined, or with a video (maximum duration of 7 minutes), or a combination of written/video materials. Please have any written material ready to submit as a single PDF document. If including video, please ensure you include any video elements in a single file.
Acknowledging the Banff Playwrights Lab
In recognition of the Lab's contribution to the development of each writers' work, writers are required to include Banff Centre's logo and credit on the title page of all future readings, workshops, productions, recordings, and publications of their projects.
Adjudication
All applications will be reviewed by the Lab's dramaturgical team, and additional adjudicators as required. The Lab does not provide feedback on applications. Please be aware that this is a highly competitive national program that often receives 100-plus applications.
Invitations to attend the Lab will be extended by March 7, 2022, and the selected writers announced in March 2022. Final decisions are made by the Lab Director.
 
Eligibility
Applications are open to Canadians and Permanent Residents only.
We do accept plays that are commissioned by other theatres or producers; however, you must obtain written permission from the commissioning organization stating that they support your application.
We will consider projects that have been produced. The writer, however, must make a compelling case for a process of revising the project based on what they gleaned from the production, with the goal of making the play more prepared for future productions. A produced project is defined as a project that has been reviewed by critics. We do consider plays that have had a previous workshop, or developmental opportunities.
We will consider plays that are already scheduled for a production. Please include information on the production, including dates and creative team. In your artistic statement, please articulate your developmental goals for the project prior to rehearsal.
The Lab is unable to accept applications for projects that have been declined in previous years.
Please ensure that you have reviewed these important FAQs about Banff Centre before applying.
All programs, faculty, dates, fees, and offers of financial assistance are subject to change. Program fee is subject to applicable taxes. Non-refundable fees and deposits will be retained upon cancellation. Any other fees are refunded at the discretion of the Banff Centre. The application deadline is 11:59 p.m. Mountain Standard Time.