Applications of the 2019/20 Cultural Leadership program will be opening in mid to late-May. Please check back and subscribe to our e-newsletter to stay in the loop.
Program Information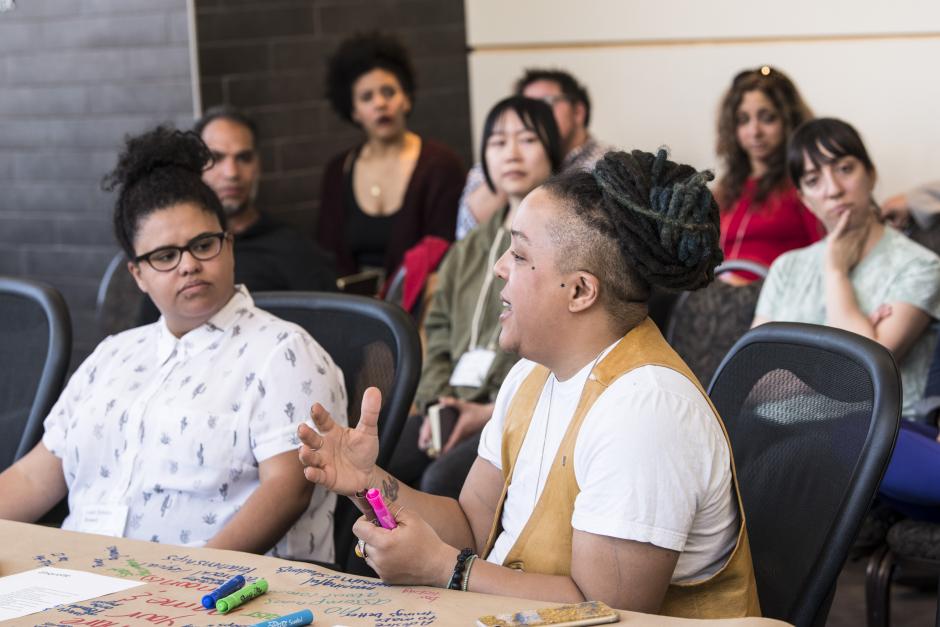 Overview
Canada's cultural sector is undergoing rapid and intensive transformation, creating an exciting opportunity for leaders who are committed to and passionate about strengthening this field. 
Shifting public interest, the changing role of civic institutions in society, and the impact of technology are just a few forces altering what it means to be an artistic, creative, or cultural organization today. Leading such an organization is complex and requires a profound understanding of the communities that organization serves and the systems in which it operates. 
Banff Centre's Cultural Leadership program is uniquely positioned to equip participants with the competencies, skills, and frameworks to navigate the complexity of, and explore leadership within, the Canadian cultural sector. The program builds skills, networks, and contextual knowledge to help leaders make a lasting impact.
This program was developed and is offered in collaboration with Canada's first Artistic Leadership Development Program at the National Theatre School in Montreal, QC. Significant funding, up to full program tuition, meals, and accommodation underwriting, is available. To request financial assistance please see additional information in the How to Apply section, below.
What does the program offer?
Cultural Leadership includes four on-site intensives (three in Banff, one in Montreal) as well as workshops, seminars, and projects that may take place virtually or across Canada. The seven-month program features applied learning, small group work, reflective practice, large group forums, interactive processes, lectures, and case-study analysis. 
The program director and facilitator will be with participants throughout the year as learning coaches. In addition, for each session and topic area, participants will be joined by academic guest lecturers and faculty, domain experts, experiential educators, and artists from across disciplines, sectors, and the world.
Cultural Leadership is designed to:
assist a cohort of cultural leaders to understand and explore the increasingly complex and interdependent cultural environment in which they operate
equip them with the competencies, skills, and conceptual frameworks to navigate the landscape of the Canadian cultural sector
develop awareness of and build networks that enable them to succeed
Who should apply?
This program is primarily designed for Canadian leaders and/or leaders working in Canada, as well as leaders working abroad but for Canadian institutions. However, we recognize that all arts leaders are part of an increasingly global system, and international applicants will be considered in respect to building a diverse, broad cohort and network. 
All applicants should be interested in honing and developing a comprehensive set of competencies to prepare them for significant leadership roles within the artistic and/or cultural sectors, including both for and not-for-profit organizations, collectives, and non-traditional partnerships. We are seeking applicants who:
have some demonstrated leadership experience, and an ability to recognize opportunities and design and implement solutions
are actively pursuing or considering cultural leadership opportunities (roles or projects) of increasing scale and complexity
are outspoken, active, and recognized advocates within their respective artistic or cultural communities
are willing to take risks, reimagine possibilities, and are curious and eager to learn
approach work and relationships with a spirit of sharing and generosity
believe in the role of cultural organizations as civic institutions that foster community growth, development, and wellbeing
About Banff Centre Leadership programs
Banff Centre Leadership programs integrate the power of the arts, the wisdom of Indigenous practice, and the extraordinary beauty of Banff National Park to prepare and empower the next generation of leaders.
Programs help participants bring creative and reflective approaches to a rapidly changing world, and connect leaders with others who share their commitment to positive change in Indigenous communities, businesses, non-profit organizations, cultural institutions, and government.
The Cultural Leadership program is generously supported by BMO Financial Group, The Globe and Mail, and Thomson Reuters.
Banff Centre Leadership programs are developed with support from the Peter Lougheed Leadership Initiative.
Itinerary
Participants will be expected to attend all four sessions, as well as partake in virtual sessions, and individual preparation and study in between the on-site intensives.
Session one: November 11 - 15, 2018 at Banff Centre
Session two: February 10 - 14, 2019 at Banff Centre
Session three: April 14 - 18, 2019, at the National Theatre School in Montreal
Session four: June 9 - 13, 2019 at Banff Centre
In addition, there will be three or four half-day virtual sessions, and individual assignments throughout the program.  
What's Included
All Leadership participants who choose the Accommodation and Meal Package are provided private rooms with ensuite washrooms in one of our two onsite hotels, the Professional Development Centre or Lloyd Hall. Room upgrades may be available upon request at an additional cost.
All of your meals from the start to the end of your program are included; most of your meals will be at Vistas Dining Room, but there may be some special dining events scheduled as well. Please also feel free to visit the Maclab Bistro, Le Café, Three Ravens Restaurant and Wine Bar, but note that these outlets are not included in your meal plan, and thus will be at additional cost.
The Sally Borden Fitness and Recreation Centre is located in the lower floor of the Sally Borden Building, and provides all guests with access to our swimming pool, hot tub, steam room, climbing gym, fitness centre, spin studio, and gymnasium. Massage and physiotherapy appointments may also be booked ahead of time.
Enjoy free parking, wifi, and access to the Walter Phillips Gallery while you are a guest at Banff Centre. Our Participant Resources team is also available to assist you with medical support or event information. See our Events Calendar to learn more about what's going on at Banff Centre while you're onsite.
Fees & Financial Assistance
Additional nights' accommodation may be available; please contact us for details.
The above fees do not include applicable taxes, such as GST, the Alberta Tourism Levy, and the Tourism Improvement Fee as needed.
Financial Assistance
Significant funding, up to full program tuition, meals, and accommodation underwriting, is available. To request financial assistance please see additional information in the How to Apply section, below.
Call our toll-free number for more details at 1.888.255.6327
How to Apply
Resume
Please include an up-to-date resume that illustrates your professional trajectory and includes contact information for two professional references who can speak to your suitability for this program. Providing this information at this stage signals consent for Banff Centre to contact your references directly.
Personal Statement
Please refer to the following questions to guide the writing of your statement of interest:
Briefly describe the scope of your experience in the arts and/or culture sectors, and offer specific examples of projects you have led from conception to completion.
What project or accomplishment are you most proud of? Why?
What calls you to do the work you currently do?
Why is this the right program for you?
Why is this the right time for you to participate in the learning offered by this program?
What challenges you have consistently faced in this sector?
What are three opportunities you see that could create considerable impact in this sector?
Application for Funding
Please share a one-page funding request summary, which includes the following:
1. Your organization's history, mission, and activities, and your role and responsibilities and length of service with the organization. 
2. The reasons why assistance is required (e.g. limits in your organization's training budget, how many employees are covered by that amount, availability of training in your area, etc.). 
3. Charitable registration number, if applicable. 
4. The anticipated benefits you and your organization will derive from your participation in this program. 
5. A description of how you anticipate sharing the learning from the program with your team, your organization, and throughout your sector.
6. Name of your supervisor or board chair. 
7. Your financial contribution to attendance of a program, plus that of your organization. 
8. The names of other agencies to whom you have applied for funding for this program and the amounts requested. 
9. The minimum amount of funding required from Banff Centre.
Adjudication
Participants are selected by impartial adjudicators on the basis of their submitted material. In addition to merit, consideration will be given to the likelihood that the participant's work will benefit from the program.
All programs, faculty, dates, fees, and offers of financial assistance are subject to change. Program fee is subject to applicable taxes. Non-refundable fees and deposits will be retained upon cancellation. Any other fees are refunded at the discretion of the Banff Centre. The application deadline is 11:59 p.m. Mountain Standard Time.
Contact the Registrar

For questions on preparing your application, please contact the Office of the Registrar: