Dance Artists in Residence 2022
Performing Arts | In-Person
Program Information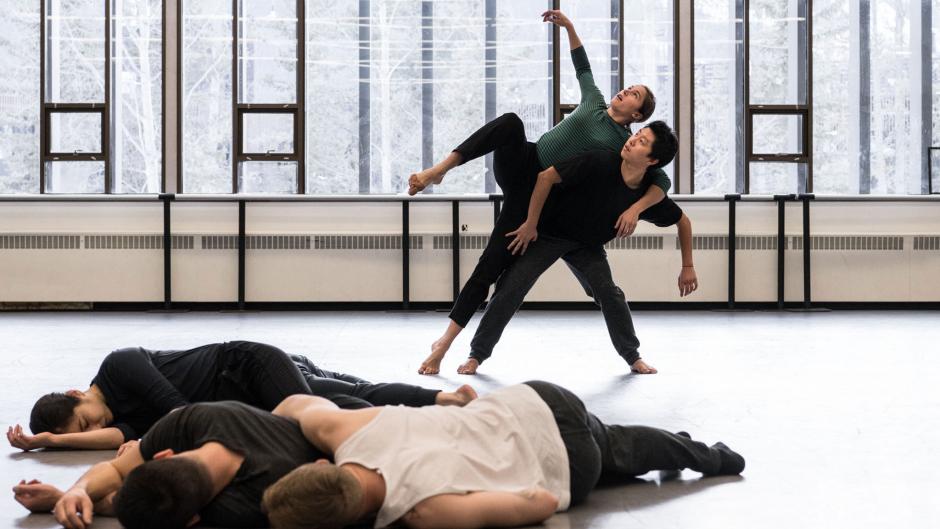 Overview
The Dance Artists in Residence program is designed specifically for dance artists to have focused time for the creation and development of new works in Banff Centre studios, with support as desired from a faculty team of professional dance dramaturgs.
This program brings a number of dance artists to the Banff campus at the same time to work on their respective projects, while enjoying opportunities for artistic connection and exchange with peers. The residency is intended for artists working in the initial creation phase of a new work, which they will develop over the course of one or two weeks in residence.
What does the program offer?
This residency offers a range of dance spaces depending on participants' needs and studio availability, and artists will be provided with a basic sound system. As this program focusses on creating and developing ideas and forms of practice, participants will not have access to production spaces. Banff Centre is unable to provide support around production or technical elements.
Artists are expected to be creating work during this residency, however are not expected to give a final performance or showing. Participants will be offered the opportunity to have an open studio showing at the end of their stay, if desired. 
Applicants are encouraged to bring their own dramaturgs, however for those unable to bring a collaborating dramaturg, there will be two dance dramaturgs on faculty who will be available to engage as required.
Who should apply?
We invite project proposals from experienced, professional individual artists, artistic collectives, and companies worldwide. Artists at various stages of development are encouraged to apply. 
Please note:
Applying companies are limited to eight members. 
Large requests for technical support may affect the outcome of the adjudication as this residency has minimal resources for technical and production. 
For full details on vaccination requirements, masking, safety protocols, and COVID related policies please visit: www.banffcentre.ca/covid-19-measures
What's Included
Your program fee includes a single bedroom on the Banff Centre campus for the duration of your program.
Get connected with other artists on campus and focus on your projects in a creative environment while we take care of the day-to-day essentials.
Using a credit-based system to dine on campus, our flexible meal plans allow you to select meals according to your own needs during your stay. Banff Centre can respond to most dietary requests. 
The Full Flex meal plan is equivalent to $58 credit per day, equivalent to breakfast, lunch and dinner at our Buffet service.
Limited access to the Paul D. Fleck Library and Archives.
Although the doors remain temporarily closed, you can still access a wide range of books, periodicals, recordings and scores through our digital databases available on the digital resources page, and physical items through our curbside pick-up service. 
Enrich your experience and get to know other artists on campus by taking advantage of the activities and support provided by our Participant Resources team.
Enjoy special artist rates for ticketed performances or complimentary access to events.
This program offers an optional opportunity to showcase your work-in-progress in one of our performance venues.
Create in one of our specialized studios.
Fees & Financial Assistance
Application Fees: $65 for individuals or groups. ($35 for applicants who identify as Indigenous)
Each individual group member must pay an additional registration fee of $35 on acceptance.
Please note the above fees are per person per residency.
*Financial Aid of 100% of the tuition fee and 50% of room and accommodation is available for this program.
All accepted participants will receive the above financial aid package. Application fees are not refundable.
2 week residency option: 
December 5 - 16, arrival on December 4 and departure on December 17.
1 week residency options are:
December 5 - 9, arrival on December 4 and departure on December 10.
December 12 - 16, arrival on December 11 and departure on December 17. 
Please make your program dates request in Slideroom.
Help fund your experience at Banff Centre. View a compiled list of national and international opportunities here.
Banff Centre will issue official tax receipts for eligible tuition fees and financial assistance and awards as required by the Income Tax Act. You will receive a T2202 (Tuition and Enrolment Certificate) for eligible tuition fees paid and a T4A (Statement of Pension, Retirement, Annuity, and Other Income) for applicable financial assistance and awards.
How to Apply
Additional Information
If you are applying as an individual, you must complete both the online application form (including $65 processing fee) and a SlideRoom application.
If you are applying as an ensemble, the ensemble leader must complete both the online application form (including $65 processing fee) and a SlideRoom application. Please submit only one SlideRoom application per group. There will be a $35 registration fee of each member upon acceptance to the program.
Adjudication
Participants are selected by impartial adjudicators on the basis of their submitted material. In addition to artistic merit, consideration will be given to the likelihood that the artist's work will benefit from the program. 
Applicants will be notified of their status as soon as adjudication is complete.
All programs, faculty, dates, fees, and offers of financial assistance are subject to change. Program fee is subject to applicable taxes. Non-refundable fees and deposits will be retained upon cancellation. Any other fees are refunded at the discretion of the Banff Centre. The application deadline is 11:59 p.m. Mountain Standard Time.