Learn more about Banff Centre's COVID-19 Vaccination Requirements and on-campus measures here.
Please subscribe to our mailing list to keep informed on upcoming programs.
Emerging Writers Intensive
Program Information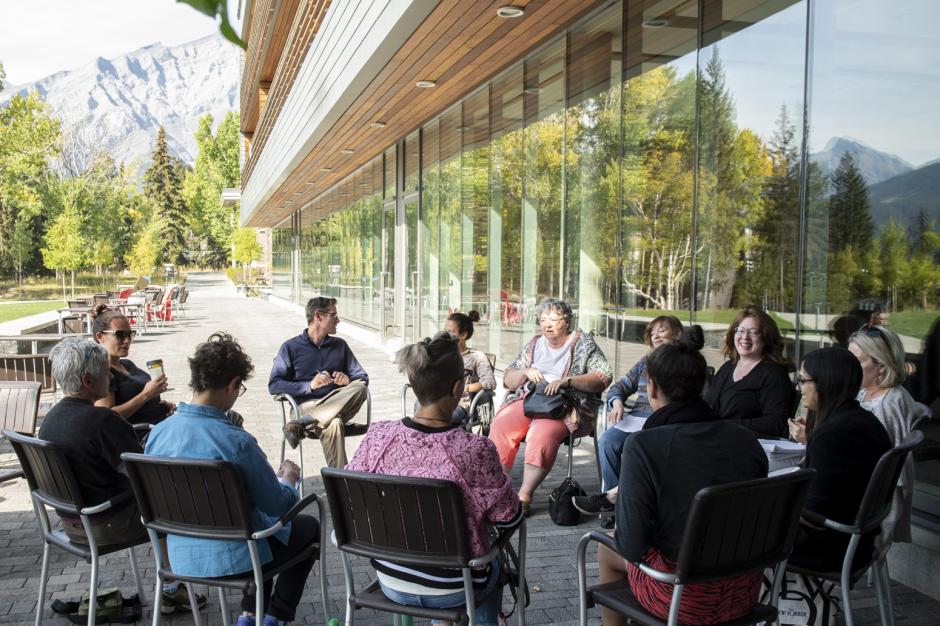 Overview
This workshop-based program embraces multiple genres, providing structured support for new creative writers wanting to improve their writing skills. Four faculty work closely with eight participants in one of the following genres: first chapter novel, creative nonfiction, poetry, and short fiction. 
Participants read the submissions of fellow group members, then give and receive feedback during three-hour morning workshops. Afternoons are devoted to writing time and to meeting one-on-one with faculty. An energizing, transformative experience designed to help participants take their writing to a new level, this program is a perfect entry point into Banff Centre's full suite of Literary Arts programs.
What does the program offer?
This program offers a wide range of writers the opportunity to work on a portion of a manuscript in a workshop setting with editorial faculty. The program will help writers build their critical vocabulary, making them better critics of their own and others' work. 
Participants will also learn more about the craft of writing, and about the conventions and possibilities for innovation, in their chosen genre. Evening readings give writers a chance to practice presenting their work to a warm, encouraging audience.  
Merit – not means – drives opportunity at Banff Centre. Participants in this program will receive 100% scholarship for tuition.
Who should apply?
Any new writer interested in structured feedback from faculty and fellow participants will benefit from this program. The program is open to writers with no publications, a few publications, or even a first book, in the genres of poetry, short fiction, creative nonfiction, and first chapter novel. 
First chapter novel participants should note that it is only the first chapter, not the entire novel, that they will work on during this program.
Writers from all backgrounds, and all gender identities and expressions are encouraged to apply.
Fees & Financial Assistance
Application fee: $65
*Financial Aid of up to 100% of the program fee is available for this program.
If you would like to be considered, please complete the Financial Aid section when uploading your supporting materials.
Help fund your experience at Banff Centre! View a compiled list of national and international opportunities here.
How to Apply
Emerging Writers Intensive only accepts projects that are being written in English.
Adjudication
Participants are selected by impartial adjudication on the basis of their submitted material. In addition to artistic merit, consideration will be given to the likelihood that the artist's work will benefit from the program. 
Applicants will be notified of their status as soon as adjudication is complete, approximately three to five weeks following the application deadline.
All programs, faculty, dates, fees, and offers of financial assistance are subject to change. Program fee is subject to applicable taxes. Non-refundable fees and deposits will be retained upon cancellation. Any other fees are refunded at the discretion of the Banff Centre. The application deadline is 11:59 p.m. Mountain Standard Time.