Learn more about Banff Centre's COVID-19 Vaccination Requirements and on-campus measures here.
Please subscribe to our mailing list to keep informed on upcoming programs.
Opera in the 21st Century - 2022
Program Information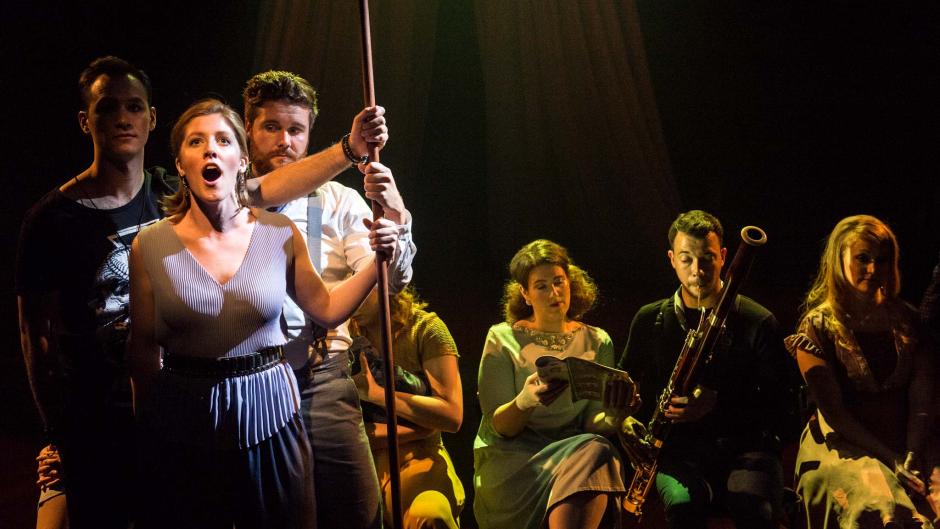 Overview
Opera in the 21st Century is a performance-based, collaborative training experience for emerging opera professionals that truly challenges the conventions of opera performance, production, and design. 
This residency's focus is to develop young opera professionals with the skills and experience to take them to the next level of their careers and beyond. The multi-disciplinary program offers a unique opportunity to work with diverse artists, and is open to singers, instrumentalists, conductors, and stage directors.
What does the program offer?
Opera in the 21st Century is a three-week intensive residency devoted to the individual's practical skill extension and development.  The program will look to provide individuals with: new artist photos, recorded and filmed arias, work on new music, public performances, an updated press kit and vocal coachings and lessons with established professionals. 
Our faculty, led by Joel Ivany, Karen Slack, and Ian Cusson, is comprised of internationally recognized professionals from a variety of backgrounds and disciplines.
Who should apply?
We invite applications from post-secondary students and emerging artists already at an advanced level of accomplishment, and with a well-documented record of artistic exploration. 
The program offers space for 10 singers, one pianist/répétiteur, one stage director, and one conductor.
This program is generously supported by the David Spencer Endowment Encouragement Fund.
For full details on vaccination requirements, masking, safety protocols, and COVID related policies please visit: www.banffcentre.ca/covid-19-measures   
What's Included
Opportunities to Showcase Your Work
Your program fee includes a single bedroom on the Banff Centre campus for the duration of your program.
Get connected with other artists on campus and focus on your projects in a creative environment while we take care of the day-to-day essentials.
Using a credit-based system to dine on campus, our flexible meal plans allow you to select meals according to your own needs during your stay.
The Full Flex meal plan includes $58 credit per day, equivalent to breakfast, lunch and dinner at our Buffet service.
Enrich your experience and get to know other artists on campus by taking advantage of the activities and support provided by our Participant Resources team.
Enjoy special artist rates for ticketed performances or complimentary access to events.
Create in one of our specialized studios 
Fees & Financial Assistance
Application fee: $65 ($35 for applicants who identify as Indigenous)
*Participants accepted to the program will receive 100% scholarship to cover the Program Fee
Application fees are not refundable.
If you would like to be considered, please complete the Financial Aid section when uploading your supporting materials. 
Help fund your experience at Banff Centre. View a compiled list of national and international opportunities here.
Banff Centre will issue official tax receipts for eligible tuition fees and financial assistance and awards as required by the Income Tax Act. You will receive a T2202 (Tuition and Enrolment Certificate) for eligible tuition fees paid and a T4A (Statement of Pension, Retirement, Annuity, and Other Income) for applicable financial assistance and awards.
How to Apply
Adjudication
Participants are selected by impartial adjudicators on the basis of their submitted material. In addition to artistic merit, consideration will be given to the likelihood that the artist's work will benefit from the program.
Applicants will be notified of their status as soon as adjudication is complete.