May 2 - Extended to August 9, 2015
Hannah Doerksen, Maggie Groat, Tamar Guimarães with Kasper Akhøj, Soda_Jerk, Guy Maddin, Heather and Ivan Morison, Shana Moulton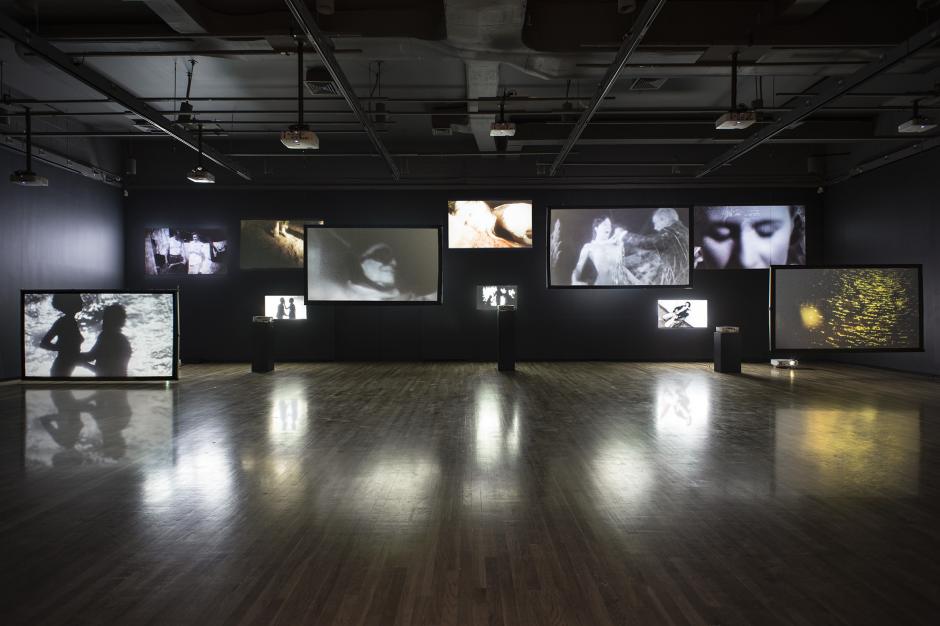 Séance Fiction is a term that exists as an imagined proposition. Perhaps it is from a guide book to some future, not yet realized, a resurrected catalogue, or a dictionary entry hidden invisible between other 'see also' terms; such as séance, science-fiction, speculative fiction, hauntology, alternate-history or future-history. In the context of this exhibition the term séance fiction suggests the way in which artists act as mediums to the past and future. By inserting themselves into histories that are elastic, the artists included speculate on the future in a way that complicates our understanding of the present.
This exhibition is not specifically concerned with science fiction or how it is referenced by artists, but rather how the principles of science fiction are embodied within contemporary art. Nor is it exclusive to this particular embodiment, as the term séance fiction also brings together a quartet of temporalities. These include 'séance', the summoning of the past; 'fiction', something feigned or imagined; 'science-fiction', the genre of literature dedicated to the imaginary of future scenarios. Finally, Séance Fiction is concerned with the interstice between, the present.
Artist Biographies
Hannah Doerksen
Hannah Doerksen is an artist from Calgary, Alberta with a BFA from the Alberta College of Art & Design. Her work combines installation, sculpture,  painting, video and collage. She has exhibited in Canada and abroad; and has attended residencies at the New York Studio Residency Program and the California College of Arts, San Francisco. She had had exhibitions at Esker Foundation, Calgary and was included in the 2015 Alberta Biennale of Contemporary Art at Art Gallery of Alberta, Edmonton.
Maggie Groat
Maggie Groat works in a variety of media including collage, sculpture, artists' books, textiles, site-specific interventions and field studies. Forming an ongoing research-based practice, Groat's work explores studies for possible futures,alternative and marginalized ways-of-knowing, salvage practices, and relationships and reconnections to material and place, from a hybrid Indigenous/Settler perspective. Through reconfiguring and recontextualizing found and salvaged materials, she assembles images, sculptures, tools and situations that enable moments of envisioning and the potential for action. Maggie currently lives and works on the southern shore of Lake Ontario and is represented by Erin Stump Projects in Toronto. Maggie's work has been included in exhibitions at The Western Front, Vancouver; Rodman Hall Art Centre, St Catharines; Kamloops Art Gallery, Kamloops; and AKA Artist-Run, Saskatoon, among others. 
Tamar Guimarães and Kasper Akhøj
Tamar Guimarães is a Brazilian artist based in Copenhagen, Denmark. Commonly using found objects such as photographs and texts, Guimarães centers much of her work on historical narratives.  She has exhibited at the 29th São Paulo Biennial, Museu de Arte de São Paulo, Nordisk Konsttriennal at the Eskilstuna Konstmuseum and the Venice Biennale and has held numerous solo shows internationally.
 
Kasper Akhøj is a Danish artist based in Copenhagen who works with photographs, slide projections and sculptural installations. Through the exploration of residual histories and objects associated with art, design and architecture, Kasper plays the conceptual storyteller presenting works as historical narrative. He has collaborated with Tamar Guimarães numerous times. They have exhibited at Galeria Fortes Vilaça, São Paulo; Jeu de Paume, Paris; 55th Venice Biennale, Venice; Sharjah Biennial 11, UAE and South London Gallery, London. His solo shows have been exhibited at the Wiels Center for Contemporary Arts, Brussels; and Overgaden Institute for Contemporary Art, Copenhagen.
Guy Maddin
Guy Maddin is a Canadian screen-writer, cinematographer and installation artist from Winnipeg, Manitoba. He is well known for recreating in the style of silent and early-sound era films. Some of his most acclaimed films include Dracula: Pages from a Virgin's Diary (2002), The Saddest Music in the World (2003), and My Winnipeg (2007). Guy has won numerous awards in the fields of cinema and performance art including: The Canada Council for the Arts Bell Award in Video Art (lifetime achievement in the field), Toronto Film Critics Association Best Canadian Film for My Winnipeg, Manitoba Arts Council's Award of Distinction for lifetime achievement in the arts, Gemini Awards for Best Canadian Performing Arts Show and Best Direction for Dracula: Pages from a Virgin's Diary, and the
International Emmy for Best Performing Arts for the same. He was appointed to the Order of Canada in 2012.
Soda_Jerk
Formed in Sydney, Australia in 2002, Soda_Jerk is a two-person art collective who work with sampled material to construct rogue histories and counter-mythologies. Taking the form of video installations and live video essays, their archival image practice is situated at the interzone of experimental film, documentary and speculative fiction. They have shown in numerous exhibitions and film festivals internationally, including Powerhouse Museum, Sydney; MOFO, Hobart, The Substation, Melbourne; Pioneer Works, New York; ISCP, New York; Other Cinema, San Francisco; Node Centre, Berlin, among others.
Heather and Ivan Morison
Heather and Ivan Morison are an English artistic duo based in Arthog, North Wales. Their work often combines everyday objects - things that go unnoticed - with such things as LP recordings, slide shows, radio broadcasts and science-fiction novels as a way to redefine our relationship to the commonplace through reinterpretation. They have shown at the Tate Britain, British Art Show 6, the Barbican and the Vancouver Art Gallery and have represented Wales at the Venice Biennale.
Shana Moulton
Shana Moulton is a media artist from New York City. She creates video and performance pieces that examine new-age anxieties in relation to pop-culture, spirituality and consumerism. The dreamlike narratives – a meeting of the ordinary and the extraordinary – are told through her alter-ego Cynthia, a woman who questions relationships to the everyday objects that make up our domestic lives. Her work has been exhibited internationally and includes: Art in General, NY; Migros Museum, Zurich; Contemporary Museum of Art, Uppsala; Recontres Internationales Paris/Berlin, Paris; Aurora, Edinburgh; Dark Light Festival, Dublin; Broadway 1602, NY; and Gimpel Fils, London.