Sally Borden Climbing Gym is open
To access Sally Borden Fitness & Recreation you must use the back door entrance and produce your proof of vaccination and government-issued ID at the check-in desk.
Masks are required indoors except while actively engaged in physical activity.
Contact: Sally Borden Rec Desk 403.762.6450
COVID-19 Restrictions: Alberta Restriction Exemption Program
Effective Sept 20, 2021, anyone born in 2009 or earlier who enter Sally Borden Fitness & Recreation will be required to provide proof of vaccination, a negative PCR or rapid test COVID-19 result taken within 72 hours, or an original medical exemption letter. All individuals 18 years or older must also produce valid personal identification, indicating the name of the holder and date of birth.
Sept 20 - Oct 25
Proof of a single dose is considered acceptable, as long as the dose was given more than 2 weeks before the time of entry.
After Oct 25
Proof of double vaccination is required with the second dose being received at least 14 days prior to entry.
Hours of Operation
Climbing Gym
Wednesday, Friday 7:30 am - 3:00 pm
Thursday, Saturday, Sunday 11:30 am - 7:00 pm
CLOSED Monday & Tuesday until further notice
Sally Borden Fitness and Recreation
STAT Holiday Hours 11:00 am – 6:00 pm
CLOSED Sept 30 and Dec 24 - Jan 3
This schedule will be in effect until further notice.
 
Change rooms and showers are available. 

Towels and locks are included with your membership or day membership.

Climbing shoes and harnesses are available for rent.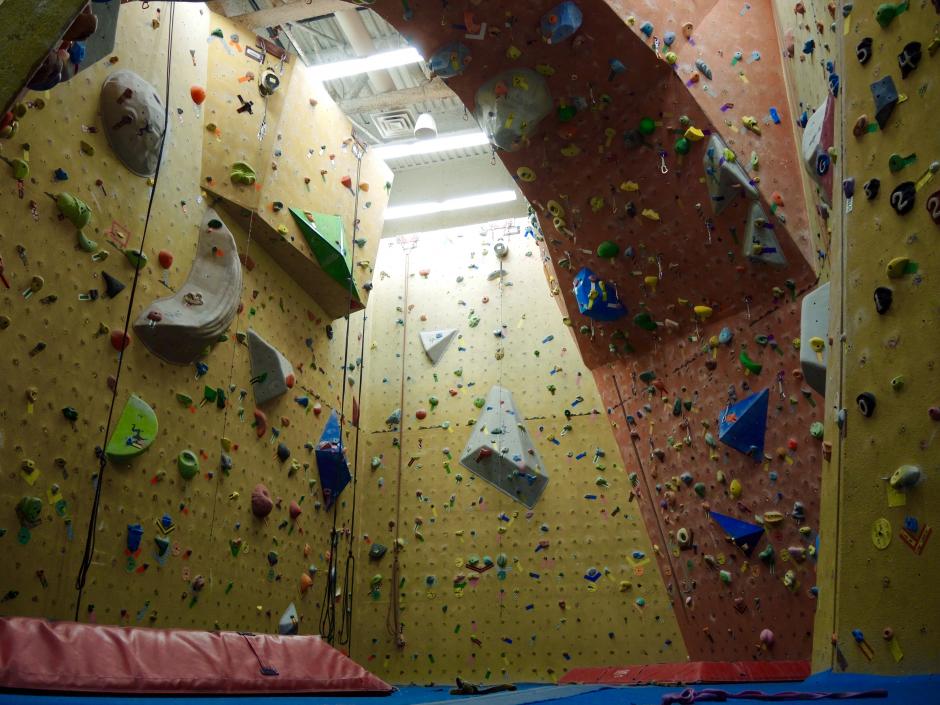 Banff Centre is proud to have the only indoor climbing gym in Banff. An ideal place for both experienced climbers and newcomers to the sport.
Types of Climbing
Bouldering
This does not require any ropes as the height you can climb up to is limited to 3.5 metres (12 feet). A set of climbing holds are arranged in a certain pattern and stay below the height limit is called a boulder problem.
Auto-Belays
These devices are used to climb to the top of the wall without a partner. An orientation on how these are used is required before the first use and only takes a couple of minutes. We have three auto-belays, these are perfect if you don't have a partner but still want to experience climbing as high as you dare!
Top Rope Climbing
Ropes that are anchored at the top of the gym are called top rope climbs. A partner is required to use the top ropes. We check the climber's ability to tie their knot (figure eight only) when they are climbing and their belay skills when they are belaying for the first time.
Lead Climbing
The climbing gym has a variety of climbing terrain for lead climbing, including a one of a kind arch to get on the steep roof terrain! As with the top rope climbing, a belay check is required before lead climbing the first time. We are looking for the skills of the climber and belayer so it is best to bring a partner with you for this check.
Contact  Us 
For more information, please contact:
403.762.6450 
All persons aged 3 years and under are not permitted in the climbing gym except during specific times.
All persons aged 15 years and under must be supervised by an adult when climbing outside of a registered program.