Attention!
Sally Borden Fitness and Recreation will be closed until further notice for preventative measures.
We will provide updates on reopening and memberships as this situation evolves.
Thank you everyone and stay healthy.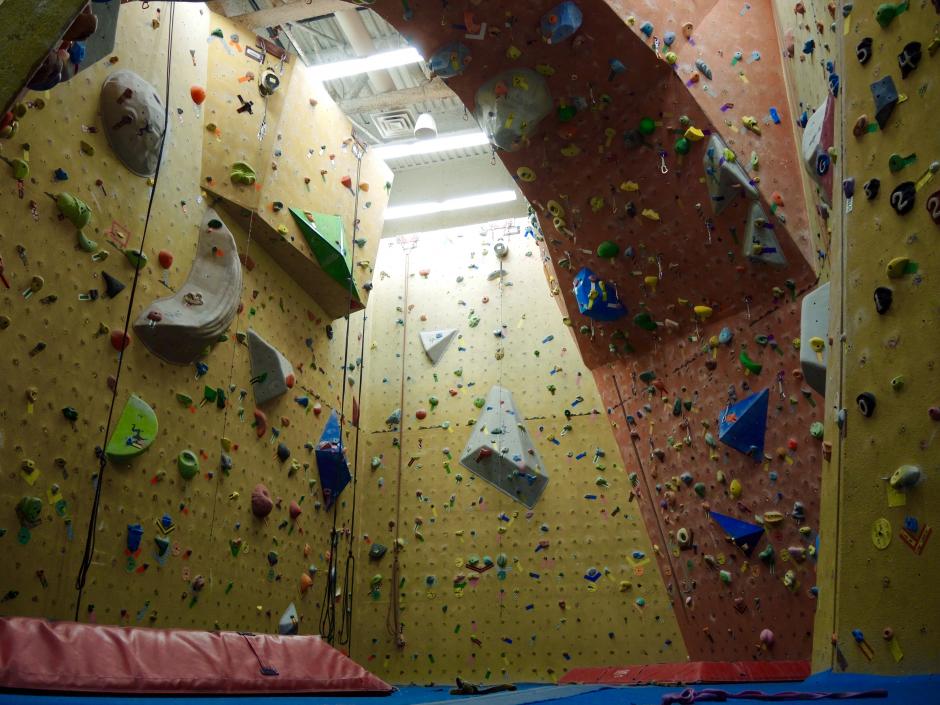 Reach new heights with our Climbing Gym
Banff Centre is proud to have the only indoor climbing gym in Banff. An ideal place for both experienced climbers and newcomers to the sport, the Climbing Gym offers public hours and programming from 4 years old and up.
Types of Climbing
Bouldering
This does not require any ropes as the height you can climb up to is limited to 3.5 metres (12 feet). A set of climbing holds are arranged in a certain pattern and stay below the height limit is called a boulder problem, these are changed in the climbing gym every two weeks.
Auto-Belays
These devices are used to climb to the top of the wall without a partner. An orientation on how these are used is required before the first use and only takes a couple of minutes. We have three auto-belays and they are moved to different areas of the gym each week. These are perfect if you don't have a partner but still want to experience climbing as high as you dare!
Top Rope Climbing
Ropes that are anchored at the top of the gym are called top rope climbs. A partner is required to use the top ropes. We check the climber's ability to tie their knot (figure eight only) when they are climbing and their belay skills when they are belaying for the first time.
Lead Climbing
The climbing gym has a variety of climbing terrain for lead climbing, including a one of a kind arch to get on the steep roof terrain! As with the top rope climbing, a belay check is required before lead climbing the first time. We are looking for the skills of the climber and belayer so it is best to bring a partner with you for this check.
Public Climbing Hours and Rates
Climbing Gym Hours
Please note that starting March 15, 2020, the Sally Borden fitness facility will close one hour earlier each day to facilitate a thorough, daily cleaning of the equipment until further notice. 
Current daily hours: 12 p.m. – 10 p.m.
All persons aged 3 years and under are not permitted in the climbing gym except during specific times.
All persons aged 15 years and under must be supervised by an adult when climbing outside of a registered program.
Drop In Rates:
Adults $15.00
Youth (ages 4 – 15) $8.00
NOTE: Drop-in rates also include use of the pool, Jacuzzi, steam room, gymnasium, exercise room, and running track. 
Parents do not have to pay a drop-in fee if they are the supervising adult belaying a child. They do, however, have to pay if they are belaying another adult.
Waiver Form
All climbers who wish to use the climbing gym must complete a waiver form before their first visit. For climbers 18 years or older, the waiver form can be found here. Climbers under the age of 18 years will require a parent or guardian signature on their waiver form, which is found here. Please bring an original signed copy of the waiver with you to the Climbing Gym.
The waiver form must be completed once a year. All climbers are required to sign a new waiver form starting April 1 of each year.
Equipment Rentals
Harness:   $3.00 + GST
Shoes:   $3.00 + GST
Complete package:   $6.00 + GST
Belay device and/or carabiner: Included with admission
We do have shoes and harnesses to fit climbers as young as 4 years old. All climbers must have clean and dry footwear (climbing shoes or runners) when climbing - no bare feets or socks permitted. 
Children Climbing Programs
Squirrel Squad: 4-6 years 
This 5-week program focuses on providing young children with a taste of climbing.  By using a combination of auto-belays, boulder games, and instructors operating the top-ropes, the children will be given the chance to climb as much as possible.  All equipment is included.  $70
Gecko Gang: 7-9 years
As a class for slightly older children, this 5-week program will combine fun climbing activities with basic technique lessons and the rudiments of top-rope belaying with a Gri-Gri.  One primary objective is to have the students belaying by the end of the program, particularly if they have taken this course before.  All equipment is included.  $70
Climber Club: 10-14 years
Catering to older children, this course reinforces (or introduces, if need be) top-rope belaying skills and builds upon the basics of climbing technique.  More emphasis will be placed on the students employing their movement skills to climb routes and boulder problems.  Also, some other skills related to climbing, such as rappelling, may be explored.  All equipment is included.  $70
Funky Monkeys: 4 - 12 years
This is an introduction to climbing session for any child looking to climb our walls instead of yours. Our instructors will handle all aspects of the safety skills and all climbing equipment is included.
Youth First Steps - Top Rope Belaying: 9 - 15 years
Learning to top rope belay is required to participate in our Rock Starz! Climbing Club. All safety skills will be learned, including how to put on your harness, tie your knot, perform safety checks, and belaying your partner. There will also be practice in catching falls. All equipment included.
Adult Programming
First Steps - Top Rope Belaying: 16 years and older
An introductory course for adults who are interested in learning the proper usage of climbing equipment and the basics of climbing communication. After completing this 2-hour course and a safety check the next time you and your partner come you will be able to use the top ropes during our public hours. All equipment included.
Next Steps - Lead Climbing & Belaying: 16 years and older
Step it up a notch and learn how to lead climb!  In this course, you will learn the safety principles of lead belaying and climbing so that you can venture into a new realm of indoor climbing. Must pass a top-rope belay test prior to registration and climb most top ropes routes in the gym comfortably. All equipment included.
Private Instruction
Any of our courses and programs can be scheduled at times that are more convenient to you and your group, including our outdoor preparation courses. Contact Will Neufeld at 403.762.7545 or will_neufeld@banffcentre.ca for more details and prices. 
Contact  Us 
For more information and to register for any of our climbing programs, please contact:
403.762.6450 
All persons aged 3 years and under are not permitted in the climbing gym except during specific times.
All persons aged 15 years and under must be supervised by an adult when climbing outside of a registered program.