Skirt the parlour, and shun the zoo
October 5 - December 15, 2013
Rebecca Brewer, Ursula Mayer, Josée Aubin Ouellette, Lucy Stein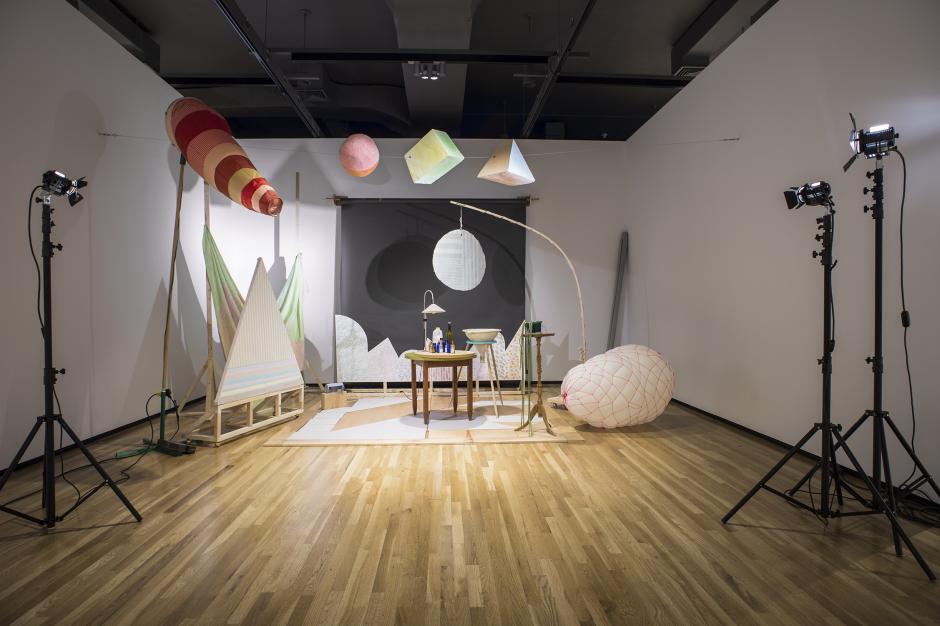 Skirt the parlour, and shun the zoo brings together a selection of paintings, works on paper, sculpture and film by artists who interpret and interrogate the human figure within their images. The figures in the exhibition provisionally cohabitate and become devices that traverse differing social unions, private worlds, imagined desires, and states of altered belonging. The title of the exhibition is a reconsidered line from a poem by Dorothy Parker, The Ballad of Unfortunate Mammals (1931). Isolated from its original context, the phrase becomes a mechanism to consider the complications and tensions of negotiating public and private realms.
Rebecca Brewer's paintings bridge figuration and abstraction, renewing traditional portraiture with a novel vision. Often depicting recurring figures of various social titles — The Economist (2012), The Improviser (2012),The Beatnik (2013), The Luddite (2012) — Brewer employs careful lines and colour to redevelop characters whose public personas are already acutely defined. Brewer's materials mimic the salient features of each of her subjects, developing a cast who collectively address both the narrative of performance and the reconsideration of societal classifications.
Josée Aubin Ouellette's Stage Hand: Tropismes (2013) is a collection of sculptures, rearranged by gallery staff. The guiding principles for these rearrangements are based on a book by Nathalie Sarraute called Tropismes(1939), which presents a series of instructions that govern both social relations and spatial movements. Specifically, Sarraute refers to the phenomenon of plants that are responsive to, yet restricted by their physical environment. In this shifting space, Ouellette's work questions the role of art as both raw matter and narrative tool, and the relationship of power between the support and the supported.
Ursula Mayer's film GONDA (2012) follows a script by writer and critic Maria Fusco and features, among others, transgender model Valentijn de Hingh. The script finds its origins in the controversial philosopher Ayn Rand's play Ideal (1934), in which the fictional actress Kay Gonda enters the lives of a group of admirers who profess that she embodies their deepest values. Oscillating between colour fields, fashion shoots, theatrical sets, volcanic landscapes, all punctuated by a small cosmology of objects, GONDA's narrative both embodies and rescinds the ideals of a filmic grammar.
Lucy Stein's work presents a series of gestural, loosely defined bodies that merge into the dense landscapes in which they are placed. Referencing the intentions of British neo‐romantic and modern painters, Stein's figures play upon the settings in which they are positioned, while her absurdist motifs work to distort and interrupt place and time; appearing to imitate each other across surfaces. By locating her figures among the esoteric and private, Stein's pictures allow her to negotiate these positions as a diaristic public performance, couched in humour and wit.
Artist Biographies
Ursula Mayer 
(born 1970, Austria, lives and works in London) has had solo exhibitions at Galerie Juliètte Jongma, Amsterdam (2012); Monitor, Rome (2010); and Fondazione Pastificio Cerere, Rome (2010). She has also been included in group exhibitions, Performa 11, New York; Short Stories, Sculpture Center, New York; Prospectif Cinema, Centre Pompidou, Paris (2011); 100 Years (version #3), Garage, Moscow; and Projections, Bonniers Konsthall, Stockholm (2010).

Rebecca Brewer 
(born 1983, Tokyo, lives and works in Vancouver) completed her MFA at Bard College (2012) and her BFA at Emily Carr Institute of Art and Design (2007). Recent solo exhibitions include Nine Paintings of Ayn Rand, Exercise, Vancouver (2012); Path to the Oracle, Galerie Werner Whitman, Montreal (2009); and an upcoming exhibition at Catriona Jefferies, Vancouver (2014). Brewer has also been included in the group exhibitions Crystal Tongue, Exercise Projects, Vancouver (2013) Through a Glass Darkly, Vancouver Art Gallery (2012); and at various institutions including the Art Gallery of Alberta, Edmonton; The Power Plant, Toronto. Brewer was the winner of the RBC Painting Competition (2011).
Josée Aubin Ouellette 
(born 1986, lives and works in Montreal) completed her MFA in Studio Arts at The Glasgow School of Art, and a BFA at the University of Alberta. Recent group exhibitions include Don't Leave Me This Way, Künstquartier Bethanien, Berlin (2012); and Autonomous Supports, Generator Projects, Dundee (2011). She has also been included in the group exhibitions Provisional Structure Gallery, Shipping Container Gallery, Glasgow (2011); and the upcoming Stage Hand, Harcourt House Gallery, Edmonton (2014).
Lucy Stein
(born 1979, Oxford, lives and works in Glasgow and London) studied at Glasgow School of Art and de Ateliers, Amsterdam. Recent group exhibitions include Hysteria, Laughter and a Sense of Seriousness, Karma International/Gregor Staiger, Zurich (2011); The Invincible Summer Within, Jesus Pobre, (Alicante), Spain (both 2011), Everything Rhymes With Your Condition, Martin van Zomeren, Amsterdam (2010); and Creemie Myopic Fables; Purpling (curatorial project), Gimpel Fils, London (2009).