this land is lonely for us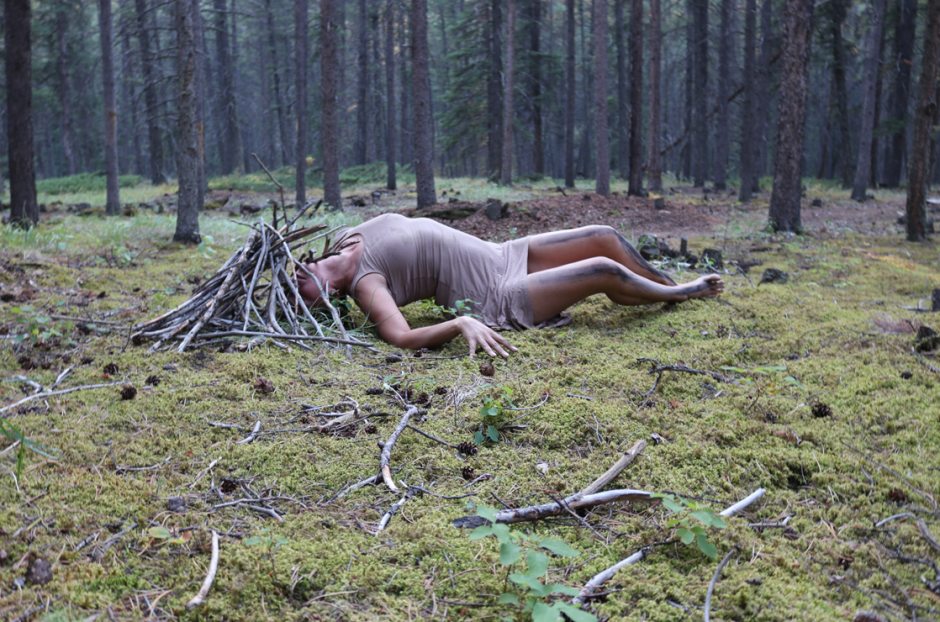 this land is lonely for us
Walter Phillips Gallery, Satellite Space
Eric Harvie Theatre, West Lobby
Jaime Black / Meagan Musseau / Anne Riley
Curated by Indigenous Curatorial Research Practicum, Sylvia Dreaver
June 22–August 18, 2019
Opening Reception: June 21, 2019 from 5:00pm-7:00pm
Curator's tour: June 27, 2019 from 12:00pm-1:00pm
Indigenous epistemologies intrinsically connect us as peoples to the land. As the place where our ancestors reside; where spirit beings exist; and where living plants, animals and humans interact; land is entwined with territory, kinship and identity, and holds a myriad of cultural, social and political ideologies that have shaped our relationship to it.
The creation of Canada's first National Park in Banff imposed boundaries and displaced the original people of this territory. The artists in this land is lonely for us delve into their relationship with this specific region, through self-affirming practices rooted in culture and tradition that counter the ongoing legacies of colonial violence and imposition of oppressive structures. Works by Jaime Black, Meagan Musseau, and Anne Riley, reflect recent bodies of work produced on Banff Centre's campus. Each encourages site-specific discourse around this place and ask how cultural traditions can be reclaimed upon a land from which Indigenous peoples have historically been dispossessed.
Does the land cry for us? Does it feel the presence of our absence? Does it cry like so many of our mothers missing their stolen children? Does it long for our footsteps, our laughter, our song, and the careful ways we hunt and harvest?
Artist Biographies
Jaime Black
Jaime Black is a multidisciplinary artist of mixed Anishinaabe and European decent. Black's art practice engages in themes of memory, identity, place and resistance and is grounded in an understanding of the body and the land as sources of cultural and spiritual knowledge. Through her art practice Black creates space and time to connect with and enter into a relationship with the land in which she works. Her land art practice begins with spending time out on the land and connecting to the stories, knowledge and history the land carries, paying respect, and attention to the lessons the land has to teach. Black then weaves these teachings with her own experiences and insights, creating images and impressions from that space of connection.
Meagan Musseau
Meagan Musseau is an interdisciplinary visual artist of Mi'kmaq and French ancestry from Elmastukwek, Ktaqmkuk territory (Bay of Islands, Newfoundland). Musseau graduated with a BFA in Visual Art from Grenfell Campus Memorial University of Newfoundland and Labrador. Her work has shown nationally, in venues such as FLUX Media Art Gallery, Victoria; Open Space, Victoria; Campbell River Art Gallery; Kelowna Art Gallery; Art Gallery of Alberta, Edmonton; MacKenzie Art Gallery, Regina; Ace Art Inc., Winnipeg; Grenfell Art Gallery, Corner Brook; and Eastern Edge Gallery, St. John's. She was a member of the Indigenous Emerging Artist Program (2015-16) on unceded Coast Salish territory and has participated in artist residencies at Banff Centre for Arts and Creativity; Centre for Book and Paper Arts, Columbia College Chicago; University of Brighton Fine Art Printmaking; and the National Artist Program, Canada Games (2011), Halifax. Musseau's work has been supported by awards such as the Emerging Artist Award, VANL-CARFAC (2018); Emerging Atlantic Canada Artist Residency at Banff Centre for Arts and Creativity, The Hnatyshyn Foundation (2018); Aboriginal Arts Development Award, First Peoples' Cultural Council (2016); and Corner Brook Emerging Artist of the Year (2013).
Anne Riley
Anne Riley is a multidisciplinary artist living as an uninvited Slavey Dene/Cree/German guest from Fort Nelson First Nation on the unceceded Territories of the xʷməθkʷəy̓əm (Musqueam), Sḵwx̱wú7mesh (Squamish) and səlí̓lwətaʔɬ (Tsleil-waututh) Nations. Her work explores different ways of being and becoming, touch, and Indigeneity. She received her BFA from the University of Texas at Austin (2012) and graduated from the Native Education College with a Certificate in Family and Community Counselling (2016). She has exhibited both in the United States and Canada. Currently, she is working on a public art project commissioned by the City of Vancouver with her collaborator T'uy'tanat Cease Wyss. Wyss and Riley's project, A Constellation of Remediation (2019) consists of Indigenous Remediation Gardens planted throughout the city decolonizing and healing the dirt back to soil.
Curator Biography
Sylvia J. Dreaver
Sylvia J. Dreaver is from Treaty One Territory and is Nēhiyawēwin (Plains Cree). She is currently the Indigenous curatorial research practicum at Walter Phillips Gallery. She holds a BA Hons. in art history from the University of Winnipeg and has previously worked with organizations such as Mentoring Artists for Women's Arts (MAWA) and with the Canadian Museum for Human Rights. While at MAWA, she was program coordinator and also developed a group called Indigenous Feminisms, a space dedicated to fostering indigenous female-identified artistic practices. At the Canadian Museum for Human Rights, Dreaver has been an Indigenous program guide since its inception in 2014; a position selected by a group of Elders to work on a specialized tour called the Mikinak Keya (The Spirit Tour), which offers traditional teachings and knowledge through the architecture of the building. Dreaver is passionate about Indigenous art as well as Indigenous research methodologies and is committed to the advancement of curatorial research and museological practices related to Indigenous art collections and their associated histories.