We saw the reflected, inverted image of our own age
February 28 ‐ June 1, 2014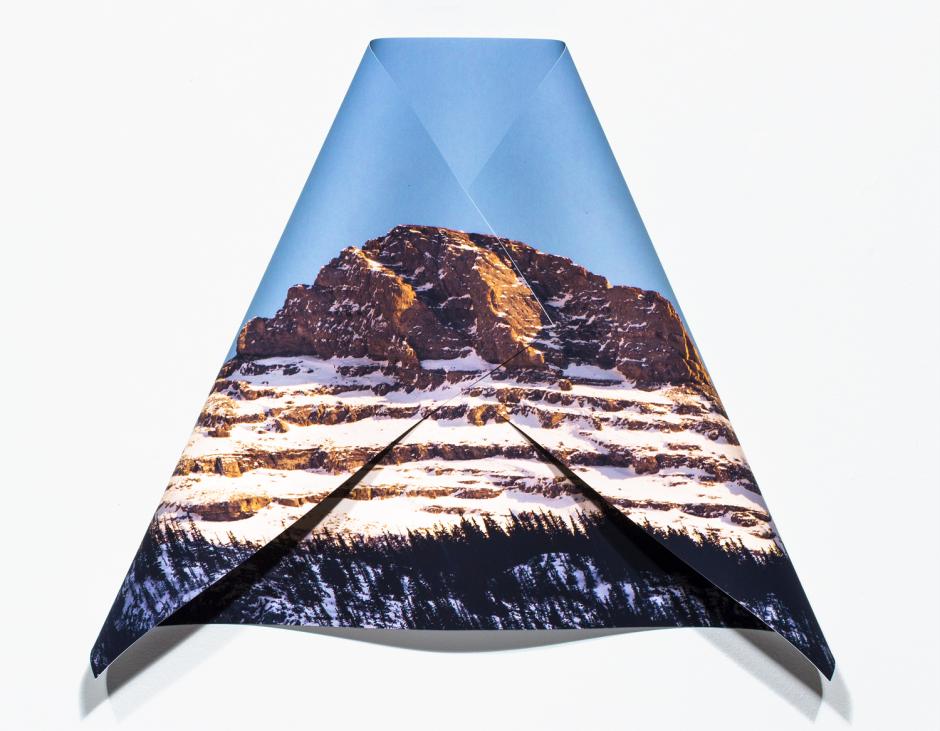 Mountain views become commonplace when thinking about our socio‐locality in Banff, an environment augmented by heightened seasonal tourism and the postcard aesthetic so often used to construct its promotional imagery. Inspired by the northwesterly vista of Cascade Mountain, through the windows that bank the exhibition space, Calgary‐based artist Tyler Los‐Jones' ongoing body of work uncannily reflects the mountains onto themselves.
Photographed from various sites throughout The Banff Centre campus, Los‐Jones' images distort the usual view of our surroundings and destabilize a natural sense of order. The lives of these images have seen multiple stages of transition; flat‐image planes, to image surfaces manipulated by the artist's hand in the space of the studio, and are finally re‐photographed as objects. These are objects in a constant state of re‐imaging and negotiation. Existing somewhere between the studio and the digital, the physicality of the work is disrupted, which begs the question: where do these images exist in the world?
By turning, disconnecting and re‐orienting these images, their place and geography are rendered as non‐sites, and the images become stand‐ins for countless other elsewheres. The gesture of image‐making from the perspective of Los‐Jones' practice, complicates the universal act of taking a photograph. In light of this, the works simultaneously speak to ecology and land‐use; incongruous representations of the sublime; and inherited assumptions of the landscape from advertising, art history and broader visual culture. The provisional status of these images work against their form and while familiar, they create mistranslations within the very act of looking.
Presented in collaboration with EXPOSURE, an annual celebration of Canadian and international photo‐based work featuring exhibitions and educational events in Banff, Canmore and Calgary.
ARTIST BIOGRAPHY
Tyler Los-Jones lives and works in Canmore, Alberta. His photographic and sculptural practice draws on his proximity to Alberta's Rocky Mountains, and investigates how western expectations of environments are created and fulfilled through photography and tourism. Los-Jones' work has been exhibited in solo and group exhibitions in the United States, the United Kingdom and throughout Canada. Recently, his work has been exhibited at Division Gallery, Toronto, Platform Centre, Winnipeg, and Ditch Projects, Springfield. His large-scale commission, "A Panorama Protects it's View" (2015), was included in "Future Station: the 2015 Alberta Biennial of Contemporary Art", the Art Gallery of Alberta, Edmonton. Los-Jones' work is included in the permanent collections of The Banff Centre, TD Canada Trust, Royal Bank of Canada, Alberta Foundation for the Arts and the City of Calgary Civic Collection.