The Amended Artist's Reserved Rights Transfer and Sale Agreement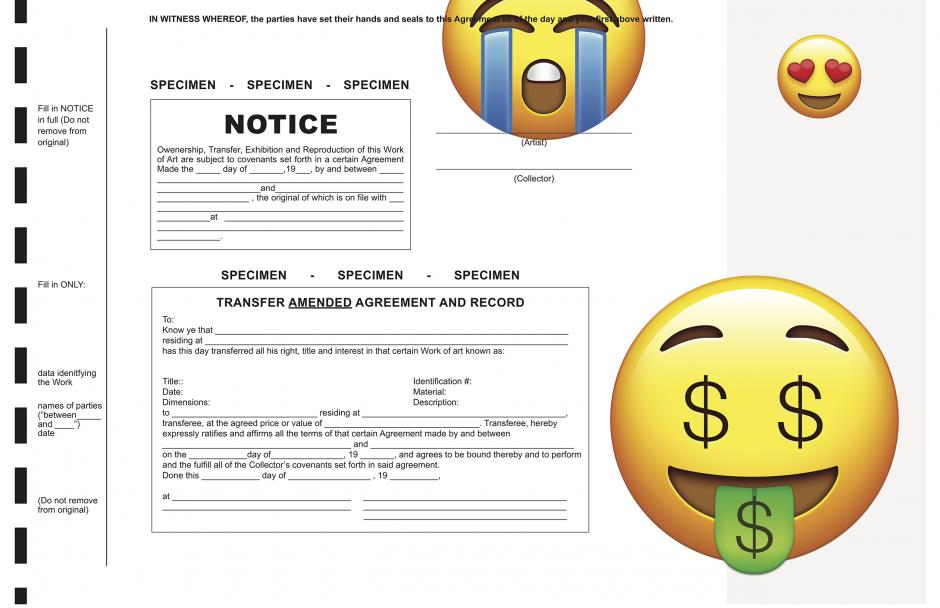 The Amended Artist's Reserved Rights Transfer and Sale Agreement
Shevaun Wright
Walter Phillips Gallery, Satellite Space
Jeanne and Peter Lougheed Building, First Floor
June 15 - August 25, 2019
In 1971, American conceptual artist Seth Siegelaub worked with lawyer Robert Projansky to produce a contract known as 'The Artist's Reserved Rights Transfer and Sale Agreement'. Intended to function as a legal document that ensured artists' resale rights after a purchase or acquisition, the agreement also functioned as a conceptual artwork that has become an important touchpoint for ensuing conversations on art and law.
In the new body of work, The Amended Artist's Reserved Rights Transfer and Sale Agreement, Los Angeles-based artist and lawyer Shevaun Wright presents an edited version of Siegelaub and Projansky's document. Marked with track changes and comments in its margins, Wright's work serves as a direct response to the original document's limitations, while extending conversations around the ethical implications of collecting and racial underpinnings of contemporary art.
Artist Biography
Shevaun Wright
Shevaun Wright is a lawyer and artist who is primarily engaged in an interdisciplinary practice that utilizes the contractual medium and the notion of the social contract, as well as re-contextualized dialogues as a tool for engaging in institutional, legal, and artistic critique. Informed by her Aboriginal heritage, she aims to extrapolate feminist and post-colonial critiques of the law and art as a means to access and reveal similarities in their discursive practices. She has master's degrees in law and art and is currently undertaking an MFA at UCLA in Professor Mary Kelly's Interdisciplinary Studio.