2022 Banff International String Quartet Competition Announces Winners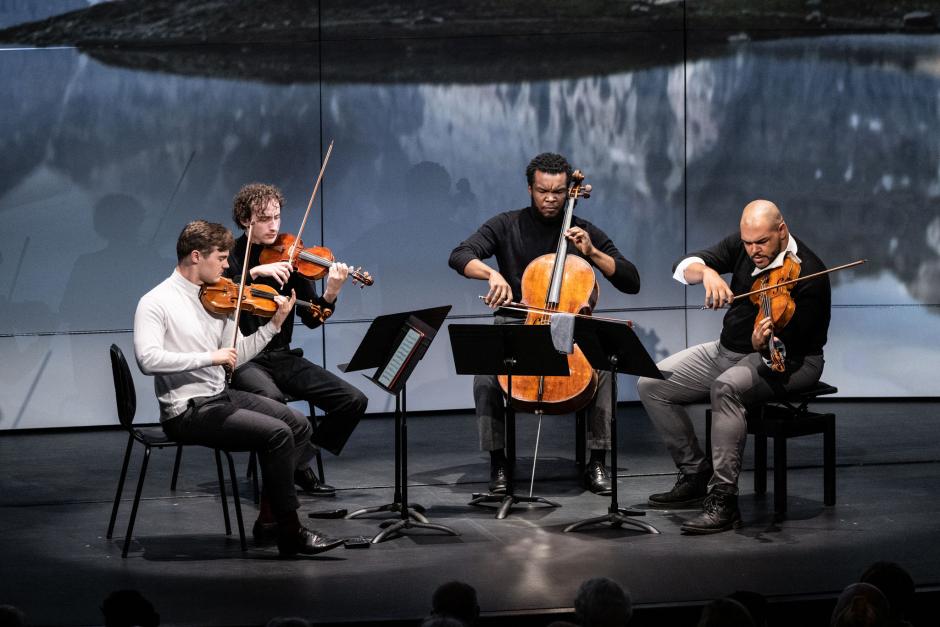 BANFF, AB - In an extremely difficult jury decision, the Isidore String Quartet from the USA comprised of Phoenix Avalon (violin), Adrian Steele (violin), Devin Moore (viola) and Joshua McClendon (cello), have won one of the most coveted prizes in chamber music at the 14th Banff International String Quartet Competition (BISQC) at Banff Centre for Arts and Creativity.
The winning quartet took first prize at the end of seven days of competition in a field of nine quartets from around the world. Throughout the week, each of the competing quartets performed programs that they created through a combination of selections from a specific, yet extensive, repertoire list as well as music of their choosing that highlighted their strengths as a quartet.  These works were performed during four distinct rounds of competition: the 21st Century Haydn Round, the Romantic Round, the Canadian Commission Round, and the Recital Ad-Lib Round.
 
The internationally renowned seven-member competition jury then selected three quartets to advance to a fifth and final round to perform on Sunday afternoon in front of a sold-out audience in the newly renovated Jenny Belzberg Theatre. The final round showcased each of the three finalists vying for over $500,000 CAD in cash, prizes, and opportunities by performing a complete work of Beethoven. After a standing ovation concert and two hours of close deliberations, the jury selected the Isidore String Quartet as the winner of the top prize.
 
1st Place Laureates: Isidore String Quartet will be awarded a custom-designed, three-year artistic and career development program which includes:
•   $25,000 CAD cash prize.
•    Winner's Concert Tours in career-building markets in Europe and North America, arranged by Banff Centre. 
•    A two-week residency at Banff Centre including a recording produced by Banff Centre. 
•    Coaching, career guidance, and mentorship. 
•    Southern Methodist University Peak Fellowship Ensemble-in-Residence Prize which includes a two-year paid visiting residency at the Meadows School involving performances, coaching, and mentorship. This residency is valued at over $200,000 CAD. 
•    Esterházy Foundation Residency including concerts at Haydn Hall in Eisenstadt and the Lucerne Festival. 
•    An opportunity for a two-week Chamber Music Residency at the prestigious Britten Pears Arts in Eng-land. 
•    Lawrence String Quartet's "John Lad Prize" - BISQC winner's concert on the main stage of Stanford University's Bing Recital Hall for Stanford Live's series in 2022-23.  
2nd Place Laureates:  Opus13 
•    $12,000 CAD cash prize; 
•    A creative residency at Banff Centre including coaching and mentorship opportunities. 
3rd Place Laureates:  Balourdet Quartet
•    $8,000 CAD cash prize; 
•    A creative residency at Banff Centre including coaching and mentorship opportunities. 
The R.S. Williams & Sons Haydn Prize: Isidore String Quartet
•    $4,000 for the best performance of a Haydn quartet from Round 1. 
The Canadian Commission Prize, in honour of the R.S. Williams & Sons Company: Quatuor Agate 
•    $4,000 for the best performance in Round 3 of the newly commissioned quartet by Dinuk Wijeratne. 
Christine and David Anderson Career Development Prizes: Abeo Quartet, Animato Kwartet, Dior Quartet, Karski Quartet, Quatuor Agate and Terra String Quartet
In recognition of the extraordinary level of artistry that BISQC attracts, all six quartets not advancing to the finals will receive a $5,000 CAD prize to support their emerging careers.
 
"Our goal for this competition is to propel the careers of the winners and finalists," said Barry Shiffman, Director of the Banff International String Quartet Competition. "Their artistic lives will be transformed over the next three years with a two-year residency at Southern Methodist University, a residency that will include a professional recording at Banff Centre and a North American and European Tour that will expose them to audiences everywhere."
 
The Banff International String Quartet Competition is recognized as one of the premier chamber music competitions in the world. Established in 1983, BISQC is a large celebration of chamber music in a festival format attracting enthusiastic capacity audiences. The unparalleled exposure to concert presenters, managers and broadcasters from North America and abroad makes BISQC a career launching pad for all invited ensembles. 
 
Banff Centre thanks the Azrieli Foundation, and all our generous BISQC endowments and supporters of the competition. We also recognize the Government of Alberta Advanced Education, Alberta Foundation for the Arts, Government of Canada Department of Canadian Heritage and Canada Council for the Arts. And special thanks to Jenny Belzberg, the Belzberg family and the friends of Jenny for making the revitalization of The Jenny possible through their generosity.
 
Banff Centre is grateful to our media partners who help us share BISQC with music lovers across Canada and around the world. Thank you to the Canadian Broadcasting Corporation, the Violin Channel, and all the media who attended this week.