Announcing the 2019 TAC Leaders Lab Fellows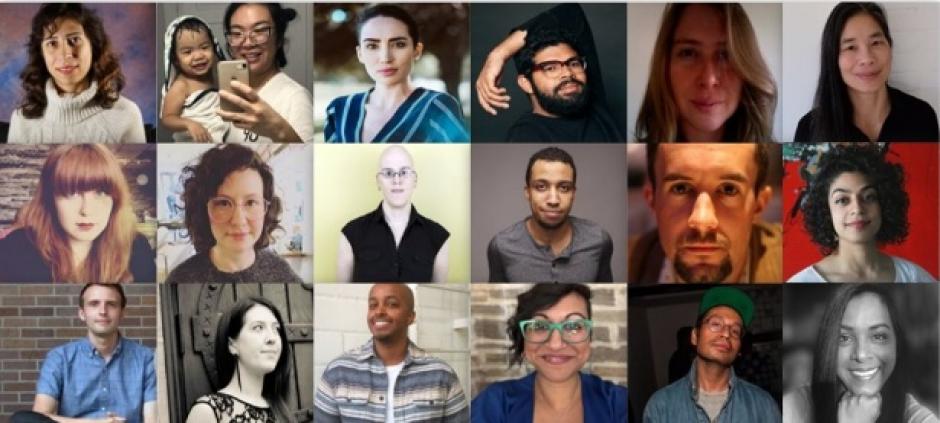 TORONTO, March 13, 2019 – Toronto Arts Council and Banff Centre for Arts and Creativity are pleased to announce the 2019 Leaders Lab fellows, a group of 18 talented Toronto arts and cultural sector leaders who will work together to grow the capacity of the arts sector in Toronto.
The TAC Leaders Lab program is a unique partnership between the Toronto Arts Council (TAC) and Banff Centre, bringing together a select group of mid- to senior-level arts professionals to collaborate over a one-year period to help enhance leadership capacity in Toronto's arts and culture sectors.
The program kicks off with a one-week intensive leadership retreat in Banff, followed by monthly programmed activities in Toronto.
Now in its fifth year, TAC Leaders Lab was developed in response to the need for increased cross-sector learning and collaboration among Toronto's arts and cultural leaders. The hands-on program evolves yearly, directly informed by the interests and backgrounds of each cohort, and offers these emerging leaders the motivation and tools to redefine leadership and its role in building the creative city.
The new cohort of fellows are a highly accomplished group of leaders from across arts disciplines whose experiences range from arts advocacy, curation, programming, community engagement and much more, at many of the city's key arts institutions.
Through a process led by facilitators from across disciplines and sectors, participants in the TAC Leaders Lab will exchange information and ideas on creative place-making, community engagement, equity, strategies for change, and best practices in arts leadership.
2019 faculty includes facilitator and producer Laura Nanni; Vanier Scholar, visual artist, and activist Syrus Marcus Ware; and poet, painter, filmmaker and storyteller Elder Duke Redbird, who served as the first mentor advisor in the Indigenous Visual Culture Program at OCAD University. 
"Over the last four years, the TAC Leaders Lab has helped foster a strong network of local changemakers who not only share their insights and expertise with each other within the program, but also bring that innovative outlook to shaping the future of arts in Toronto," said Claire Hopkinson, Director and CEO, Toronto Arts Council. "Toronto Arts Council is pleased to continue our partnership with Banff Centre on this important initiative, and we welcome the energy and ideas of this brilliant new cohort of Fellows. Alumni from TAC Leaders Lab have been working together to tackle some of the most pressing challenges facing the sector."
"As cultural leaders, we should be continually asking ourselves: 'What is our role in our community? What is our responsibility to it? Our relevance? And how does my organization respond?'" said Howard Jang, Vice-President Arts & Leadership, Banff Centre for Arts and Creativity. "That's why Banff Centre is proud to partner with Toronto Arts Council on the Leaders Lab program – two organizations who believe in the central place not only of arts in the community, but of the community in the arts."
2019 TAC Leaders Lab Fellows: 
Jessa Agilo, arts manager, educator, and social entrepreneur; founder, ArtsPond 
Shenaz Baksh, Education and Outreach Coordinator, Liaison of Independent Filmmakers of Toronto 
Noa Bronstein, Senior Curator of Museums Mississauga and the Small Arms Inspection Building 
Sergio Elmir, arts programmer and curator; founder, Futuro Libre Creative Agency 
Cathy Gordon, independent curator, producer, and community-engagement advocate 
Emily Gove, Director of Xpace Cultural Centre 
Omer Ismael, Program Manager, Artscape Daniels Launchpad 
Mojan Jianfar, Planner, City Planning Strategies, City of Mississauga 
Matt McGeachy, Company Dramaturge, Factory Theatre 
Parul Pandya, community consultant, programmer, and producer   
Asad Raza, General Manager, Necessary Angel Theatre 
Luke Reece, Producer, Obsidian Theatre; Artistic Director, Little Black Afro Theatre 
Olivia Shortt, musician, composer, theatre artist and producer 
Aitak Sorahitalab, visual artist, art educator, and administrator; founder, Airsa 
Michael Vickers, visual artist and Co-Director of AKIN 
Andria Wilson, Executive Director, Inside Out 
Amy Wong, painter; founder of Angry Asian Feminist Gang 
Deanna Wong, Executive Director, Toronto Reel Asian International Film Festival 
About Toronto Arts Council: Toronto Arts Council (TAC) is the City of Toronto's funding body for artists and arts organizations. Since 1974, TAC has played a major role in the city's cultural industries by supporting a very broad range of artistic activity. From the emerging artist to the most established, from celebrated institutions to arts that challenge convention, TAC is typically the first funder to offer support. Today, TAC grants lead to exhibitions, performances, readings and workshops seen annually by over 9.5 million people. Through our ongoing funding, TAC cultivates a rich engagement between artists and audiences. It is proud to reflect Toronto's vibrancy through the diversity of the artists, arts communities and audiences that it serves. torontoartscouncil.org
About Banff Centre for Arts and Creativity: Founded in 1933, Banff Centre for Arts and Creativity is a learning organization built upon an extraordinary legacy of excellence in artistic and creative development. What started as a single course in drama has grown to become a global organization leading in arts, culture, and creativity across dozens of disciplines. From its home on Treaty 7 territory in the stunning Canadian Rocky Mountains, Banff Centre aims to inspire everyone who attends its campus – artists, leaders, and thinkers – to unleash their creative potential and realize their unique contribution to society through cross-disciplinary learning opportunities, world-class performances, and public outreach.