Banff Centre for Arts and Creativity present unique fall and winter acts for culture lovers of all ages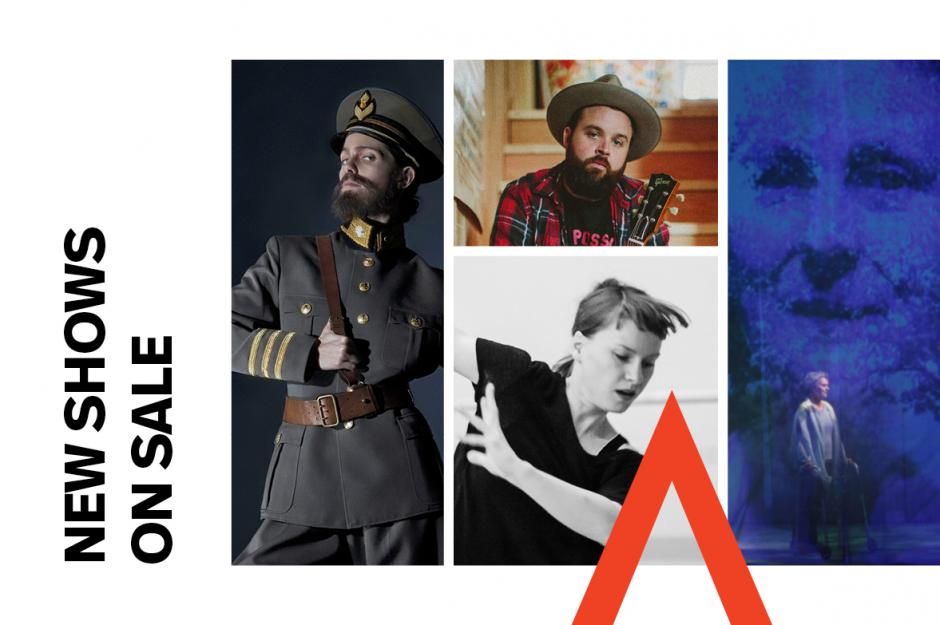 Banff Centre for Arts and Creativity is excited to present an eclectic fall and winter season filled with a roster of the very best in contemporary dance, music, comedy, and visual arts. The season showcases a series of artist talks, family fun events, and intimate performances by mainstage acts. Tickets are on sale July 11 at 12 noon on /fall-winter-2018.
Kicking off the fall season on September 22 will be Bow Valley favourite, roots musician Leeroy Stagger. This special evening will be the first in a series of mainstage folk and roots acts performing in Banff Centre's most intimate venue, The Club. On October 6, folk-acoustic trio, Primary Colours featuring Kim Richey, Doug Cox, and Linda McRae will perform on The Club stage, where their beautiful vocal harmonies and instrumental prowess will be enhanced in the intimate setting. The intimate concert series continues with folk musician Sam Baker (October 14), and roots musician-songwriter Colin Linden (October 18).
October 4 brings iconic Canadian folk singer-songwriter, Ron Sexsmith to the Margaret Greenham Theatre. Sexsmith was named Songwriter of the Year at the 2002 Juno Awards and most recently received positive reviews of his latest release, The Last Rider.
Comedy is in this season with shows from some of Canada's favourite comedians. This Hour Has 22 Minutes alum Mary Walsh (November 9) will take the stage with her unique comedy stylings. Keeping the laughs coming will be a special night of comedy featuring Bruce McCulloch from the cult classic comedy troupe, Kids in the HalI and Cathy Jones from This Hour Has 22 Minutes (January 26).
The holiday season heralds the return of Banff Centre favourites Barney Bentall & The Grand Cariboo Opry (November 10). After sold out shows last year, The Barra MacNeils return (November 25) with their classic East Coast Christmas concert, also returning the outrageous The Debaters Live Christmas Special (December 2) hosted by Steve Patterson.
Events at Banff Centre are deeply connected to our artistic programming and participant residencies. One of the most talked about dance companies around, Kidd Pivot led by Crystal Pite and Jonathon Young, present the avant premiere of their latest production Revisor (February 13 and 14) which was workshopped in Banff. Renowned choreographer and dancer Peggy Baker presents the avant premiere of Who we are in the dark (March 9) ahead of the world premiere February 21 in Toronto. The performance is an immersive production of daring contemporary dance; supercharged live music; and sophisticated design elements from artists working with pigment, projection, and light. 
Additional Season Highlights
September 28 - Opening Reception: THE CAVE
Celebrate the opening of the newest exhibition, THE CAVE, with exhibition curator Jacqueline Bell and artist Young June Kwak.
October 19 - Electric Company Theatre presents The Full Light of Day
Written by Daniel Brooks and directed by Kim Collier, The Full Light of Day is a provocative film and theatre experiment that pushes the use of media in theatre and examines the crucial choices Canadians face today.
October 25 ECM+presents Generation2018
This touring competition presents four emerging composers, Sophie Dupuis (NB), Patrick Giguère (QC/Birmingham, UK), James O'Callaghan (BC/Montreal), and Thierry Tidrow (ON/Cologne, Germany) as they present new works and compete for the $5,000 Generation Jury Award and the $1,500 Audience Choice Award.
December 15 - Sharon & Bram December 15
Do not miss one of North America's most cherished family acts as Sharon & Bram make Banff one of their final stops ever. The beloved musical act presents their classic sing-along concert suitable for kids of all ages.
February 21 - Alan Doyle
From Newfoundland to Banff, Alan Doyle, former frontman of Great Big Sea, brings his unique brand of East coast folk music to the mountains.  
March 2 - William Prince
Canadian folk and country singer-songwriter, William Prince from the Peguis First Nation in Manitoba has been on the rise since the release of his debut album Earthly Days in 2015. In 2017 he  
won the Juno Award for Contemporary Roots Album of the Year and Western Canadian Music Award for Aboriginal Artist of the Year in 2015.
For the full list of events, visit /fall-winter-2018 
About Banff Centre for Arts and Creativity:  Founded in 1933, Banff Centre for Arts and Creativity is a learning organization built upon an extraordinary legacy of excellence in artistic and creative development. What started as a single course in drama has grown to become the global organization leading in arts, culture, and creativity across dozens of disciplines. From our home in the stunning Canadian Rocky Mountains, Banff Centre for Arts and Creativity aims to inspire everyone who attends our campus – artists, leaders, and thinkers – to unleash their creative potential and realize their unique contribution to society through cross-disciplinary learning opportunities, world-class performances, and public outreach. www.banffcentre.ca