Banff Centre Congratulates 2022 BISQC Laureates Isidore Quartet on Receiving Avery Fisher Career Grant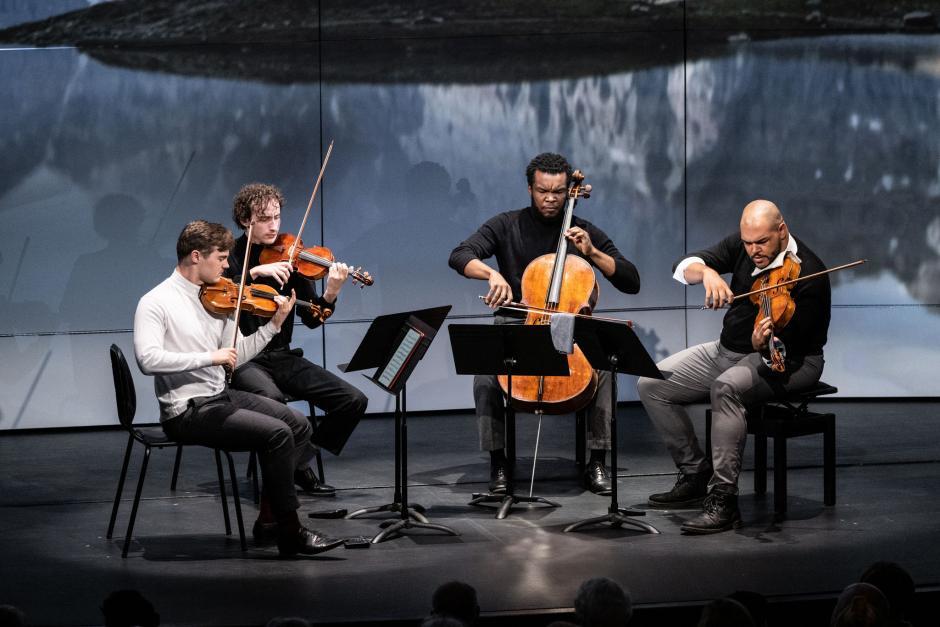 Banff Centre extends its sincere congratulations to the Isidore String Quartet as a recipient of the Avery Fisher Career Grant for 2023. This extraordinary recognition comes just seven months after their Banff International String Quartet Competition (BISQC) triumph last September. The Avery Fisher Career Grants give professional assistance and recognition to emerging instrumental artists with great potential for major careers in classical music.
The Isidore String Quartet from the USA is comprised of Phoenix Avalon (violin), Adrian Steele (violin), Devin Moore (viola) and Joshua McClendon (cello). Becoming BISQC Laureates and earning a $25,000 Avery Fisher Career Grant in the third year of their existence represents an astonishing achievement. All prior Avery Fisher Career Grant ensembles were at least eight years past their founding, with most far longer.
"Congratulations to the extraordinary Isidore on this prestigious award. Following their triumphant Banff win, their success on the international stage has been a joy to witness. They now join a prestigious group of past winners, and I am confident the quartet will continue to grow and contribute in a most profound way," notes BISQC Director Barry Shiffman.
Artists do not apply directly for these awards and have no idea they are even under consideration. A Recommendation Board, comprising conductors, instrumentalists, music educators, composers, managers, and presenters, nominates artists for the Career Grants. An Executive Committee, chaired by New York Philharmonic President Deborah Borda, makes final Career Grant selections, and chooses recipients for the Avery Fisher Prize. The Avery Fisher Artist Program is committed to diversity, with award recipients chosen based on outstanding musical merit.
Isidore's success at BISQC has brought a very busy schedule for the quartet, including extensive tours of North America and Europe, a two-year appointment as the Peak Fellowship Ensemble-in-Residence at Southern Methodist University in Dallas, performances at Haydn Hall in Eisenstadt and the Lucerne Festival, plus a two-week residency at Banff Centre including a professionally produced recording, along with extensive ongoing coaching, career guidance, and mentorship.
"Musicians of outstanding ability are such an important part of our culture. But they are like flowers that must bloom at a particular time. They have to be helped at the right moments…" — Avery Fisher
About the Isidore String Quartet
Winners of the 14th Banff International String Quartet Competition in 2022, the New York City-based Isidore String Quartet was formed in 2019 with a vision to revisit, rediscover, and reinvigorate the repertory. The quartet is heavily influenced by the Juilliard String Quartet and the idea of 'approaching the established as if it were new, and the new as if it were firmly established.' The members of the quartet are violinists Adrian Steele and Phoenix Avalon, violist Devin Moore, and cellist Joshua McClendon. The four began as an ensemble at the Juilliard School, then following a break during the global pandemic reconvened at the Kneisel Hall Chamber Music Festival in the summer of 2021 under the tutelage of Joel Krosnick. In addition to Mr. Krosnick, the ISQ has coached with Joseph Lin, Astrid Schween, Laurie Smukler, Joseph Kalichstein, Roger Tapping, Timothy Eddy, Donald Weilerstein, Atar Arad, Bob McDonald, Christoph Richter, Miriam Fried, and Paul Biss, while performing in venues such as Alice Tully Hall, the Kennedy Center, and the Ravinia Festival.
About the Avery Fisher Artist Program
The Program, administered by Lincoln Center for the Performing Arts, has been recognized as one of the most prestigious in the music world, and instrumentalists continue to treasure both the Prize and the Career Grants. The Avery Fisher Prize is awarded in recognition of musicians who represent the highest level of excellence and whose vision and leadership have taken classical music to an expanded level. Since 1975, Avery Fisher Prize awardees have included Emanuel Ax, Emerson String Quartet, Yo-Yo Ma, Midori, Murray Perahia, André Watts, and many more. The Avery Fisher Career Grants began in 1976 and have been received early in their careers by artists such as Nadja Salerno-Sonnenberg, Anthony McGill, Richard Stoltzman, Pamela Frank, Gil Shaham, and Sarah Chang, all of whom subsequently became Prize recipients, Ursula Oppens, Demarre McGill, Augustin Hadelich, Yuja Wang and George Li, among dozens of others. While the Prize and Career Grants are primarily given to soloists, since 2004, consideration is also given to chamber ensembles.
About the Banff International String Quartet Competition
For 40 years, Banff International String Quartet Competition has celebrated the art of chamber music while providing career support for emerging string quartets. Intended as a one-time special event, the first competition was held in 1983 to mark the 50th anniversary of Banff Centre for Arts and Creativity. The outstanding success of the first competition inspired organizers to make this a triennial event. In 2017, the Banff International String Quartet Festival commenced in non-competition years. This intimate weekend concert experience offers beautifully curated opportunities to hear laureates from the competitions in unique collaborations with other world-renowned musicians. BISQC is committed to fostering career development with competition laureates through touring, residencies, coaching, collaborations, and recordings, as well as supporting opportunities for youth with mentoring programs. All of these activities - competition, festival, and career development - aim to provide opportunities for musicians and audiences alike, inspired by the beautiful setting of Banff Centre for Arts and Creativity in the Canadian Rockies. BISQC is a member of the World Federation of International Music Competitions and is widely recognized among the top events of its kind. The Banff International String Quartet Competition is generously supported by many individuals, corporations, and foundations. The complete list of supporters can be viewed at: https://www.banffcentre.ca/banff-international-string-quartet-competitio...
Related Media and Articles