Banff Centre Congratulates Viano Quartet on Being Selected for The Bowers Program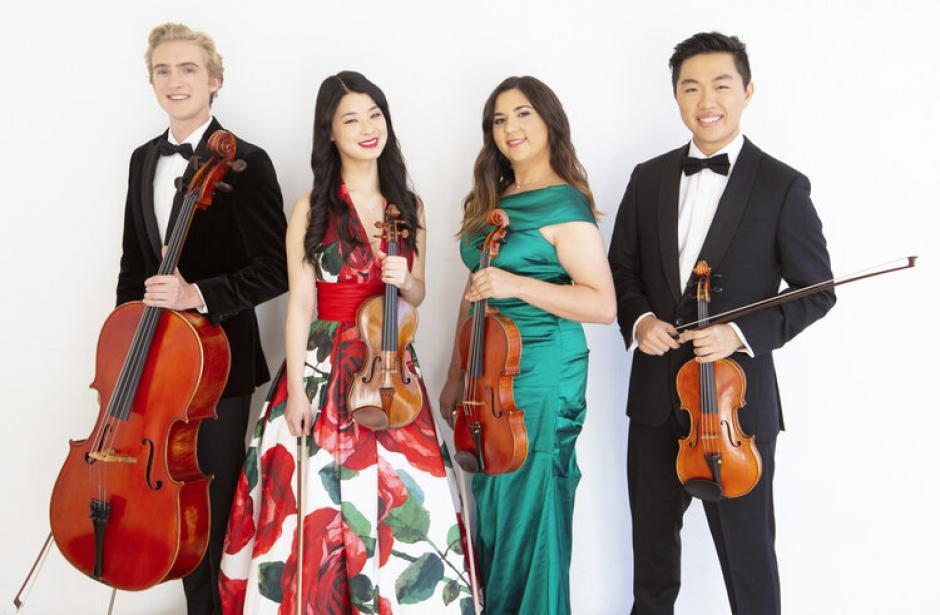 Banff Centre sincerely congratulates the Viano Quartet on being selected for The Bowers Program by The Chamber Music Society (CMS) of Lincoln Center. The Viano Quartet are the 2019 Banff International String Quartet Competition (BISQC) first-place laureates and will be performing at the upcoming 2023 Banff International String Quartet Festival (BISQFest) September 1-3. The Bowers Program is a highly competitive three-season residency in which participants perform, tour, and teach alongside Chamber Music Society artists.
 
The Viano String Quartet is comprised of Lucy Wang, 26, violin (Canada); Hao Zhou, 26, violin (USA); Aiden Kane, 27, viola (USA); Tate Zawadiuk, 25, cello (Canada). 
 
The Bowers Program identifies and nourishes a select number of individuals and ensembles chosen through highly competitive auditions. This year's participants in The Bowers Program were selected from an international pool of 168 candidates. The nine individual artists and one ensemble hail from seven countries, range in age from 22 to 32 and are award winners and recipients of the world's most prestigious classical music honours for young musicians. 
"Having this extraordinary opportunity of the Bowers Program at The Chamber Music Society of Lincoln Center is an incredible achievement for this exceptional quartet. David Finkel and Wu Han are passionately committed to mentoring and creating opportunities for young artists and keep the bar of excellence very high. This will be a transformative experience for this Viano. Bravo!!" - Barry Shiffman, BISQC Director
The Bowers Program has proven to be a springboard for many of today's most successful chamber music artists, and it provides CMS itself with the next generation of artists. Approximately fifty percent of the current roster at CMS is composed of Bowers alumni, the current Bowers cohort, and incoming members of the program, who perform as equal colleagues alongside CMS artists of all generations. Bowers Program artists are integrated into every facet of CMS activities for a three-season term, performing on CMS's New York stages as well as in cities across the US and abroad alongside established CMS artists; program participants also appear as part of CMS education and community outreach programs.
 
About the Viano Quartet
The Viano Quartet won the first prize at the 2019 Banff International String Quartet Competition and have performed in New York, London, Berlin, Vancouver, Paris, Beijing, Toronto, Lucerne, and Los Angeles, among others. The quartet was named the inaugural June Goldsmith Quartet-in-Residence for the Music in the Morning series in Vancouver until 2025, where their focus will be to commission new works and lead extensive community engagement initiatives. Formed in 2015, the quartet has held residencies at the Curtis Institute, the Colburn Conservatory, Northern Michigan University, and Meadows School of the Arts at Southern Methodist University. Summer 2023 brings re-invitations to Chamber Music Northwest and the Bravo! Vail Festival, along with appearances at the Intimacy of Creativity Festival in Hong Kong, Ottawa Chamberfest, Minnesota Beethoven Festival, and BISQFest, among others.
About the Bowers Program
The Bowers Program began as "CMS Two" in 1994. It was renamed after Ann S. Bowers in 2018, in recognition of her leadership donation to CMS to secure the development of the next generation of outstanding young musicians. Throughout its history, 101 individual artists and 11 ensembles have completed the program, many of whom have gone on to become the world's leading classical musicians, including Hilary Hahn, Inon Barnatan, Alisa Weilerstein, Anthony McGill, and the Miró, Escher, and Danish String Quartets, among many others. The names and biographies of the class of 2024-2027 can be found at  https://www.chambermusicsociety.org/about/news/introducing-the-2024-27-b...
 
About the Banff International String Quartet Festival
For 40 years, the Banff International String Quartet Competition has celebrated the art of chamber music while providing career support for emerging string quartets. Intended as a one-time special event, the first competition was held in 1983 to mark the 50th anniversary of Banff Centre for Arts and Creativity. The outstanding success of the first competition inspired organizers to make this a triennial event. In 2017, the Banff International String Quartet Festival commenced in non-competition years.  This intimate weekend concert experience offers beautifully curated opportunities to hear laureates from the competitions in unique collaborations with other world-renowned musicians. 
 
Featured Performers at BISQFest 2023 include: New Orford String Quartet, Viano String Quartet, Leonkoro Quartet, Dior Quartet, Michael Bridge, Anna Štube, Ema Nikolovska, Gilles Vonsattel, Joel Quarrington, Barry Shiffman, Dr. Thomas Wolf, Alon Nashman, Carmen Braden, and Larry Weinstein. For more information on artists, programming, or packages for BISQFest 2023 please visit https://www.banffcentre.ca/banff-international-string-quartet-festival
Related Media and Articles