Banff Centre Mountain Film and Book Festival schedule now online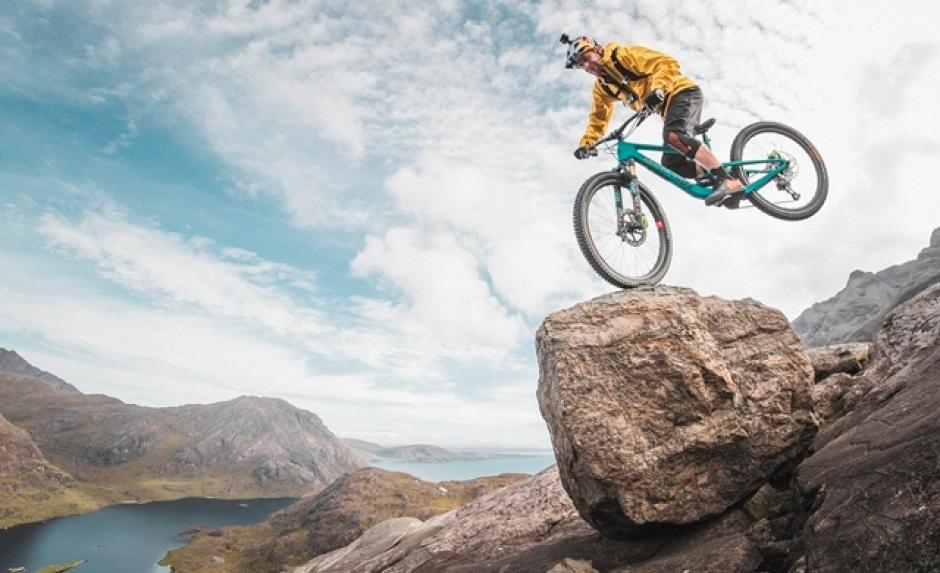 BANFF, AB, September 29, 2021 – Banff Centre Mountain Film and Book Festival is thrilled to announce the 2021 Festival schedule. The 46th annual Festival (October 30 to November 7) will feature reduced-capacity in-person live events in Banff Centre's newly renovated Jenny Belzberg Theatre, and at partner venues in Banff and Canmore, complemented by 30 online programs including feature films, curated mix film programs, and guest speakers.
Highlights include: climber Brette Harrington, Voices of Adventure with author and 2020 Piolet d'Or award winner Steve Swenson, interview with Dawa Futi Sherpa, Tshering Namgya Sherpa and Nima Jangmu Sherpa 3 Sisters on 7 Summits, explorer and environmentalist Mandip Singh Soin, and a stellar line-up of 76 action packed films from 12 countries, including the Canadian premiere of Torn.
The Festival schedule is now available online and passes and tickets go on sale Tuesday, October 5 at 12 noon MT (tickets for live in-person events in Banff from $15-$25 CAD, early bird virtual passes $125 CAD available until October 15). Tickets can be purchased at banffmountainfestival.ca or Banff Centre Box Office.
We're very excited to offer small and safe live events this year alongside our hugely successful virtual festival. Even with the challenges that COVID-19 has imposed on the world, filmmakers and authors have not been idle, and the quality of mountain culture stories has never been better. We are thrilled to be sharing the best of these with our local community and with fans from afar.
Joanna Croston, Festival Director
Find out more about the 2021 Festival lineup of films and speakers, the schedule for the live and virtual events, "how to" watch, Festival tips, and live Q&A with Festival Director Joanna Croston on Friday October 8, 12:30pm MT.
Festival highlights:
October 30: Torn - Feature Film | Live
On Oct. 5, 1999, legendary climber Alex Lowe was tragically lost in a deadly avalanche on Shishapangma. Miraculously surviving the avalanche was Alex's best friend and climbing partner, Conrad Anker, who went on to marry Alex's widow and help raise his three sons. Now, Alex's son, filmmaker and National Geographic Explorer Max Lowe, turns the lens on his own family as the body of his father is uncovered 17 years after his death.
October 31: Voices of Adventure - An interview with Steve Swenson | Live
Steve Swenson grew up in Seattle and started climbing at age 14. He has been climbing for 53 years including 20 expeditions to South Asia and notable ascents of K2 and Chomolungma (Mt. Everest) both without bottled oxygen. He was on teams that won a Piolet d'Or award in 2012 for the first ascent of Saser Kangri II (7518 m) and then again in 2020 for the first ascent of Link Sar (7041m). He is married with two sons and after a 35-year consulting engineering career related to water and wastewater infrastructure projects, Swenson retired to become a full time climber and alpinist. He is the author of Karakoram: Climbing Through the Kashmir Conflict which was shortlisted for the 2017 Banff Mountain Literature Award. Swenson joins noted climber, writer and former psychologist Geoff Powter in conversation on stage for this year's Voices of Adventure interview.
November 5: Brette Harrington and Films | Live
Bold alpinist, accomplished 5.13+ trad climber, calculated soloist, expert ski mountaineer, big wall sender, graceful mixed climber… Brette Harrington owes her lengthy title to her versatility in the mountains. Only 31 years old, her first ascents span Alaska, Patagonia and the Canadian Rockies and her impact on the modern climbing scene is both respected and formidable. Join us for an on-stage conversation with Brette as she is interviewed by local Heather Walter.
November 6: Long Live Chainsaw Premiere and Films - Feature Film | Live
Long Live Chainsaw reveals the true story of the meteoric rise, untimely death and long-lasting legacy of Canadian downhill mountain bike legend, Stevie Smith. Born into poverty and raised by a devoted single mom, Stevie's unwavering belief not only propelled him to become the best in world, it inspired everyone he touched to believe in their own impossible dreams. 
November 7: Overland and Films - Feature Film | Live
Adventure unfolds across four continents as an eagle hunter, a hawk whisperer, and a falcon racer awaken an ancient art to connect to the wild that is fading out of sight and out of mind.
Finding Flow - Mixed Films + | Virtual
What happens when you put your foot on the first hold and press upward or when your shovel pierces the earth as you lay down a new trail? With each step your body seeks to find flow and ultimately your mind finds peace. This program is about starting new journeys and leading the charge. This program includes a virtual presentation: 3 Sisters on 7 Summits. In May 2021, sisters Nima Jangmu, Tshering Namgya and Dawa Futi found themselves summiting Chomolungma (Mt. Everest) together as a team. In doing so, they set a new record as the first three sisters to reach the highest point on earth. With the highest summit already under their belts, these three inspiring Nepali climbers hope to empower and motivate women in Nepal and indeed all over the planet.
The Second Summit & Victor Saunders - Feature Film | Virtual
Veteran British mountaineers Mick Fowler and Victor Saunders reunite to tackle an unclimbed Himalayan summit, having overcome cancer, ageing bodies and a thirty-year falling out. This program includes a virtual presentation with Victor Saunders in conversation with Canadian alpinist Ian Welsted.
World Journeys - Mixed Films + | Virtual
Find your flow in the mountains of Turkey, experience Indigenous wisdom in Squamish, comb the shores of the Alaskan coastline, dance with harpy eagles in the Darien Gap and ski through darkness on your way to the North Pole. These journeys take you around the world, far from the comfort of your couch. This program includes a virtual presentation by Mandip Singh Soin. Mandip shares stories of early mountaineering exploits in the Indian Himalaya and some of his most memorable expeditions that have taken him to more than forty five countries and all seven continents.
Out the Back Door - Mixed Films + | Virtual
Leave your passport at home because sometimes the best journeys are those taken right out the back door. Running, fly fishing, bike-packing and skiing adventures close to home, wherever that may be, is what this film program is all about. This program includes a virtual interview, Chic Scott sits down with celebrated Canadian ski mountaineer and record holder Greg Hill for an intimate conversation about life, writing and Chic's latest book, Mount Assiniboine: The Story.
Covid Safety: In accordance with Alberta's Restriction Exemption Program, attendees at Banff Centre events will be required to provide proof of full vaccination, proof of a negative rapid test result or proof of exemption prior to entry to the building. Once inside, mask use will be mandatory in the theatre lobby, restrooms, and other public areas, and may be removed only when consuming beverages while seated in the theatre. Covid safety regulations and protocols are subject to change without notice. See all safety measures here: https://www.banffcentre.ca/covid-19-measures.   
If you'd like to provide media coverage of the 2021 Festival, please submit a media accreditation application form (submissions open until October 16). 
For more information or image requests, please contact:
Jess Elliott
Media and Communications
Banff Centre Mountain Film and Book Festival
107 Tunnel Mountain Drive
Banff, Alberta
T1L 1H5 
jess_elliott@banffcentre.ca      
About Banff Centre Mountain Film and Book Festival: Created 46 years ago, Banff Centre Mountain Film and Book Festival has become the premier event of its kind in the world. The nine-day Festival hosted by Banff Centre for Arts and Creativity in Banff, Canada, showcases the world's best films, books and photographs on mountain subjects – climbing, culture, environment and natural history, exploration and adventure, wildlife, and sport – and attracts the biggest names in mountaineering, adventure filmmaking, and explorers as presenters and speakers. International juries will also award over $40,000 in prizes for films and books submitted to this year's Festival competitions. banffmountainfestival.ca
Banff Centre Mountain Film and Book Festival Partners: The 2021 Banff Centre Mountain Film and Book Festival Presenting Partners are: Rab, Banff and Lake Louise Tourism, and BUFF®. The Festival is also sponsored by Oboz Footwear, Yeti, Sierra Nevada Brewing Company, Doña Paula, World Expeditions, Kicking Horse Coffee, Lake Louise Ski Resort and Summer Gondola, and Lowe Alpine.
About Banff Centre for Arts and Creativity: Founded in 1933, Banff Centre for Arts and Creativity is a learning organization built upon an extraordinary legacy of excellence in artistic and creative development. What started as a single course in drama has grown to become the global organization leading in arts, culture, and creativity across dozens of disciplines. From our home on Treaty 7 territory in the stunning Canadian Rocky Mountains, Banff Centre for Arts and Creativity aims to inspire everyone who attends our campus – artists, leaders, and thinkers – to unleash their creative potential and realize their unique contribution to society through cross-disciplinary learning opportunities, world-class performances, and public outreach. banffcentre.ca