Banff Centre Sous Chef Brandon Szocs wins IACC culinary Copper Skillet competition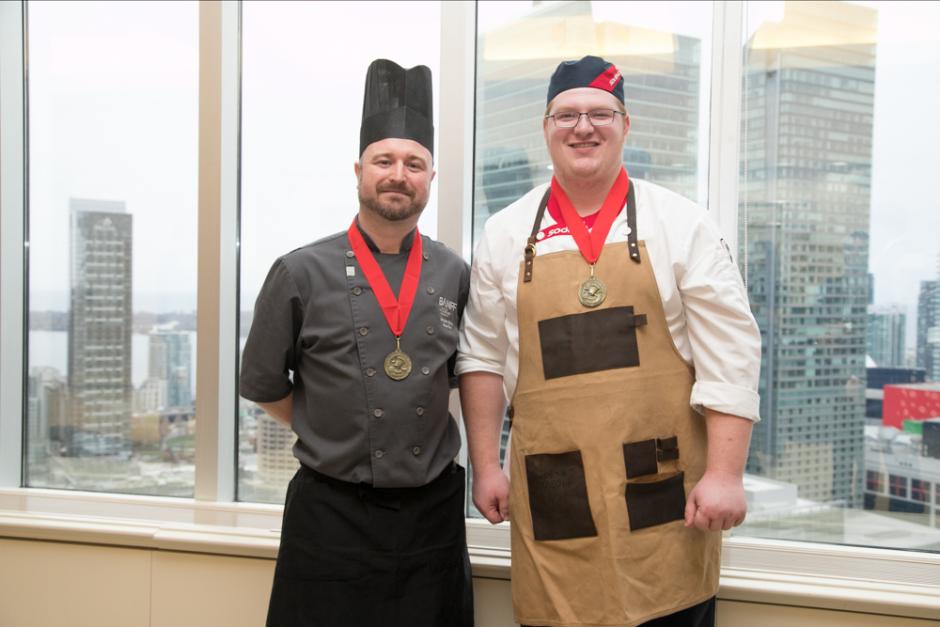 BANFF, AB, December 7, 2017 – Banff Centre for Arts and Creativity's own Sous Chef, Brandon Szocs, has won the Canadian chapter stage of IACC's (International Association of Conference Centres) global culinary competition, Copper Skillet, in the Senior Canadian Chapter Cook-Off category. Szocs, who has lead the culinary team at Banff Centre's Three Ravens Restaurant and Wine Bar since 2015, now advances to the IACC Americas chapter competition in Chicago in February. 
"It was an honour for me to compete in the Copper Skillet," said Szocs. "I am very proud of what I achieved, and what I have been able to produce at Banff Centre. It was a huge surprise to take first place with such talent competing. The excitement of heading to Chicago is going to be a wonderful challenge – I hope to take it all the way!" 
The competition gathered five senior chefs and four junior chefs from IACC member properties across Canada in Toronto on November 15, 2017 to compete for the coveted awards. The chefs were required to create an entrée consisting of two proteins from basic pantry items and a mystery basket. They were given 30 minutes to prepare, create, and present their plates to the judges. 
In the senior category (26 years of age and older), Szocs competed against Kent Phillips, Ivey Spencer Leadership Centre, who is last year's Global Copper Skillet winner; Jeff Ryan, Donald Gordon Conference Centre; Luc McCabe, NAV Centre; and, Kyle McClure, Vantage Venues. His dish was pan seared duck and skirt steak tartar, root vegetable hash with wild mushrooms, fennel, baby sorrel and yellow been salad. Judging criteria included flavour, plating, creativity, professional technique, and food handling.
"I am extremely proud and happy that Brandon finished first during the Copper Skillet competition. His strong culinary skills, passion, creativity, and leadership are the key ingredients of the success of Three Ravens Restaurant and Wine Bar," said Banff Centre's Executive Chef, Sébastien Tessier. 
The competition was judged by culinary experts Jose Iribarren, executive chef, Barberian's Steak House; Ken Hunt, publisher, Toronto Life; Guy Rigby, president, Octopus Specialists and former vice-president, Food & Beverage, Americas, Four Seasons Hotels & Resorts; and, Trevor Lui, director of operations and sustainability, The International Centre and partner/chef, Kanpai Snack Bar. 
The Americas chapter competition winner will compete against the winners of the Europe and Australia Asia Pacific chapters at the IACC Americas Connect conference in Philadelphiain April.
Three Ravens Restaurant and Wine Bar offers locally sourced and environmentally sustainable meals infused with creativity. The restaurant has been named one of the best 100 restaurants in Canada by OpenTable in 2015 and 2016, and one of the most romantic restaurants in Canada in 2017. 
To book your reservation at Three Ravens Restaurant and Wine Bar, call 403.762.6300 or visit opentable.com/three-ravens-restaurant-and-wine-bar
About Banff Centre for Arts and Creativity: Founded in 1933, Banff Centre for Arts and Creativity is a learning organization built upon an extraordinary legacy of excellence in artistic and creative development. What started as a single course in drama has grown to become the global organization leading in arts, culture, and creativity across dozens of disciplines. From our home in the stunning Canadian Rocky Mountains, Banff Centre for Arts and Creativity aims to inspire everyone who attends our campus – artists, leaders, and thinkers – to unleash their creative potential and realize their unique contribution to society through cross-disciplinary learning opportunities, world-class performances, and public outreach. banffcentre.ca
About IACC: Founded in 1981, IACC is dedicated to representing the best meeting venues globally and is, by definition, the future of the meetings industry realised. The association brings together the brightest, most innovative minds from around the globe.  IACC elevates the meeting experience by creating a unique point of entry that is inclusive of the best-in-class meeting venues internationally.  IACC membership is a symbol of meeting excellence and exceptional connections amongst the best in the meeting industry.  This exclusiveness makes IACC's members part of an elite group representing the most innovative, forward-thinking and results-driven meeting venues globally.   
All members meet a set of stringent Quality Standards and agree to a Code of Ethics.  IACC includes over 350 members from the United States, Canada, Costa Rica, Australia, New Zealand, Japan, Philippines, Singapore, Hong Kong, Kenya, Nigeria, Denmark, Sweden, Belgium, France, Switzerland, Spain, Hungary, Mongolia, Ukraine, The Netherlands, Germany, England, Wales and Scotland. iacconline.org