From BISQC to Cleveland: Dover Quartet Wins Another Prestigious Chamber Award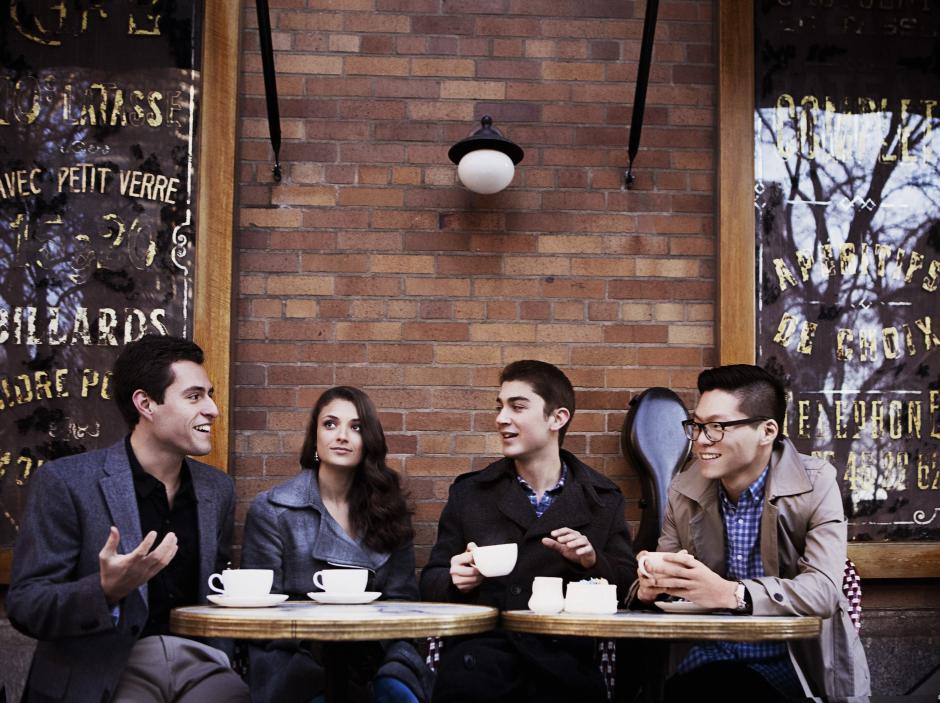 The Dover Quartet was partway through a four-hour morning rehearsal when they got the big news — they were the 20th recipients of the Cleveland Quartet Award, one of the most prestigious chamber music awards on the planet. 
"We were pretty excited," says violinist Joel Link, by telephone. "Needless to say that rehearsal ended a bit on the early side, and we may or may not have had a pretty early afternoon drink."
The string ensemble is more than deserving of a toast. Since sweeping the awards at The Banff International String Quartet Competition (BISQC) in 2013, held here at The Banff Centre, the Dover Quartet has risen to prominence, performing over 120 concerts last year and being hailed by The New Yorker as "the young American string quartet of the moment."
And they are young. Younger than you might expect a world-renowned chamber music ensemble to be. Joel Link, violinist Bryan Lee, violist Milena Pajaro-van de Stadt and cellist Camden Shaw are all under 30. 
"We always felt that, getting started, it was very, very tough because people didn't quite take us seriously," says Link. But that's all in the past now. The Cleveland Quartet Award is a prize given biennially to "a rising young string quartet whose artistry demonstrates that it is in the process of establishing a major career." The award is judged somewhat secretly: winners don't even know they are being considered until they get the call. Winners are then connected with eight presenters across America, and play in places like Carnegie Hall. Their performances are paid for by the award's endowment fund. 
And while the financial support is welcome, the group is most excited about what the award means. For Link, it's also about "being able to follow in the footsteps of a lot of these amazing chamber groups that have done incredibly well and are inspirations and mentors to us, whether they even know it or not."
But it's clear the Dover Quartet are themselves becoming an inspiration. "This is one of the most spectacular ensembles I've dealt with," says Barry Shiffman, executive director of BISQC. "They make the most difficult things look remarkably easy and in doing so they … are able to get at the core musical and emotional message of a piece," he says. 
"They're just that much better than most that we see."
That might have something to do with their rigorous schedule. The quartet counted 230 travel days last year ("Why do I waste my money on rent?" quips Link) and this fall they started their tenure at Northwestern University as "quartet-in-residence," where they'll coach and mentor chamber music students. This, plus the countless hours of rehearsal they manage to squeeze in. 
They've been on a rollercoaster ride for the last few years, much of which started at The Banff Centre. "For us, it was absolutely life changing," he says, of their 2013 BISQC win. They'll return to Banff to perform at the international competition in 2016, where two members of the original Cleveland Quartet will be on the jury. Until then, they'll continue to teach, tour, play and rehearse, perhaps squeezing a meal and a sleep here and there too. Luckily, the Dover Quartet has proven they're up to the task. 
"We're very blessed," says Link. "Life has been very, very good to the four of us."
The Dover Quartet is performing a sold out show at The Banff Centre on October 16th. Find a tour schedule here.