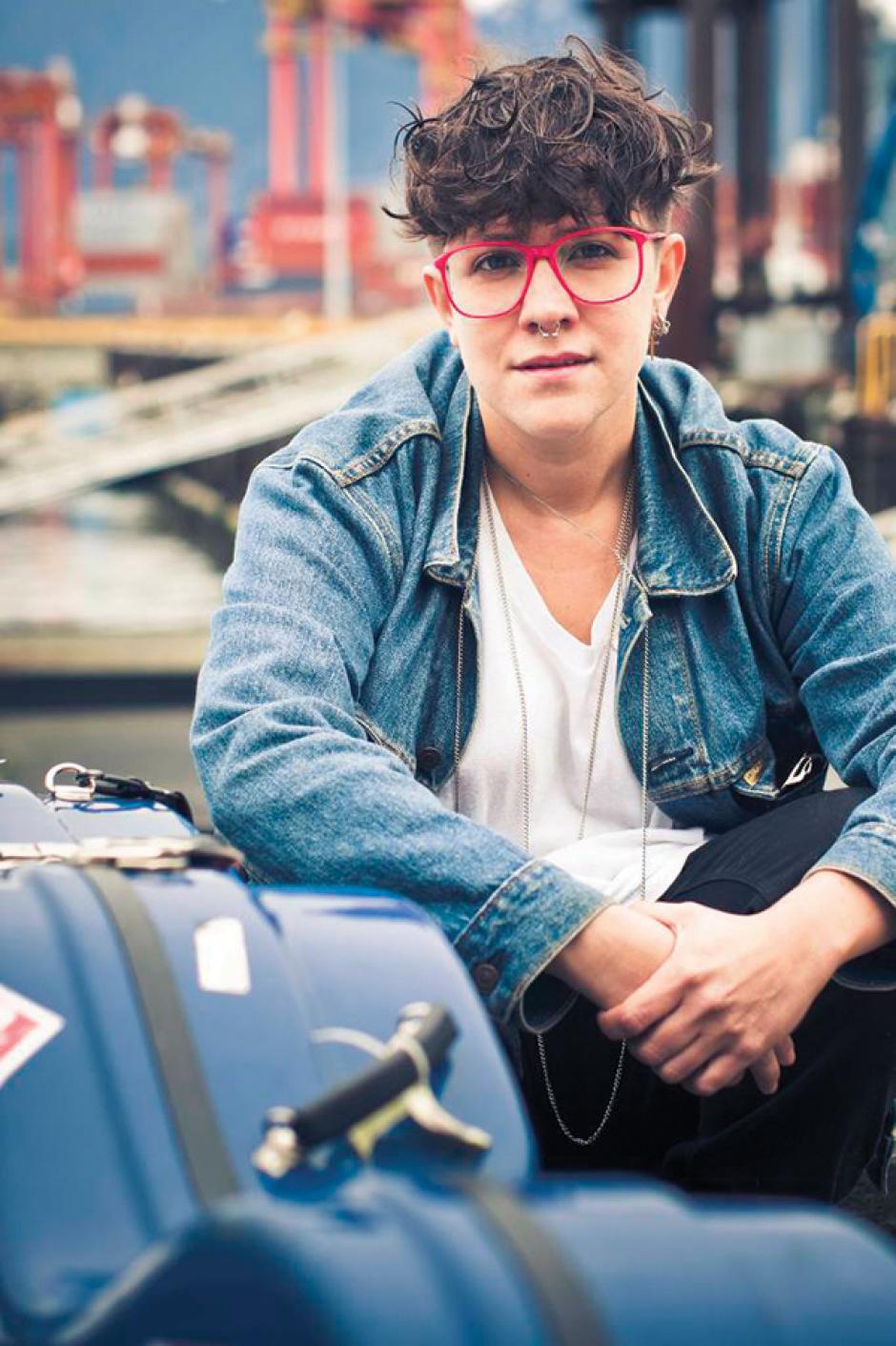 This article originally appeared in the 2018-19 issue of Buffalo Mountain Drum magazine. Pick up a copy on campus. 
Cris Derksen is a half cree and half mennonite cellist/composer who is making waves with her genre-bending music. A classically trained cellist, Cris composes classical and electronic music around traditional powwow songs to create a sonic landscape that is unified and yet, rooted in musical tension. Nominated for countless awards, including a 2016 JUNO Award nomination for Instrumental Album of the Year, she is a part of the vanguard of other innovative Indigenous artists who are creating from the realm of traditional music and going beyond what was done before. With new music on the way and a premiere at Banff Centre this summer, Cris will undoubtedly continue to push boundaries into a new musical era.
On carving out her own space for her genre-bending music:
What I was doing was not a part of the classical world. My music was too different. I didn't really start playing the classical music circuit until a couple years ago after Orchestral Powwow came out. Before that, it was six years of only doing folk festivals, independent festivals, and art festivals — which were all really fun. Classical music didn't know where to place me so they didn't. The thing about that is, there are many venues I can play and places where I do fit. So it doesn't matter if I don't necessarily fit into one person's agenda for the year because I know I will fit into their agenda in three years once they've caught up.
On the different intersections of her music:
It all comes from me because I am half Cree and half Mennonite. I'm classically trained but also very much live in the urban world; especially with The Cusp I wanted to take the cello out of the "high class" concert hall and put it more on a street level and into bars. My music has definitely been an evolution. My own perspective is an intersection of contemporary and classical and traditional — and it feels like I'm braiding all of the things together. It's like being a jeweler. I can take different things that I like and explore those spaces and make it my own.
On incorporating Indigenous traditions in her music and performance:
I wanted to keep the powwow music as full pieces and honour the music as much as I could, so I composed around what was already done to create the sounds on Orchestral Powwow. With classical music right now many people want to incorporate Indigeneity to the music, but more often than not, they don't hire an Indigenous composer. I wanted to confront the idea of what Indigenous art is but also showcase the Indigenous artists front and centre. When we perform Orchestral Powwow live, all of the orchestral players are in a regular semi-circle around the drums and we don't have a conductor. There is no conductor because we wanted to take out, what is usually, a white man telling us what to do, and instead, we listen to the Indigenous drum because that is the heartbeat; and we have to listen to it and follow it — and this is also a conceptual metaphor on Canada.
On her music as a political statement:
If we look back at it, folks say that to be Indigenous is political because we're not necessarily supposed to be here if all the things went according to the plan of various governments. So I think the act of being is a form of resistance. I always want to use my lens to showcase certain political things and create a space where there is room for conversation.
On blending disparate musical genres to create musical tension:
When I was in university, I took a pop music theory course. While in this course I realized that we are using all these western ideas and idioms and we're imposing them on top of music that comes from Africa. Yes, we can impose things but are these words actually fitting? Does it actually work? I think about my music in a similar mind frame. Yes I can definitely impose these cultural elements on top of one another — and they work, but are the relationships equal to begin with? I think tension in music is fine.Tension is beautiful. Tension is real.