Creative Voices: 2008 - How We Got Our Painted Tipi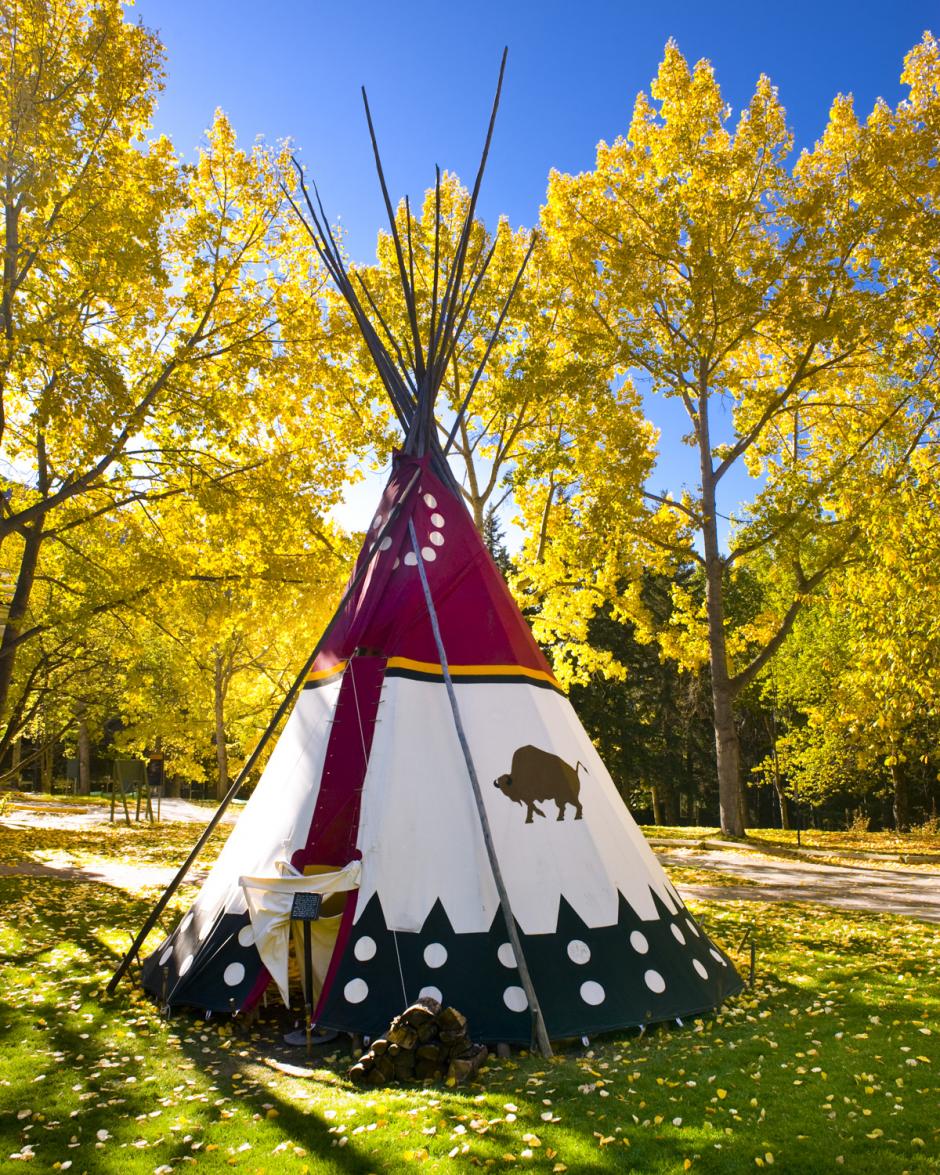 As the year's first claps of thunder sounded overhead, the ceremony The Banff Centre had been planning for its 75th anniversary could finally commence. It was the Spring of 2008, and the campus had been slowly expanding on the side of Sleeping Buffalo Mountain, named for its gentle, round shape much like the back of a bison. To mark its anniversary, The Banff Centre wanted to honour the mountain, also known as Tunnel Mountain, and its history as Treaty 7 and traditional Blackfoot territory.
Banff Centre has always had a tipi, but at the time it was in general disrepair, old and unpainted. In order to get a new one, rich with symbolism, a traditional tipi transfer ceremony would need to be performed. Such a ceremony required several things: ownership of the tipi must be passed down to two people, typically a man and a woman, to signify the connection between generations. And the ceremony could only take place after the first thunder of the year.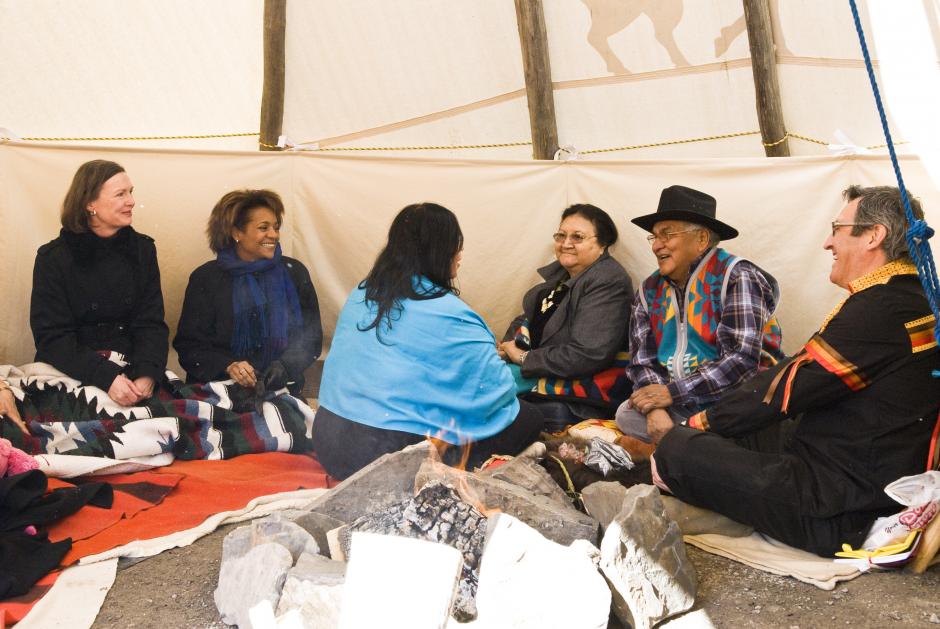 Brian Caillou, the Program Director of what was then called Aboriginal Leadership and Management Development, and Janice Tanton, the Program Manager, accepted the tipi on behalf of Banff Centre. Their faces were painted by four Blackfoot elders with red ochre, as four songs — specifically written about the paintings on the tipi — were sung. Michaëlle Jean, the Governor General at the time, also attended the ceremony and had her face painted by the elders. 
"These types of traditional ceremonies reinforce the close relationships people have with their natural environment and reflect the respect we ought to show to it," Brian Caillou wrote in an article in 2008. Taking care of a tipi represents more than taking care of the physical object, but also caring for yourself, your family, community, and the environment.
Janice Tanton was the dreamer of the design. Painted by Blackfoot artists, the tipi is dotted around the base to represent the mountains, the community that currently lies near the foot of them, and the people who used to gather there. For almost 12,000 years, the valley was a gathering place for First Nations people, where they could trade, find medicines and participate in spiritual practices. The hot springs were known for their healing powers, while Sleeping Buffalo Mountain was climbed for vision quests. The elders still feel a strong spiritual energy here, says Caillou.
The painted buffalo not only represents the location of Banff Centre, on Sleeping Buffalo Mountain, but also the historical means of Indigenous life. The buffalo that once resided in the valley provided food and material for tools, as well as goods to trade.
"But the modern buffalo for the Indigenous people is education," Caillou said. "It's the perfect metaphor for what we do here."
Finally, the painted design crowing the top of tipi signifies both the dreamworld, and the future.
Banff Centre unwraps and stores the tipi every winter. And each spring, we dutifully and proudly raise it once more. Here's a time-lapse of us doing just that, taken on Monday, May 30: