From the Heart of Banff Centre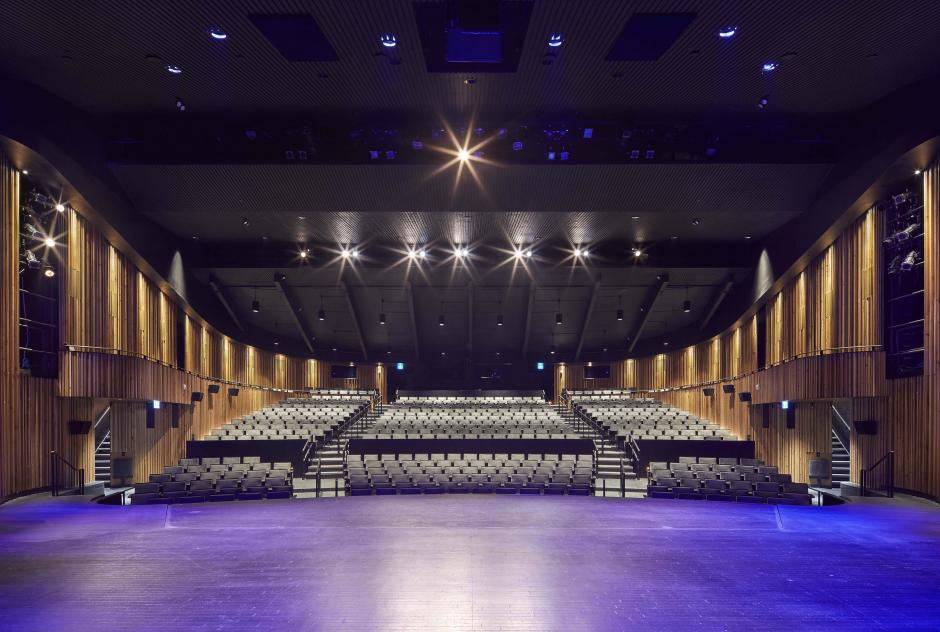 Banff Centre for Arts and Creativity is excited to officially open the newly revitalized Jenny Belzberg Theatre with a weekend grand opening event on May 7-8, 2022, culminating in a free community concert featuring specially selected artists.
The theatre revitalization project was completed on time and on budget in October 2020, a year after it began and 10 months into the COVID-19 pandemic.
The Banff Centre welcomed limited capacity events in the intervening months but held off on an official celebration of the space until all seats could be safely filled.   
At Banff Centre, the Jenny Belzberg Theatre is dedicated to inspiring the next generation of artists who participate in education, performance, and training programs on our campus. The revitalization of the Banff Centre's largest theatre, and its elegant new design by KPMB Architects, was made possible through the generosity of Jenny Belzberg and her family.
We are so grateful to Jenny and her family for the vision and commitment that inspired us all. This weekend event is about celebrating a true legacy in Canada: a state-of-the-art venue right here in the heart of the Rocky Mountains, on Treaty 7 territory.
Janice Price, President and CEO of Banff Centre
Banff Centre plays such a vital role in the artistic and cultural community in Alberta and Canada. We hope everyone in the Bow Valley and beyond will be able to take in a performance, and that artists from all over the world will appreciate the space dedicated to their creative pursuits.
Jenny Belzberg
Tickets for the May 7 Grand Opening Celebration concert will be available for purchase through Banff Centre's Box Office on March 24. This event will be hosted by Jon Kimura Parker and feature Banff Centre alumni and friend performances by Jens Lindemann, Shane Koyczan, Banff Centre Opera, and the Zukerman Trio.
Registration for the free From The Heart Community Show on May 8 will open on April 12. This event will feature Dustin Bentall, Amelie Patterson, Caleigh Cardinal, and Jens Lindemann and the All-Star Jazz Orchestra.
More information about the weekend events can be found here.