Integrating Sustainability into Innovation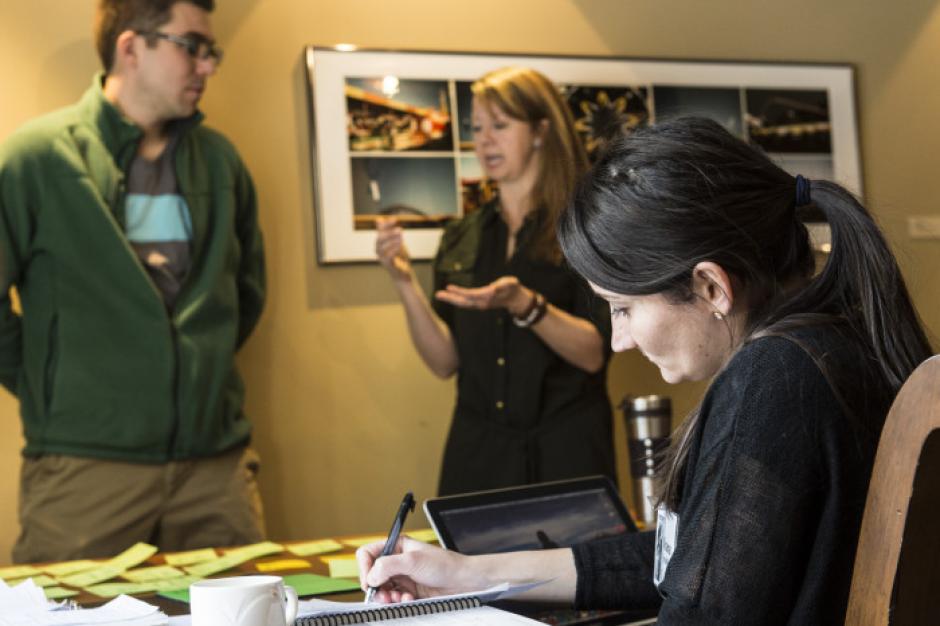 Patrick Leslie and Oksana Ogrodnik sit tucked away in the Leighton Artists' Colony, brainstorming an ambitious new project. Post-it notes cover the walls and desk, while facilitators and other program participants poke their heads into their Painter House room to see how they can support.
As part of a three-day Innovation and Communications Residency, put on by Banff Centre for Arts and Creativity, the duo were joined by two other organizations and a creative entrepreneur, with facilitation and guest faculty sessions from Banff Centre artists scheduled around periods of focused work. The Innovation and Communications Residency supports teams and organizations in communicating a new idea and strategically identifying and leveraging the resources necessary to move it forward. The methodology facilitates innovation and problem solving through collaboration and collective inquiry.
"The session in Banff is helpful for us to sit down and look at strategy and growth in a different way than we would in our office," said Patrick, who also participated in the Institute's inaugural Entrepreneurial Residency as a Startup Calgary winner. "It's a good opportunity to put aside the day-to-day and concentrate on this particular problem. We are able to isolate ourselves, while still putting to practice the key techniques we learned from the curated sessions."
Patrick and Oksana's company, Integrated Sustainability, focuses on environmental solutions to water supply, treatment, and disposal and utilizes a holistic approach through a team of engineers, scientists, and economists. During a period of fast growth, they took to task filling a gap that was identified by their team.
The session in Banff is helpful for us to sit down and look at strategy and growth in a different way than we would in our office.
Patrick Leslie, director of technology and innovation, Integrated Sustainability
"An emerging trend we are seeing in the industry is increased collaboration. The biggest hurdle we recognized for our team was the regulatory space. By addressing that we were able to make sure all the right people are at the table and had an opportunity to talk," said Oksana, Director of Sustainability and Risk.
In a recent example of approaching a problem collectively, Integrated Sustainability facilitated a workshop with the Petroleum Technology Alliance of Canada. They gathered water and wastewater professionals to discuss key challenges.
"We invited all the major names in government and industry to talk about innovative solutions to water management. It was a great opportunity to understand the challenges that were being faced and how we can bring solutions to the marketplace," said Patrick, Director of Technology and Innovation.
Accolades have been accumulating for Integrated Sustainability. They recently won the ATB Small Business of the Year Award through the Calgary Chamber of Commerce. Company president Stuart Torr was also honoured with a 2015 Delta Management Clean50 Award.
"We regularly look at how we can be at the forefront and connect clients to a better solution that is more sustainable," said Oksana. "At the end of the day, it is all about finding the best option for current and future opportunities. Even if our clients don't fully go ahead with our recommendations, at least we opened their eyes to some potential risks."
Contact Us
For questions, please contact:
Email:
leadership@banffcentre.ca

Phone:
1.888.255.6327
107 Tunnel Mountain Drive
Box 1020, Stn. 43
Banff, Alberta
T1L 1H5 Canada