A Mother and Daughter's Shared Legacy at Banff Centre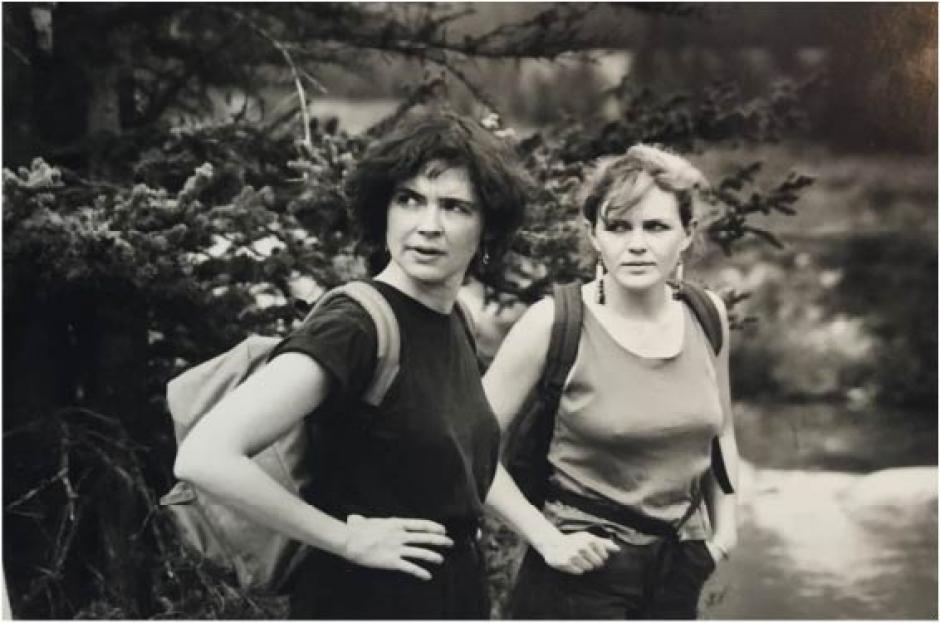 Laura Millard, the Alberta-born visual artist and OCAD University Associate Professor, gets emotional when attempting to explain the impact that Banff Centre has had on her life and career.
Laura has participated in more than 13 Banff Centre programs and residencies over her career, including stays at the Leighton Artists Studios. Her first program was a painting class for children almost 50 years ago in 1968, and most recently she attended the Artist in Residence program in 2017, where she worked on a photo-based series; one piece was selected for an exhibition at the Art Gallery of Ontario called Every. Now. Then: Reframing Nationhood (shown below).
For Laura, there isn't just one experience or memory that stands out. Instead there are many that are linked over decades. For example, the 1986 residency where she met Medrie MacPhee, the New York-based visual artist who teaches at Bard University, and became Laura's lifelong mentor and friend. Or, the night she danced with distinguished author W.O. Mitchell, who led the creative writing program at Banff Centre for many years. "He loved to party, people don't realize that." She also worked alongside an incredible group of artists during the 1998 visual arts residency Women and Paint, many of whom have become celebrated Canadian visual artists: Janet Werner, Lorraine Simms, Anda Kubis, Monica Tap, Eliza Griffiths, Christine Major, Sara Hartland-Rowe, Thelma Rosner, Marion Wagschal, and others.
Laura and a few Banff Centre staff even kick-started the ReelTime screening series at the Lux Cinema in the town of Banff, presenting art house and foreign films to local audiences. The series continues to this day.
Banff Centre has been more than a training ground for Laura as an artist—she's connected through her bloodline. In a way, Laura grew up here: both her parents are visual arts alumni. As a teen, her father studied painting, learning from H.G. Glyde, Walter Phillips, Charles Comfort, and Group of Seven painter A.Y. Jackson. This was years before he met Laura's mother at the University of Alberta—Colleen Anderson Millard. As a gifted 12-year-old artist, Colleen won a scholarship to attend classes in the 1950s and stayed with Banff Centre president Donald Cameron and his family.
Colleen returned years later as an established painter and arts educator to teach in the visual arts program. Laura recalls the family living in an old house off-campus where she and her brother and sister had the run of the place, but were also put to work sitting as models for life drawing classes. Years later, when Colleen was diagnosed with cancer, Laura and her siblings gifted their mom a few months' stay at the Leighton Artists Studios in her favourite cabin designed by famed Canadian architect Ronald Thom.
When Colleen died in 2005, Laura worked with Banff Centre to set up an endowment scholarship in her mother's name, which is presented annually to an emerging visual artist for a residency.
This year, Laura was thrilled to be on campus when the Colleen Millard-Anderson scholarship was awarded for the 11th time. To Laura's surprise, she actually knew the recipient, who had been a student in one of her classes at OCAD. Laura paused mid-story, tears in her eyes. "But isn't that always my experience with Banff," she laughed. "Serendipity."
Above: Banff Centre alumna Laura Millard (R) with longtime friend and mentor Medrie MacPhee (L).