Creative Voices: 1987 - The Princess of the Stars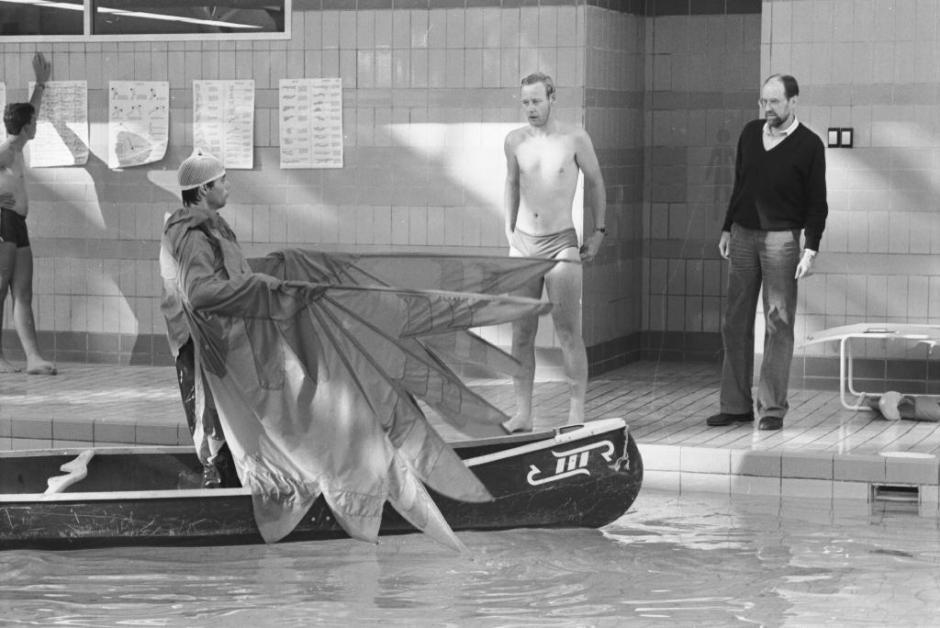 The Princess of the Stars opera made history at the Banff Centre when, at the break of dawn on a summer's day in 1985, it was performed not on a stage, but in the middle of a lake.
War canoes took to the water bearing towering puppets symbolizing the Wolf, the Three-horned Enemy, and the Sun God characters from Indigenous mythology. The opera began with an aria by the princess that echoed over the landscape.
Written by Canadian composer R. Murray Schafer, the opera had originally been designed to be performed on water, but when Robert Pel accepted the stage manager position, his challenges were vast.
The "stage," was a two kilometres wide and one kilometre long section of Two-Jack Lake in the Bow Valley.
Dancers, who wore bird-like costumes with large wing spans, feared falling into the lake with their heavy attire. So as a precaution, the cast completed trial runs at the Sally Borden recreation facility's pool to see if the performers could jump back into their canoes if they fell into the water.
Luckily, nobody went overboard during the actual performance.
But there was little that could be done to mitigate for the biggest risk to the show — the weather. Fortunately it cooperated and the first day was "magical."
"There was a mist across the lake in the morning," Pel said. "But as soon as the [narrator] came down in his canoe, the mist lifted."
The viewing area for the audience was expected to seat 500 people, but Pel didn't think they would fill those spots at the 5 a.m. performance. He was dead wrong. Over 5,000 people attended The Princess of the Stars over it's three-day showing.
"It was only when it hit dawn that you just saw a wall of people." said Robert. "We were able to facilitate the composer's dream and make it a reality."
--Original story and reporting by Katie Thompson. Read the full story with stage manager Robert Pel here.