Pierre Lemire awarded 2015 Summit of Excellence Award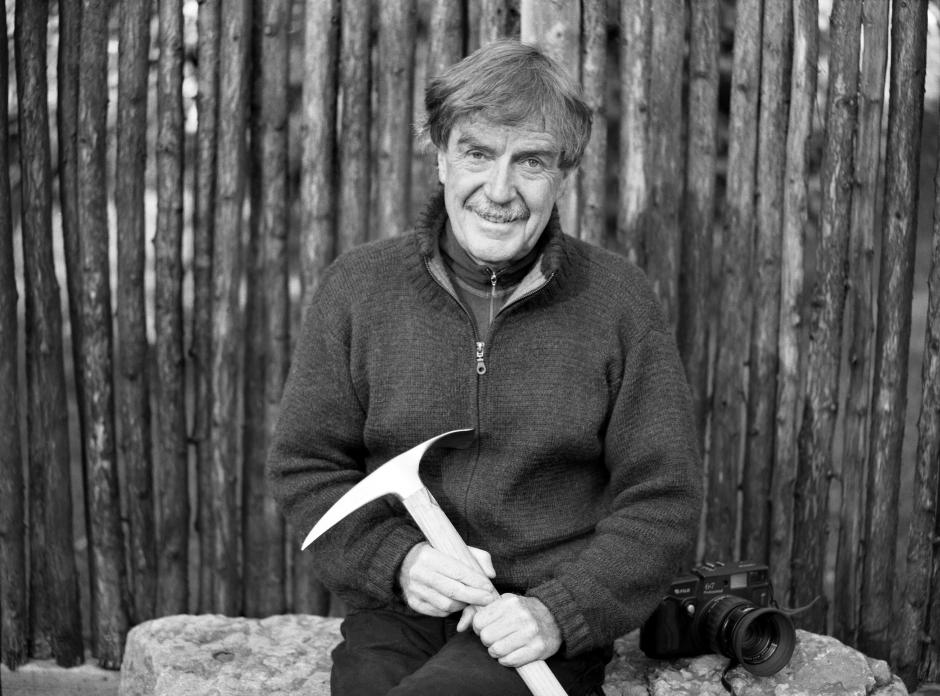 BANFF, AB. October 14, 2015 - Pierre Lemire's prolific life working as a certified mountain guide and photographer in the Rockies happened almost by chance.
As a teenager growing up in Quebec, Lemire was inspired by men of the mountains and holds Frank Smythe, the British mountaineer, writer and explorer as an inspirational figure in his early life.  Upon arrival in the Rockies in 1965, the 18-year-old Lemire started work as a store man at the Chateau Lake Louise and a year later found work at the Plain of Six Glaciers Tea House – a move which was to prove both pivotal and instrumental for the next 50 or so years of his life as a highly-respected photographer and mountain guide in the Canadian Rockies. 
Lemire's experience working at the Plain of Six Glaciers Tea House introduced him to mountain life.  He started working at the Lake Louise Ski area as a lift operator, then a patroller, where his interest in avalanche control was piqued. For three winters starting in 1972 he worked for Parks Canada on avalanche control in Rogers Pass. During the summers he became an assistant guide with Canadian Mountain Holidays (CMH), and by 1974 was a certified mountain guide with the Association of Canadian Mountain Guides (ACMG; Lemire was an examiner for the ACMG from 1980 to 1990), starting to work for CMH as a heli-skiing guide where he quickly progressed through the ranks – and where he continued to guide until his retirement in 2011. 
Throughout this time he continued to pursue his love for photography, a hobby he developed as a child. 
"Photography was my passion, definitely as much as I liked mountaineering and skiing,"Lemire said.  "Being in the mountains also provided a fantastic opportunity for me to take photographs."  Lemire's love of photographing people and mountains led him to travel the world, to places like Greenland, Nepal, India, Burma, Peru, Guatemala, and  to document his experiences through the lens.
Pierre's relationship with the Banff Mountain Festival began in 1993 when his photograph Bugaboo Spire appeared on the annual festival poster.  The same image was chosen for the cover of the book Voices from the Summit, published in 2000 by the National Geographic Society in collaboration with Banff Centre for Arts and Creativity in celebration of the Festival's 25th anniversary.  In the same year, his Hills of Nepal exhibit, containing intimate photographs of men, women and children taken over the course of three visits to the foothills of the Himalaya, was sponsored by Banff Centre for Mountain Culture and featured at the Whyte Museum of the Canadian Rockies. More of Lemire's photos appeared in the book Extreme Landscapes in 2002, another Banff Centre/National Geographic collaboration, and the Let It Snow exhibition at the Whyte in 2011 celebrated the glories of winter through a selection of Lemire's images.
Summit of Excellence Award committee member, Bernadette McDonald, holds Pierre Lemire's skills with a camera second to none.  "Pierre's photographs capture mountain landscapes and mountain people in nuanced and exquisite detail. His uncompromising standards, his artistic eye, and his intimate relationship with the mountains have created a unique body of work that is admired around the world."
For over 40 years, Lemire has combined a career as a mountain guide with his passion for black and white photography. This includes capturing the image, the process of developing and printing in the traditional silver gelatin method to the final details of matting and framing. With a photographer's understanding of light and form, he has shared his passion with everyone, taking them to the high places only a mountaineer can access, and to the people and cultures that delight the traveler.  When asked what it takes to be a really good photographer, Lemire replied "The only difference is the motivation and passion.  You have to be a little bit crazy, passionate and driven."                                                             
His uncompromising standards, his artistic eye and his intimate relationship with the mountains have created a unique body of work that is admired around the world." - Bernadette McDonald
About The Summit of Excellence Award: Presented by the Banff Mountain Film and Book Festival since 1987, the annual Summit of Excellence Award recognizes an individual who has made a significant contribution to mountain life in the Canadian Rockies. It is presented in memory of Calgary climber Bill March, an internationally respected mountaineer, author, and educator, who led Canada's first successful Everest climb in 1982. Recent recipients of the award include Urs Kallen (2014), Ben Gadd (2013), Geoff Powter (2012) and Philippe Delesalle (2011).
About The Banff Mountain Film and Book Festival: Created 40 years ago, the Banff Mountain Film and Book Festival has become the premier event of its kind in the world. The nine-day Festival hosted by The Banff Centre showcases the world's best films, books and photographs on mountain subjects – climbing, culture, environment and natural history, exploration and adventure, wildlife, and sport – and attracts the biggest names in mountaineering, adventure filmmaking, and extreme sports as presenters and speakers. An international jury will also award over $50,000 in prizes for films and books submitted to this year's Festival competitions. 
About Banff Centre for Arts and Creativity:  Founded in 1933, Banff Centre for Arts and Creativity is a learning organization built upon an extraordinary legacy of excellence in artistic and creative development. What started as a single course in drama has grown to become the global organization leading in arts, culture, and creativity across dozens of disciplines. From our home in the stunning Canadian Rocky Mountains, Banff Centre for Arts and Creativity aims to inspire everyone who attends our campus – artists, leaders, and thinkers – to unleash their creative potential and realize their unique contribution to society through cross-disciplinary learning opportunities, world-class performances, and public outreach. www.banffcentre.ca