Queen Elizabeth II's Platinum Jubilee Medal Awarded to Banff Centre President and CEO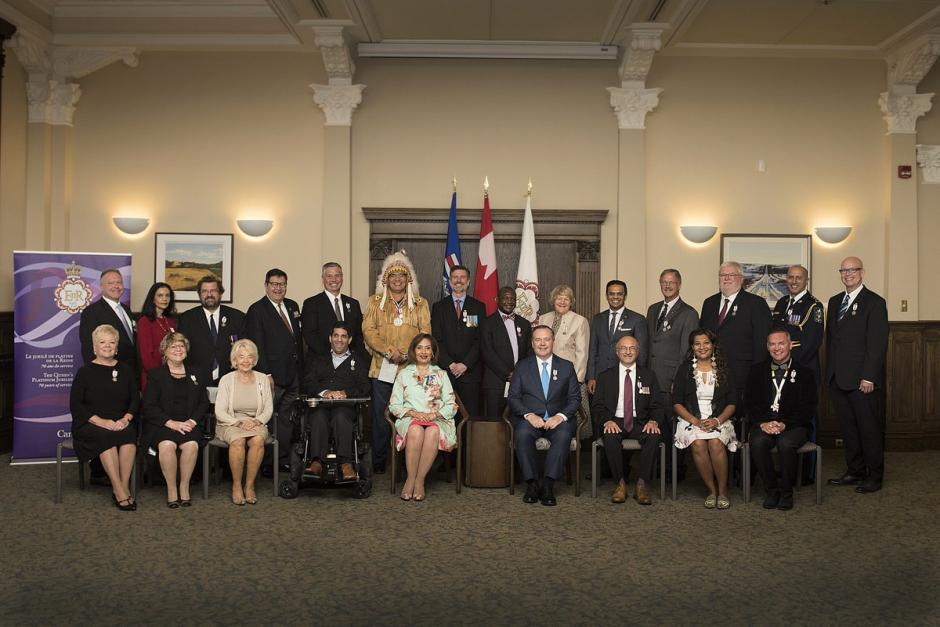 September 5, 2022 | Banff, AB
Janice Price, President and CEO of Banff Centre for Arts and Creativity, was awarded the Queen's Platinum Jubilee Medal by Lieutenant Governor Salma Lakhani at a ceremony on September 2nd at the McDougall Centre in Calgary.  Premier Jason Kenny was also present to congratulate recipients.  Price was one of 22 of Albertans presented with the honour on that day, with the citation noting her visionary and dedicated leadership of Banff Centre since 2015.  The Lieutenant Governor's award letter presented to Ms. Price noted that the Queen's Platinum Jubilee Medal was created "to recognize the outstanding service of Albertans who have done much to build and enhance our Province.  You are among this distinguished group."
"I was absolutely delighted to receive the news that I had been selected as a recipient of the prestigious Queen Elizabeth's Platinum Jubilee Medal," said Price.  "This award is one that acknowledges all the dedicated teams at Banff Centre who for many years have made significant contributions in Arts training and presentation, as well as in Indigenous Leadership training, to both the Province of Alberta and all of Canada.  I share this recognition with them" she added.  
The new commemorative medal was created to mark the 70th anniversary of Her Majesty Queen Elizabeth II's accession to the Throne as Queen of Canada. The Queen Elizabeth II's Platinum Jubilee Medal is a tangible way for Albertans, and all Canadians, to honour Her Majesty's service to Canada.  Only five previous commemorative medals have been created to acknowledge significant contributions by Canadians in the Queen's name: for the Centennial of Confederation (1967); Silver Jubilee (1977); 125th Anniversary of Confederation (1992); Gold Jubilee (2002); and, Diamond Jubilee (2012).  Medals are awarded to individuals who have made a positive impact and significant contributions to society.
For more information:
Casey Peirce                         
Director, Communications
Cell: +1 403.431.0678                                        
Casey_Peirce@banffcentre.ca  
About Banff Centre for Arts and Creativity: Founded in 1933, Banff Centre for Arts and Creativity is Canada's largest postgraduate arts and leadership school. What started as a single course in drama has grown to become the global organization leading in arts, culture, and creativity across dozens of disciplines. From our home on Treaty 7 territory in the stunning Canadian Rocky Mountains, Banff Centre for Arts and Creativity aims to inspire everyone who attends our campus – artists, leaders, and thinkers – to unleash their creative potential and realize their unique contribution to society through cross-disciplinary learning opportunities, world-class performances, and public outreach. banffcentre.ca
Land Acknowledgement: We acknowledge, with deep respect and gratitude, our home on the side of Sacred Buffalo Guardian Mountain. In the spirit of respect and truth, we honour and acknowledge the Banff area, known as "Minhrpa" (translated in Stoney Nakoda as "the waterfalls") and the Treaty 7 territory and oral practices of the Îyârhe Nakoda (Stoney Nakoda) – comprised of the Bearspaw, Chiniki, and Wesley First Nations – as well as the Tsuut'ina First Nation and the Blackfoot Confederacy comprised of the Siksika, Piikani, Kainai. We acknowledge that this territory is home to the Shuswap Nations, Ktunaxa Nations, and Metis Nation of Alberta, Region 3. We acknowledge all Nations who live, work, and play here, help us steward this land, and honour and celebrate this place.