RBC Capital Markets renews commitment as Showcase Performances Sponsor for the Midsummer Ball Weekend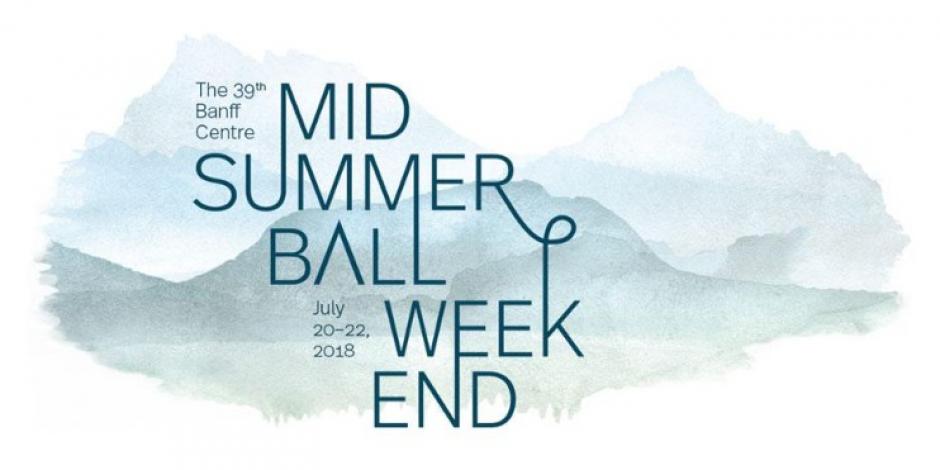 BANFF, AB, July 21, 2018 – At a prestigious gala during the 39th Midsummer Ball Weekend tonight, Banff Centre for Arts and Creativity proudly announced that RBC Capital Markets will remain Showcase Performances Sponsor for the Midsummer Ball Weekend until 2023. This renewed commitment builds on RBC's 37-year legacy of supporting arts programs at Banff Centre.
"RBC Capital Markets has an extensive history of supporting and promoting the arts within its communities," said Kent Ferguson, Managing Director, RBC Capital Markets. "It is an honour to once again show this commitment through our partnership with Banff Centre for Arts and Creativity that allows for our diverse communities to come together through events like the Midsummer Ball." 
The Midsummer Ball Weekend plays a critical role in raising money for Banff Centre's Artists' Fund, which provides emerging artists with the education, mentorship, and inspiration they need to realize their creative potential. All proceeds go directly towards Banff Centre's arts programs and supporting emerging artists on their creative journey.
Held over three days, this annual fundraising event draws over 300 influential leaders, arts supporters, and philanthropists from across Canada to Banff Centre's stunning campus on Treaty 7 territory in the Canadian Rocky Mountains. The Ball is an unforgettable fusion of intimate performances, conversations with artists, and outstanding cuisine – all in support of the talented emerging artists who attend Banff Centre's world-class arts programs.
"As one of our longest-term supporters, RBC is an incredibly valued partner in building vibrant communities through the arts," said Janice Price, President and CEO of Banff Centre. "Thanks to RBC Capital Market's resounding support, Banff Centre can continue to provide emerging artists with the mentorship needed to advance their artistry and careers." 
This year's event was held from July 20 - 22, and featured performances by Banff Centre alumni including Laird Mackintosh, Phantom of the Opera's "André" on Broadway; Séan McCann, former member of the internationally renowned folk group Great Big Sea; JUNO-award winning band, Quantum Tangle; trumpet virtuoso Jens Lindemann, C.M.; and, participants in the Opera in the 21 Century program.
 
Banff Centre for Arts and Creativity is generously supported by many passionate individuals, corporations, and foundations. Banff Centre is also grateful for the funding from the Government of Alberta, through Alberta Advanced Education, Alberta Infrastructure, and the Alberta Foundation for the Arts. Arts programs are also supported by funding from the Government of Canada through the Canada Council for the Arts, and the Department of Canadian Heritage.
For highlights from the 39th Midsummer Ball Weekend at Banff Centre, visit banffcentre.ca/support-us/midsummer-ball
About Banff Centre for Arts and Creativity: Founded in 1933, Banff Centre for Arts and Creativity is a learning organization built upon an extraordinary legacy of excellence in artistic and creative development. What started as a single course in drama has grown to become the global organization leading in arts, culture, and creativity across dozens of disciplines. From our home on Treaty 7 territory in the stunning Canadian Rocky Mountains, Banff Centre for Arts and Creativity aims to inspire everyone who attends our campus – artists, leaders, and thinkers – to unleash their creative potential and realize their unique contribution to society through cross-disciplinary learning opportunities, world-class performances, and public outreach. In 2018, Banff Centre celebrates 85 years of creative practice. 
About RBC Capital Markets: RBC Capital Markets is a premier global investment bank providing expertise in banking, finance and capital markets to corporations, institutional investors, asset managers and governments around the world. We serve clients from 70 offices in 15 countries across North America, the UK, Europe and the Asia-Pacific region. Our more than 7,200 professionals deliver the experience and insights required to raise capital, access markets, mitigate risk and acquire or dispose of assets for clients worldwide. We are consistently ranked, by third-party sources, among the 10 largest and most significant investment banks globally.
RBC Capital Markets is part of a leading, diversified provider of financial services, Royal Bank of Canada (RBC). Operating since 1869, RBC is one of the largest banks in the world and the fifth largest in North America, as measured by market capitalization. With a strong capital base and consistent financial performance, RBC is among a small group of highly rated global banks