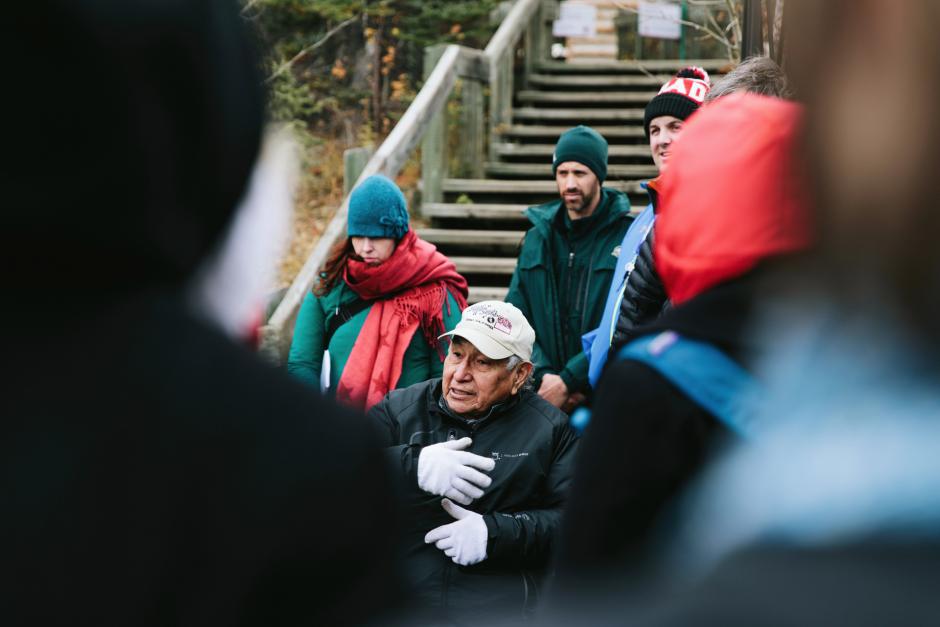 Banff Centre for Arts and Creativity was saddened to learn of the passing of Elder Sykes Powderface. Elder Sykes has supported Banff Centre's Indigenous Arts and Indigenous Leadership programming for many years, as an advisor, a mentor, and a friend.
Elder Sykes Powderface had a genuine laugh and a curiousity that reminded us that wisdom keeps us young. An advocate and a strong voice in his community, Elder Sykes Powderface offered his teachings generously. I am grateful to have been able to learn from him.
Reneltta Arluk, Director, Indigenous Arts
We are so thankful for the wisdom and grace that he shared with the Centre as an institution, and with each individual team member or participant that he encountered. He will always be remembered here with fondness and affection.
Simon Ross, Director, Indigenous Leadership
His relationship with Banff Centre dates back to 1998 when he was registered as a program participant. In recent years, Elder Sykes was a much-loved contributor to many Indigenous Leadership and Indigenous Arts programs, including Truth and Reconciliation through Right Relations and Akunumusǂitis Ecological Engagement Through the Seasons. 
Banff Centre sends deepest condolences to Elder Sykes' family, the community of Morley, and all those who will miss his presence on Earth. His memory will live on in the wisdom he has shared with all who had the honour to know him.
Information about his family's wishes can be found here.