Save the date – 2022 Banff Centre Mountain Film and Book Festival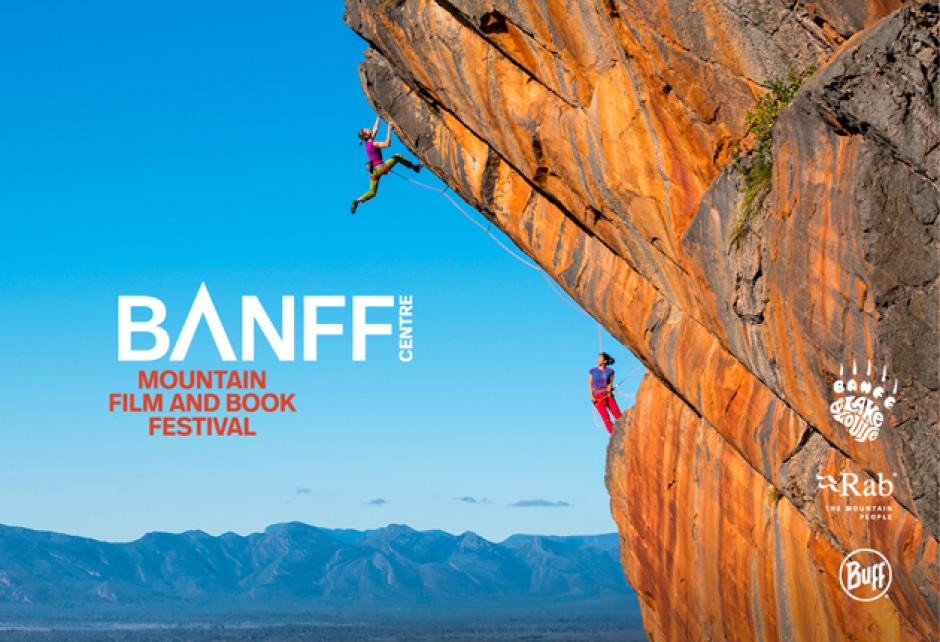 BANFF, AB, August 9, 2022 – Banff Centre Mountain Film and Book Festival is excited to announce that the 47th Annual Banff Centre Mountain Film and Book Festival will take place from October 29th to November 6th, 2022 – bringing stories of adventure and exploration from around the world to Banff Centre for Arts and Creativity, Banff National Park in the Canadian Rockies.
The nine-day Festival presents over 75 adventure-packed films, including World and North American premieres, live events, and online film programming – featuring tales of remote journeys, groundbreaking expeditions, and remarkable achievements, as told by world renowned adventurers, photographers, authors, and filmmakers.
2022 Festival highlights include: Brette Harrington and Christina "Lusti" Lustenberger sharing stories about new bold ski lines in the Arctic, high altitude veteran climber Mingma G Sherpa as our Voices of Adventure representative, Paul Pritchard tells tales from The Mountain Path, adaptive athlete/skier Vasu Sojitra in an unscripted conversation with Greg Hill, and we will also welcome Himalayan specialist Adam Bielecki to the Banff stage for the first time.
On behalf of Banff Centre and the Festival team, I'm delighted to say that we will have a robust, in-person Festival this autumn and will continue with online film options for those who live further afield. We have a great line-up of speakers and more than 75 films to enjoy from around the world. We are thrilled to be back with a live festival this year – for the past two years, we've all been missing the energy of the mountain community, and this will be a fulfilling nine days of reconnection for everyone.
Joanna Croston, Festival and World Tour Director
The Festival schedule will be available to view online by September 29 and tickets and passes will be on sale October 4, 12 noon (early bird online film passes $125 CAD, available until October 15). Check back in the coming weeks for more details here: www.banffmountainfestival.ca.
If you'd like to provide media coverage of the 2022 Festival, please submit a media accreditation application form (submissions open until October 10). 
For more information or image requests, please contact:
Jess Elliott
Media and Communications
Banff Centre Mountain Film and Book Festival
107 Tunnel Mountain Drive
Banff, Alberta
T1L 1H5 
jess_elliott@banffcentre.ca 
About Banff Centre Mountain Film and Book Festival: Created 47 years ago, Banff Centre Mountain Film and Book Festival has become the premier event of its kind in the world. The nine-day Festival hosted by Banff Centre for Arts and Creativity in Banff, Canada, showcases the world's best films, books and photographs on mountain subjects – climbing, culture, environment and natural history, exploration and adventure, wildlife, and sport – and attracts the biggest names in mountaineering, adventure filmmaking, and explorers as presenters and speakers. An international jury will also award over $40,000 in prizes for films and books submitted to this year's Festival competitions. banffmountainfestival.ca
Banff Centre Mountain Film and Book Festival Partners: The 2022 Banff Centre Mountain Film and Book Festival Presenting Partners are: Rab, Banff and Lake Louise Tourism, and BUFF®. The Festival is also sponsored by Oboz Footwear, Yeti, World Expeditions, Kicking Horse Coffee, Lake Louise Ski Resort and Summer Gondola, Lowe Alpine, Doña Paula, and Park Distillery.
About Banff Centre for Arts and Creativity: Founded in 1933, Banff Centre for Arts and Creativity is a learning organization built upon an extraordinary legacy of excellence in artistic and creative development. What started as a single course in drama has grown to become the global organization leading in arts, culture, and creativity across dozens of disciplines. From our home on Treaty 7 territory in the stunning Canadian Rocky Mountains, Banff Centre for Arts and Creativity aims to inspire everyone who attends our campus – artists, leaders, and thinkers – to unleash their creative potential and realize their unique contribution to society through cross-disciplinary learning opportunities, world-class performances, and public outreach. banffcentre.ca