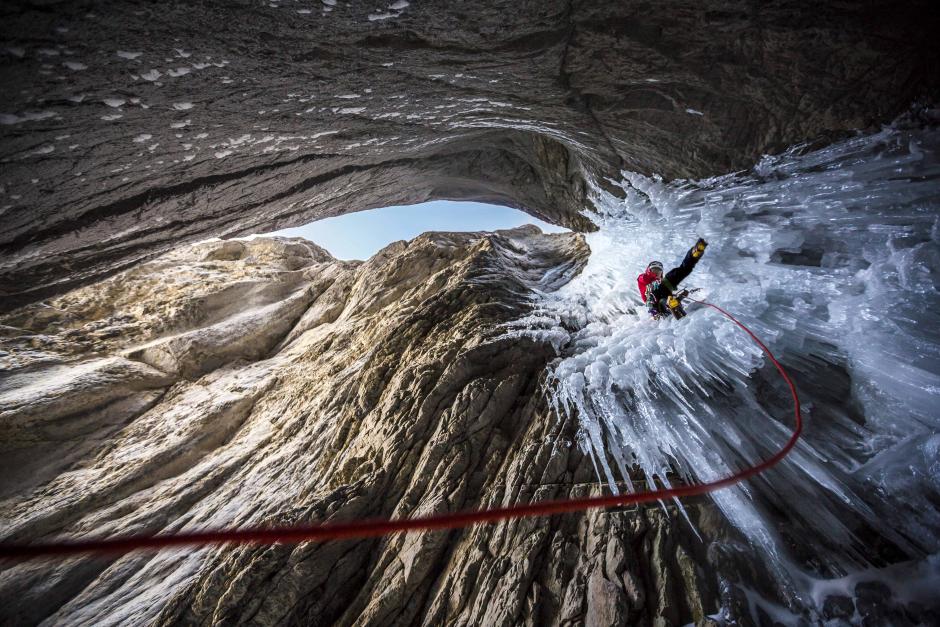 The annual Banff Mountain Film and Book Festival signature image represents the best in mountain adventure images from around the world. Each year we put the call out for images through a public competition and receive a diverse range of inspirational mountain images.

We are pleased to announce that the 42nd annual Banff Mountain Film and Book Festival will be represented by John Price's image of Larry Shiu ice climbing in the Canadian Rockies. The image was taken in December 2015 on a route hidden away in a narrow slot canyon on the South Face of Cascade Mountain in Banff National Park.  

"Both the Route, called Urs Hole, and canyon are massively threatened by avalanche bowls above. It is only safe to venture in there very early season before substantial snow has accumulated above. The canyon is so tight that even a small event above would be catastrophic," says Price. Of this particular image, he adds, "This photo is of the alternate finish, a WI5 exit pitch. Most of the route is very low angle and easy, but the hidden gem is definitely this pitch. We didn't finish the pitch that day, as the ice was too chandelier and wet to protect safely and Larry decided to down-climb. I had plans to go back and climb and re-shoot it again but things came up and before I knew it, I was too worried about overhead hazard to get back in there."

John Price is a photographer and climber who has spent the last six years traveling all over the world, while basing himself out of Canada. Over the last three years Price has been actively climbing and photographing rock, ice, and alpine ascents throughout North America, including the deserts of Nevada, the Ruth Gorge in Alaska, the remote corners of the Himalaya, rural Japan, and extensively throughout the Canadian Rockies. He is currently based in Canmore, Alberta where he works as a freelance adventure, lifestyle, and landscape photographer. He also teaches private workshops, creates editorial pieces, and shoots for commercial projects for a range of clients. 

For more information on John Price visit: www.johnpricephotography.ca

The canyon is incredible. I had climbed in there before but I had never seen that final pitch. I had seen amateur images taken and I imagined what the potential would be with a full frame camera and a wide lens! I was not disappointed when I went in there, pulled out my camera and looked through the lens!