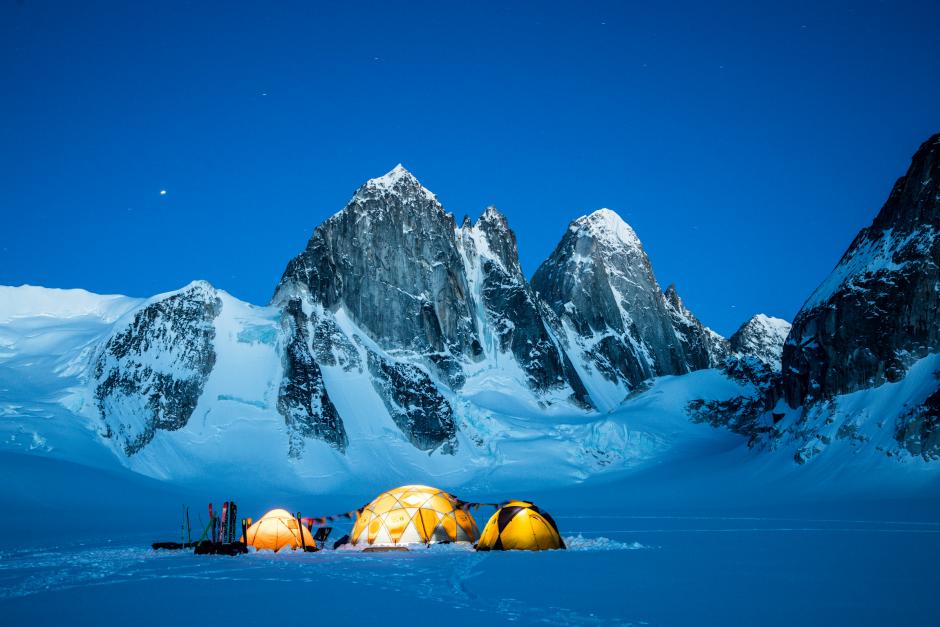 Banff Centre Mountain Film and Book Festival Signature Image 
The 46th annual Festival and World Tour will be represented by Christian Pondella's image of basecamp in the Alaska Range of Denali National Park, Alaska. 
The annual Banff Centre Mountain Film and Book Festival signature image represents the best in mountain adventure photography from around the world.
Every year we put out the call to photographers and receive a diverse range of mountain and adventure images. One image is featured in our poster and marketing materials to the Festival in Banff and around the world in over 45 countries on the Banff Centre Mountain Film Festival World Tour.
As always, we were drawn to a diverse selection of images this year. Some of our favourite contenders included mountain biking and bikepacking with stunning mountain landscapes, ice climbs on epic walls, overhanging climbs on red rock, and we also had quite a few stunning 'base camp' shots to choose from.
Ultimately it was this powerful image of the three tents in Denali National Park that rose to the top for us. The feeling of isolation, solitude, and calm at basecamp, coupled with the stars in the early-evening sky and majestic peaks, evokes a sense of hope and direction during this strange and difficult pandemic year. The three tents just felt right to represent the 2021 Festival and World Tour.
This photo was taken on a ski expedition with Chris Davenport, Jim Morrison and Michelle Parker. "Alaska, known for its spines and fluted faces, is what draws most skiers in and has been so influential in the media and magazines for the past several decades." For this trip, Pondella and the team had a different goal and focused their search for adventure to an established climbing area in the Alaska Range that was known for its granite towers and walls. "We were in search of couloirs which would dissect these towers of rock and technically challenge us from the norms of high-speed spine skiing."
When it came to the stunning location of the tents, the team felt extremely fortunate. "At our basecamp on the glacier, we were surrounded by hulking granite towers and plenty of couloirs. It was if Chamonix and Yosemite Valley were merged together." Pondella admits that they definitely weren't roughing it on this particular expedition.  "We were flown into our camp and had packed enough fresh food to last us for several weeks, and we brought a huge tent and enough down layers to have a super cozy, if not slightly luxurious, basecamp." 
Of the overall experience on this trip, Pondella says the expedition surpassed their expectations on many levels, from the striking setting, to the new lines, and old friendships. "This trip to the Alaska Range was about the unknown, the adventure, the exploration, and a team of great friends with the objective to ski couloirs which had never before seen skis." He adds, "We found ourselves surrounded by a lifetime of ski lines in a little sliver of gigantic mountains."
About the Photographer
Over the last few decades we've only had a few photographers who have had their photo chosen as the signature image more than once. You may recall last year's 2020 signature image of two skiers (Hilaree Nelson and Jim Morrison) hiking along the ridge with skis on their back in the Sierra Nevada backcountry, which was also taken by Pondella.  
Pondella is one of the top adventure sports photographers in the world. He's a senior photographer for Powder Magazine and has published work in Sports Illustrated, ESPN Magazine, Outside, Climbing, and his images appear in campaigns for Red Bull, Patagonia, Oakley, Clif Bar, and an endless list of outdoor brands and publications. 
Pondella is extreme athlete in his own right, often having to move faster and carry significantly more weight with all his camera equipment. He's an accomplished ice climber, rock climber, ski mountaineer and always on the front line of the action and adventure.
When he's not hanging out on a ledge somewhere, Pondella can be found at home with his wife Julie in Mammoth Lakes, California or out looking for fresh tracks with his nine-year old son Blaise.
Note: There are actually two very similar versions of this image,  so we will be using both in our marketing materials – one version (above) is closer to the basecamp, and the other shows more of the mountain range, starry sky, and the tents further away.
Find out more about Christian Pondella
Find out more about the Signature Image Challenge.
We were in search of couloirs which would dissect these towers of rock and technically challenge us from the norms of high-speed spine skiing.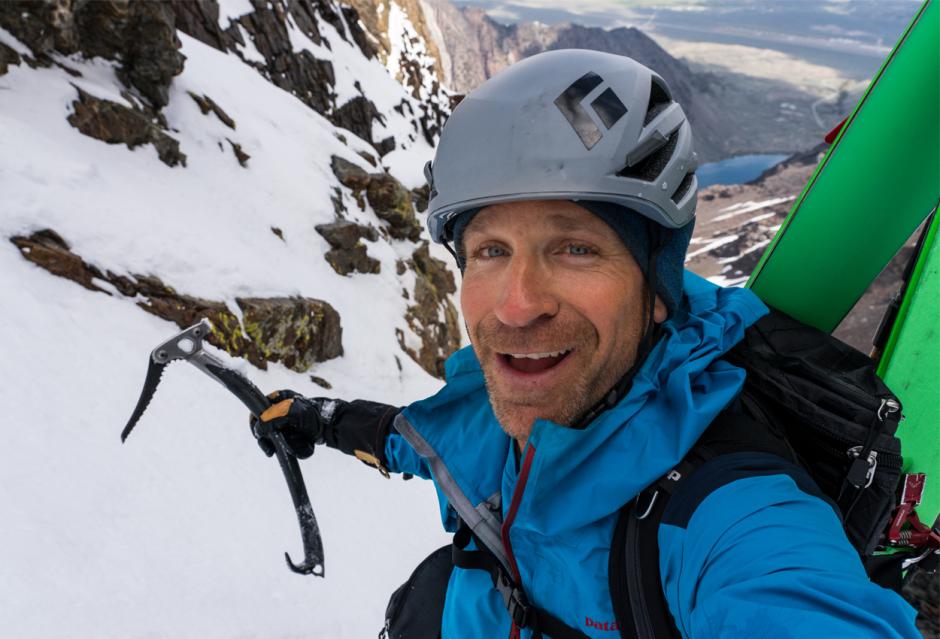 Stay Updated 
We are excited to share updates and news surrounding the 46th annual 2021 Banff Centre Mountain Film and Book Festival in the coming weeks. 
Make sure you subscribe to the "Festival Announcements" newsletter so you don't miss out!