Turning the Library Into a Tarot Card Parlour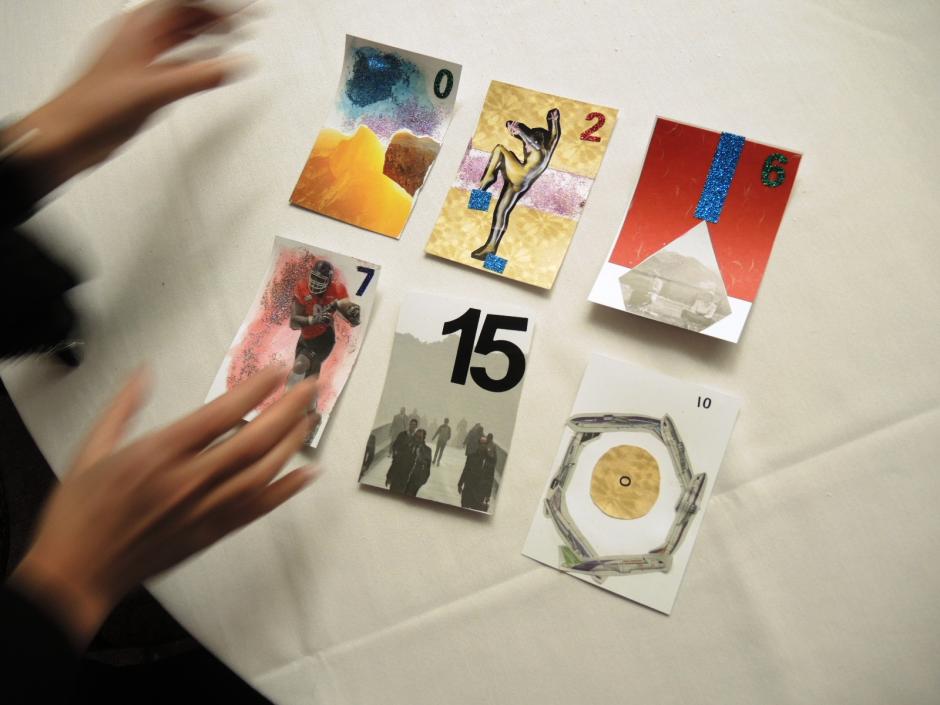 Have you ever wanted to know more about tarot cards and how to use them? The idea of using the tarot as a jumping off point for creative expression inspired the library to organize a tarot card making workshop with artist Eva Przybyla in November 2015. With an artist talk, a brief overview of tarot cards and fortune telling and a great tarot-making session, the workshop generated a lot of interest and it was apparent that the cards, folklore and fortune telling resonated strongly with lots of people at Banff Centre. 
The library has a small collection of artist-made tarot cards in our Artist's Book Collection, along with some resources and books on what the cards mean and how to use them.
Dating back to the 15th century, tarot cards were initially used to play card games. As its popularity spread, hand-painted tarot card decks were commissioned by upper class families as artworks. The Visconti-Sforza tarot card deck is one such example of a beautiful commissioned deck, complete with gold and silver embellishments. 
Throughout Europe, tarot cards became associated with gambling, and the images on the cards slowly became linked to varying levels of luck or misfortune. In the late 18th century, using the tarot for divination purposes grew in popularity, and guides on how to read the cards as insight into the future became available.
In recent decades, artists have used the traditional tarot card imagery as a form to base their own work. For example, Kim Abeles, an activist artist based in Los Angeles, created a deck of tarot cards as a part of a project on HIV/AIDS awareness. Each card contains an image with sexual health information on the back.
Amir Bey's artist deck is titled 'Equinox Celebration tarot' and is based on mythology and symbolic figures from the African American experience. 
Tarot Cards in the Library