Tyshawn Sorey appointed Co-Artistic Director for 2018 Banff International Workshop in Jazz & Creative Music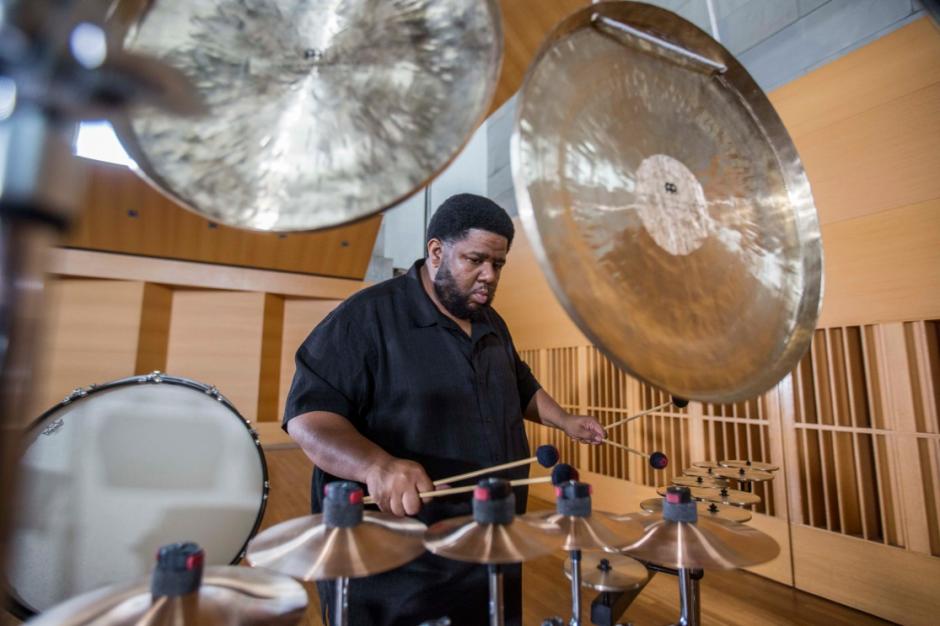 BANFF, AB, January 9, 2018 – Banff Centre for Arts and Creativity announced today the appointment of multi-instrumentalist and composer Tyshawn Sorey as Co-Artistic Director for the 2018 Banff International Workshop in Jazz & Creative Music. He will be working with Grammy-nominated composer-pianist Vijay Iyer, who has been Artistic Director of the program since 2013. Sorey is currently serving as Assistant Professor of Music at Wesleyan University specializing in creative improvised and experimental music traditions.
"I couldn't be more delighted of the opportunity to take on the role of Co-Artistic Director along with the great pianist, composer, conceptualist, and thinker, Vijay Iyer," said Sorey. "His unprecedented vision for the Banff International Workshop in Jazz & Creative Music is one that celebrates individualism, inclusion, life experiences manifested through sonic expression, and the cultivation of a powerful community of improviser-composers. Thus, the Workshop has become a program that goes well beyond simply learning how to play creative music  — it is about strengthening and maintaining one's inner fulfillment through the performance and creation of original music, and I look forward to being a part of this unique exchange at the Banff Centre."
Sorey is a multi-instrumentalist, improviser, composer, ensemble leader, and conductor known for his incomparable virtuosity, effortless mastery, and an extraordinary ability to blend composition and improvisation in his work. He has released six critically acclaimed recordings, has been selected as one of the nine composers for the Other Minds Festival, served as the Danish International Visiting Artist at Jazz Denmark  and taught and lectured at Columbia University, The New School, International Realtime Music Symposium, Hochschule für Musik Köln, Berklee College of Music, Massachusetts Museum of Contemporary Art, and The Danish Rhythmic Conservatory. In the summer of 2017, Sorey served as faculty for Banff Centre's jazz and summer music programs.
Sorey was recently awarded The MacArthur Fellowship "Genius Grant" — a $625,000 "no-strings-attached" investment to pursue his own creative, intellectual, and professional inclinations. The MacArthur Foundation praises Sorey for "assimilating and transforming ideas from a broad spectrum of traditional and experimental idioms into musical creations that celebrate alternative musical modeling within the improvisation-composition continuum."
"I'm thrilled and delighted to continue my longtime association with Tyshawn Sorey, one of today's most innovative and celebrated musical visionaries," said Iyer. "A dazzlingly talented multi-instrumentalist, a singular composer, and a pioneering conductor, Tyshawn has joined our program's faculty each year since I have served as its Artistic Director, and his role has grown organically over the years to much more than that of a typical faculty member. His inspirational qualities — generosity, perspicacity, rigor, and compassion — have transformed the lives of hundreds of our participants and galvanized dozens of our faculty."
As Co-Artistic Director for the 2018 Banff International Workshop in Jazz & Creative Music, Sorey will be responsible for pushing the creative vision of the program to develop and challenge jazz and creative music ideas and abilities with program participants from around the world. 
"Banff Centre is delighted to welcome back Tyshawn Sorey, one of our most talented faculty and performers, in this expanded role," said Russell Willis Taylor, Acting Vice President, Arts and Leadership at Banff Centre. "Tyshawn has been an important part of the Banff family and our participants have benefited immeasurably from his engagement with us. It is a particular pleasure to have him take on the role of Co-Artistic Director with Vijay Iyer, which demonstrates the type of collegial generosity that is the hallmark of this program."
The Banff International Workshop in Jazz & Creative Music includes a stellar faculty of world-renowned musicians, innovators, leaders and thinkers. The program is designed for emerging and established musicians looking to open new creative horizons, challenge themselves artistically, or refine their skills. The 2018 Banff International Workshop in Jazz & Creative Music program will run August 6 – 25, 2018. 
For more information about the Banff International Workshop in Jazz & Creative Music, visit banffcentre.ca/music
About Banff Centre for Arts and Creativity: Founded in 1933, Banff Centre for Arts and Creativity is a learning organization built upon an extraordinary legacy of excellence in artistic and creative development. What started as a single course in drama has grown to become the global organization leading in arts, culture, and creativity across dozens of disciplines. From our home in the stunning Canadian Rocky Mountains, Banff Centre for Arts and Creativity aims to inspire everyone who attends our campus – artists, leaders, and thinkers – to unleash their creative potential and realize their unique contribution to society through cross-disciplinary learning opportunities, world-class performances, and public outreach. In 2018, Banff Centre celebrates 85 years of creative practice. banffcentre.ca