Hiking the East Coast Trail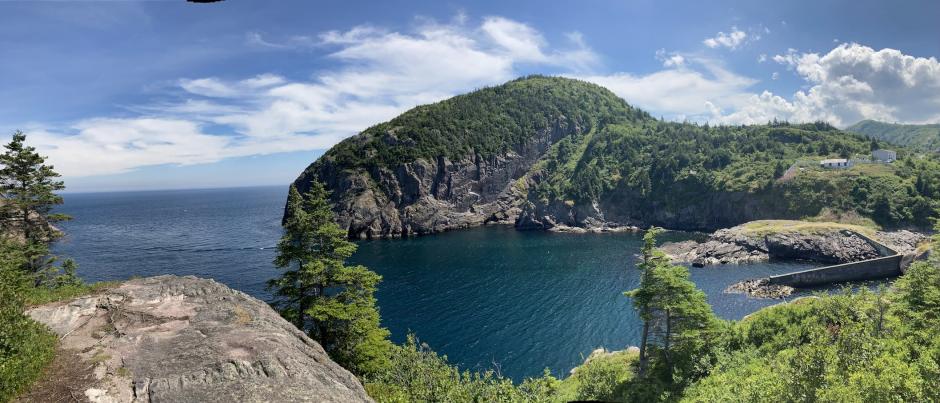 Ever wonder what it's like to win the Banff Centre Mountain Film and Book Festival online contest grand prize? Just ask Katie Wind, who won the 2020-21 edition: a hiking trip on the stunning East Coast Trail with Great Canadian Trails, a division of adventure travel company World Expeditions. 
We've asked Katie to share her impression of the trail and overall experience in Newfoundland – locally known as 'the Rock'.
Tell us a bit more about yourself and your preferred style of travel?
I've traveled quite a lot and lived in many places, the most different from the US being Mongolia, where I lived for about two years, and Japan, where I spent three months. I mainly enjoy active vacations, and after spending a good deal of travel just wandering around and looking at things, I would only now go someplace if I know someone there or if I'm doing something that connects me with the local community (such as farming/volunteering/working). 
Was it your first multi-day hiking trip? 
I've been on a few backpacking trips, one in northern Idaho and one in Glacier National Park (Montana). The Idaho trip was with my family when I was very young; the Glacier trip was with my sister-in-law. So, I didn't have to plan many logistics for either of these trips. I ended up going on the East Coast Trail (ECT) on my own. This one was not a backpacking trip as I was carrying only my daypack, which I really liked. The difficulty rating of the different sections included on my itinerary on the Great Canadian Trails website was accurate.
How was the East Coast Trail compared to your previous experiences?
I was really happy there weren't any mosquitoes, like in Glacier. The scenery and setting of the ECT were my favorite of these trips. I didn't know much about supported, self-guided active holidays beforehand. I liked that the logistics were taken care of, and the self-guided aspect left some room for spontaneity and a feeling of the unknown, which I equate with adventure.
Did anything surprise you about the trail, the people, or the wildlife?
Regarding the trail, I was most surprised about how well-maintained the trails were, even in a rainy/weather-prone and overgrown environment. I was surprised that the flora and fauna reminded me of SE Alaska (I lived in Juneau for over a year). I loved the blueberries, crowberries, serviceberries, alder, and fireweed! The meeting of the ocean with the mountains and hills, and the friendliness of all the people I encountered were also pleasant surprises.
What tips would you give someone looking at an active holiday in Newfoundland?
I would emphasize the need for rain gear, comfortable shoes or boots, and layers. I would say that the trail will be much more enjoyable and easier if you already have good physical fitness.
Anything else you'd like to add about the East Coast Trail experience?
I am so glad that I went! I had wanted to explore the Maritimes for a while now, and this was such a perfect opportunity! I have been telling everyone here how much I recommend this experience! 
Authors: Caroline Mongrain, World Expeditions Travel Group and Katie Wind