A Brief History of Classical Music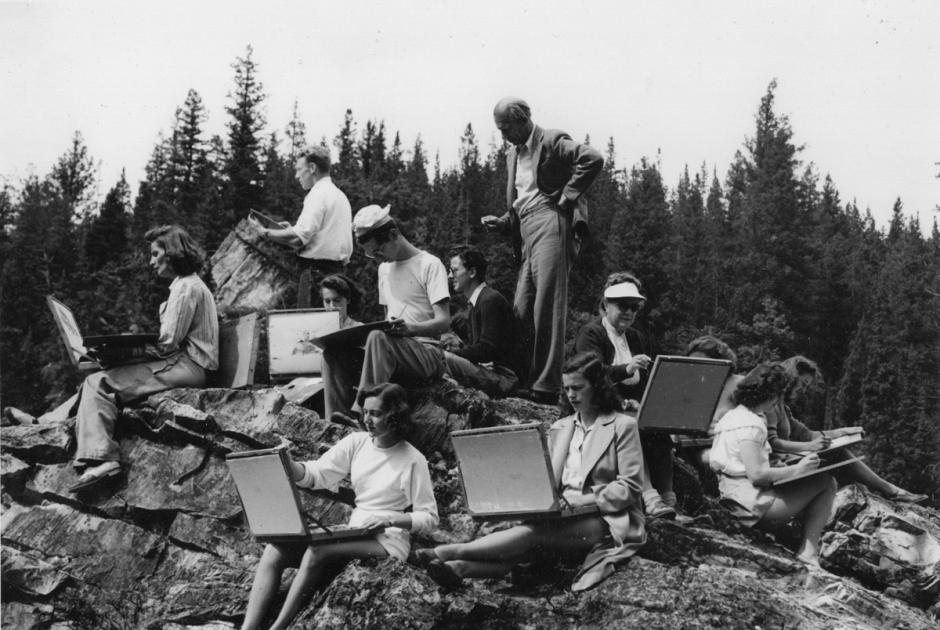 Banff Centre has been training artists since 1933 in the Canadian Rockies. Music has been offered since 1936, when courses in musical composition, interpretation and performance were added to the community theatre training programs.
Banff Centre's music training evolved in the 1960s when Thomas Rolston began teaching the Suzuki method to students. Within five years Rolston was appointed head of music at Banff Centre; he introduced brass and woodwind classes to the summer programs. Together, Thomas Rolston and pianist and music educator Isobel Moore Rolston had a massive influence on music programming and performances at Banff Centre.
Over the decades Banff Centre became a leading force in the education of classical musicians from across Canada and around the world through its innovative and intensive programs. 
To view highlights from Banff Centre's history of classical music please scroll down to the dateline.
To learn more about our summer classical programs click here. 
1930s
1936: A two-week course in musical composition, interpretation, and performance for piano is introduced as part of the community theatre training program at Banff Centre.
1937: Financing to develop a fine arts program is made possible by a grant from the Carnegie Foundation of New York to the Department of Extension of the University of Alberta, then under the direction of Donald Cameron, Banff Centre's first director. A course in choral music is added to the piano and voice courses.
1940s
1942: Acclaimed pianist and music educator Max Pirani from London's Royal College of Music joins the faculty at Banff Centre to teach piano master classes.
1950s
1955: Strings and operatic singing are introduced to the music program.
1960s
1960s: Thomas Rolston, a music teacher at the University of Alberta, introduces children's classes in the Suzuki method at Banff Centre.
1961: Brian Macdonald joins the faculty and initiates a jazz dance program. Macdonald later founded Banff Centre's musical theatre program in 1964, and became one of the most formidable dance educators in Canadian history. He passed away in 2014.
1965: Thomas Rolston is appointed head of the strings program; brass and woodwind classes are added shortly after.
1970s
1971: Thomas Rolston and Banff Centre President David Leighton begin to specialize the music programs with a focus on faculty who were practicing artists with a strong commitment to teaching. The Banff Summer Arts Festival is established.
1977: The first six-week academy of chamber music takes place which includes: a piano master class with György Sebök; piano chamber music sessions for pre-formed ensembles organized by Lorand Fenyves and Isobel Moore Rolston; and a string quartet academy with the Hungarian String Quartet as faculty. The quartet's violinist was Zoltán Székely, long-time friend of composer Béla Bartók.
1974: The jazz program commences under the direction of Oscar Peterson and Phil Nimmons. Master classes are also added in percussion led by George Gaber, and in guitar with Alirio Diaz, Oscar Ghiglia, and Michael Lorimer. Neil Armstrong, Banff Centre's vice president, establishes an annual Festival of Youth Orchestras that would continue for 20 years, bringing in many young artists who would later return for other programs.
1975: Master classes in piano, strings, woodwinds, and brass are combined into the Music Performance Program under artistic director Thomas Rolston.
1976: Violinist and composer Zoltán Székely begins living at Banff Centre as the first artist in residence; he would remain here until his death in 2001.
1977: Barry Shiffman attends Banff Centre music programs as a young violinist; he would return to Banff Centre multiple times as a participant and go on to become director of music programming and executive director of the Banff International String Quartet Competition.
1979: The first music residency program, Advanced Studies in Music, begins in the fall. The goal of this unique program was to fill a gap in the training of professional musicians and composers by freeing them from institutionalized learning and providing four to 26-week residencies for self-directed projects with artistic and career guidance. Faculty during the first year included Janos Sarker, Igor Oistrakh, Josef Suk, Menahem Pressler, Anton Kuerti, the Borodin Quartet and Fine Arts Quartet.
1980s
1982: A celebration takes place at Banff Centre to honour the centenary of Béla Bartók's birth with distinguished guests from Budapest. President David Leighton acts as moderator for a panel discussion on the influence of folk music on the compositions of Béla Bartók. Panelists include Zoltán Székely, Béla Bartók Jr., Lászlo Sómfai (head of the Bartók archives at the Franz Liszt Academy), and János Kárpáti (musicologist and head librarian at the Franz Liszt Academy).
1983: Banff Centre celebrates its 50th anniversary with many initiatives, including the creation of the triennial Banff International String Quartet Competition (BISQC), which remains one of the most popular events held here. The inaugural winner of BISQC is Colorado Quartet. Short-term summer residencies are added following the success of the fall/winter residency.
1985: Alberta-raised trumpeter Jens Lindemann attends Banff Centre's music program. Lindemann went on to study at Julliard and became an internationally celebrated trumpet player, and was the first Canadian trumpet soloist to be featured at Carnegie Hall. He has served as faculty at Banff Centre multiple times, and would receive the Order of Canada in 2015.
1986: Franciscan Quartet wins the Banff International String Quartet Competition.
1989: Isobel Moore Rolston is named artistic director of the music program. Quatuor Manfred wins the Banff International String Quartet Competition.
1990s
1991: Additional intensive programs are introduced and the length of all programs adjusted. More performance opportunities are created and collaborations established with several Bow Valley organizations. Concerts are scheduled regularly at the Banff Springs Hotel and a baroque series is presented at Banff's Anglican and United churches. Weekly concerts commence at Creekside Hall in Canmore and Lake O'Hara Lodge near Lake Louise.
1992: St. Lawrence String Quartet is the first Canadian quartet to win the Banff International String Quartet Competition, and includes Banff Centre music alumnus Barry Shiffman.
1994: The first Professional Musicians' Skill Enhancement Program (later called Music Makers) is held (made possible by generous federal and provincial funding), allowing musicians to train at Banff Centre during the winter session. The musicians then spend three weeks presenting concerts and workshops to students and community musicians in Alberta. An audio program is added to the music department; short, intensive workshops and seminars are offered and co-productions developed with the Canadian Broadcasting Corporation, EMI, Marquis Classics, Centrediscs, Analekta and Bravo. In 2003 Banff Centre would host the Audio Engineering Society's International Conference.
1995: A 10-week winter residency for Aboriginal Women's Voices is held, resulting in the recording of a CD. The Afrocuban Festival of Music and Culture takes place at Banff Centre in the summer. Amernet Quartet wins the Banff International String Quartet Competition.
1998: Miró Quartet wins the Banff International String Quartet Competition.
1999: Music programs are evaluated by Canadian Heritage assessors, resulting in very favourable comments and funding from the office of the Minister of Canadian Heritage. The assessors consider Banff Centre's impact on professional development of musicians in Canada to be without parallel.
2000s
2000: Banff Centre presents the Canadian premier of Polish composer Krzysztof Penderecki's Credo and the world premiere of Imant Raminsh's Recordare.
2001: Daedalus Quartet wins the Banff International String Quartet Competition.
2004: Tom and Isobel Rolston retire from full-time activity after nearly 40 years at Banff Centre. The music program they helped build had become recognized around the world as a unique learning environment where musicians could expand their artistic insights through interaction with distinguished visiting artists and with each other.
2006: Barry Shiffman, Canadian violinist and Banff Centre alumnus, is named the director of music programs and executive director of the Banff International String Quartet Competition (BISQC). Shiffman first came to Banff Centre with the Gifted Youth Program and returned for summer studies in chamber music and master classes. As part of the Saint Lawrence String Quartet, he participated in a summer residency in 1991. Following the quartet's first prize win at the 1992 BISQC and at the Young Concert Artists Competition in New York, Shiffman returned to Banff Centre as a member of the music faculty on several occasions.
2008: Banff Cantre music alumnus and internationally celebrated trumpet player Jens Lindemann hosts the International Trumpet Guild conference at Banff Centre.
2010: Cecilia String Quartet wins the Banff International String Quartet Competition.
2010-2013: Henk Guittart, co-founder of the Schoenberg Quartet and one of Europe's most sought-after professors of chamber music, joins Shiffman as the co-artistic director of music. Since 2006, Guittart had served as artistic advisor of music programs and as special guest faculty; he would now lead the fall and winter music creative residencies.
2013: Dover String Quartet wins the Banff International String Quartet Competition.
2016: Rolston String Quartet wins the Banff International String Quartet Competition; the quartet is comprised of Banff Centre alumni who met on campus and named their quartet in honour of Thomas Rolston.
2017: Claire Chase and Steven Schick are appointed co-artistic directors of Summer Classical Music. Chase is a 2012 MacArthur Fellow and 2017 winner of the Avery Fisher Prize; Schick is an acclaimed percussionist, conductor and distinguished professor of music at University of California San Diego. Barry Shiffman continues his role as executive director of the iconic Banff International String Quartet Competition and launches the annual Banff International String Quartet Festival.
" Those precious weeks at Banff provided me with a basis from which I've built my professional career…Banff was the time that I studied ballet every day over an extended period of time. This was first exposure as to what life as a ballet dancer might one day be like and I thrived on it. The Banff experience fed my hunger for ballet like no other."
Reid Anderson discusses his first year as a dance student at Banff Centre, from Artists, Builders, and Dreamers: 50 Years at the Banff School by David and Peggy Leighton