A Brief History of Visual Arts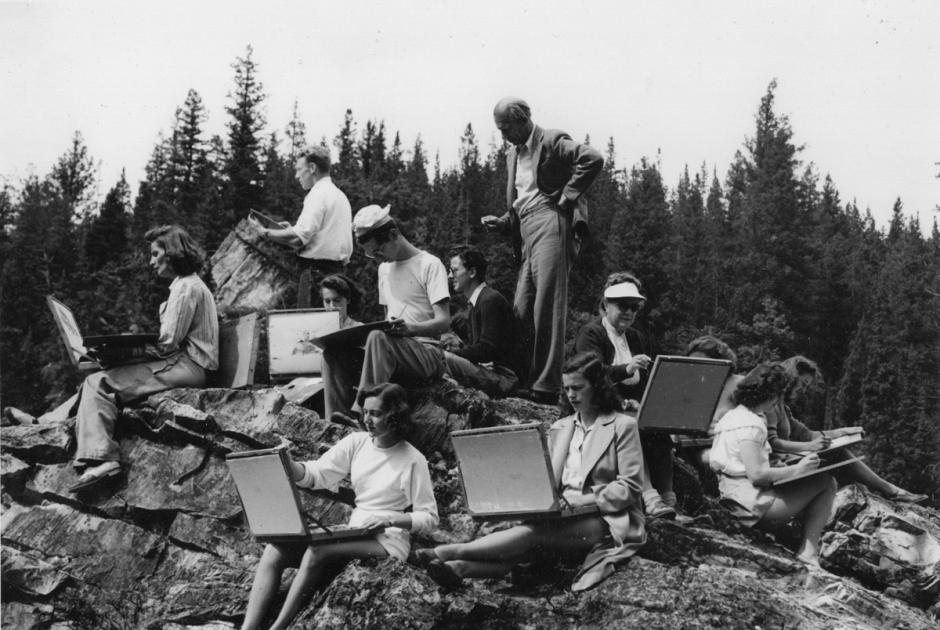 Banff Centre for Arts and Creativity has been training artists since 1933 in the Canadian Rockies. It has offered Visual Arts programs since 1935, when painter A.C. Leighton held outdoor painting class that summer. Within five years, Visual Arts programs were established and led by painters H.G. Glyde and Walter J. Phillips, both teaching for decades at the nascent Banff School of Fine Arts; their painting classes evolved from dozens of students to hundreds over their tenure, creating a strong foundation for the legacy of visual arts training at Banff Centre.
In the 1970s Canadian visual artist Takao Tanabe became head of Banff Centre's painting division. Visual Arts programs now included courses in ceramics, photography, multi-media, as well as more traditional painting courses. In 1976, under Tanabe's leadership Banff Centre opened Walter Phillips Gallery and Glyde Hall. The gallery was a dedicated space to exhibit and showcase contemporary artists, while Glyde Hall provided a permanent headquarters for artist studios on campus. 
Over the decades Banff Centre has continued to introduce innovative and vital visual arts and multi-media programs and residencies that support emerging and leading visual artists from across Canada and around the world. Visual, Digital and Media Arts programs offer 24/7 access for established and emerging artists, as well as providing technical, material, and conceptual support in a way that no other cultural institution in Canada can. From ceramic firing kilns to 3D printers, from studio-space to our permanent collection of campus-wide public art, Banff Centre provides a haven for visual artists when they need to renew their creative spirit. 
To view a selection of highlights from the history of Visual Arts at Banff Centre please scroll down to the dateline. 
To learn more about Banff Centre's current Visual Arts programs please click here.
1930s
1935: Alfred Crocker "A.C." Leighton moves his outdoor painting class to Banff Centre and connects to the Theatre Arts program – this was the beginning of the Banff School of Fine Arts and its multidisciplinary programs. Leighton was integral in developing the painting program at the Institute of Technology and Art, which evolved into The Alberta College of Art and Design. He also founded the Alberta Society of Artists and served as its first president.
1936: Henry George "H.G." Glyde is appointed director of the painting program and would teach courses for more than 30 years. One of the students is Roloff Beny, a photographer and artist who gained international acclaim and became a protégé of Peggy Guggenheim.
1940s
1940: Alexander Young "A.Y." Jackson, a member of Canada's Group of Seven, begins teaching at Banff Centre and would teach most summers until 1949. Walter J. Phillips joins the faculty in visual arts and would teach most summers for the next 23 years.
1941: An applied arts and handicraft program is established, with courses in handweaving and design led by Mary Meigs Atwater, Head of the American Shuttlecraft Guild; instruction in modeling and pottery taught by J.B. McLellan from the Glasgow School of Art.
1943: Ethel Henderson teaches weaving courses and continues until 1963.
1944: The Canadian Armed Forces sends 25 airwomen to Banff Centre to train in its handicraft course.
1950s
1950: Takao Tanabe arrives at Banff Centre and becomes a painting student. During this time, H.G. Glyde and Walter J. Phillips form the core of a visual arts faculty that includes: William Townsend, Charles Stegeman, Francoise Andre, Janet Middleton, J.W.G. Macdonald, Murray MacDonald, and Harry Wohlfarth.
1953: Nature photographer M.V. Crich teaches photography at Banff Centre and continues to serve as faculty until 1973. Crich Hall on campus was named in his honor.
1960s
1961: Robert Alexander begins teaching photography courses at Banff Centre and continues until 1976.
1967: H.G. Glyde retires as visual arts faculty.
1970s
1970: Enrollment in fine art programs at Banff Centre exceeds 300 students.
1973: Banff Centre alumnus Takao Tanabe is appointed head of the painting division, following his return to Canada from New York, where he established a successful career as a visual artist.
1974: Visual arts faculty includes Roy Kiyooka, Ivan Eyre, and Claude Breeze.
1976: Under Tanabe's leadership of the painting division, Glyde Hall and Walter Phillips Gallery open. Glyde Hall serves as permanent studio space for the evolving multidisciplinary visual art programs and Walter Phillips Gallery is the focal point for public exhibitions of artists training and working at Banff Centre.
1979: A fire destroys Crich Hall, which housed office and artists' studios along with photo negatives. Many negatives were saved after the fire and Banff Centre staff spent countless hours washing and drying the negatives, a series of which were presented in April 1980 in an exhibition titled Jury by Fire.
1980s
1980: Tanabe retires from Banff Centre and continues to visit the campus for many years. He is succeeded by sculptor Terence Johnson, who was educated at the Nova Scotia College of Art and Design. Wilma Needham, a former student of Tanabe's, becomes the program's teaching assistant, and develops into an established educator and artist.
1980: Mariette Rousseau-Vermette becomes head of Banff Centre's fibre arts division.
1981: Banff Centre hosts the third Fibre Interchange, a gathering of experts from the fibre arts world. Noted guests include: Parisian fibre artist Daniel Gaffin; The Museum of Modern Art's Mildred Constantine; The Whitney Museum's curator Patterson Sims, and acclaimed American fibre artist Sheila Hicks.
1981: Banff Centre hosts an International Clay Sculpture Symposium, attracting some of the most prominent international clay artists, including: David Dorrance, Peter Voulkos, Katie Ohe, Tony Hepburn, Ann Mortimer and Viola Frey.
1990s
1991: Visual artist Janet Cardiff creates her innovative piece Forest Walk at Banff Centre. This is the first of what became an internationally regarded series of audio walks created by Cardiff.
1991: Anishinaabe interdisciplinary artist Rebecca Belmore creates her iconic work Speaking To Their Mother at Banff Centre. It goes on to tour across Canada and then returns to Banff Centre as part of the permanent public art collection on display in the Kinnear Centre for Creativity and Innovation.
2000s
2007-2012: Kitty Scott serves as director of Visual Arts at Banff Centre.
2010: Alberta-based visual artist Mark Clintberg installs Meet me in the woods. This public artwork was commissioned by Banff Centre and The Alberta Foundation for the Arts to celebrate Banff Centre's 75th anniversary.
2011: Banff Centre alumnus and Indigenous visual artist Brian Jungen installs his commissioned work The ghosts on top of my head, on permanent display at the entrance of Banff Centre's Kinnear Centre for Creativity and Innovation.
2013: Multi-award winning Canadian visual artist Shary Boyle works at Banff Centre on her exhibition for the 55th Venice Biennale as the official artist representing Canada.
2016: Walter Phillips Gallery celebrates 40 years of exhibiting international artists at Banff Centre. Artists who have exhibited work at the gallery include: H.G. Glyde, Walter Phillips, A.Y Jackson, Takao Tanabe, Janet Cardiff, Rebecca Belmore, Ken Lum, Brian Jungen, Ragnar Kjartansson, Shary Boyle, Mike Nelson, Heather and Ivan Morison, Guy Maddin, Andrea Büttner, Neïl Beloufa, among many others.
2017: Visual artist Geoffrey Farmer, who has attended multiple programs as a participant and faculty member, utilizes Banff Centre to prepare for his exhibit at the 57th Venice Biennale, officially representing Canada at its pavilion.
2017: Banff Centre co-hosts the Alberta Biennial with the Art Gallery of Alberta. The 24 Alberta artists met at Banff Centre in the summer of 2016 to further develop their artwork and expand upon the exhibition themes together with the curators. The exhibition, For The Time Being, opened in Edmonton and Banff in the summer of 2017. for the time being was curated by Kristy Trinier, director of Visual Arts at Banff Centre, and Peta Rake, Curator of Walter Phillips Gallery at Banff Centre.
2018: Educator and artist Brandy Dahrouge is appointed Director of Visual Arts.
" I paint because I must. I paint from 12 to 14 hours daily. Wherever I go I see something to paint—flowers, bottles—anything. It is a disease."
A.C. Leighton