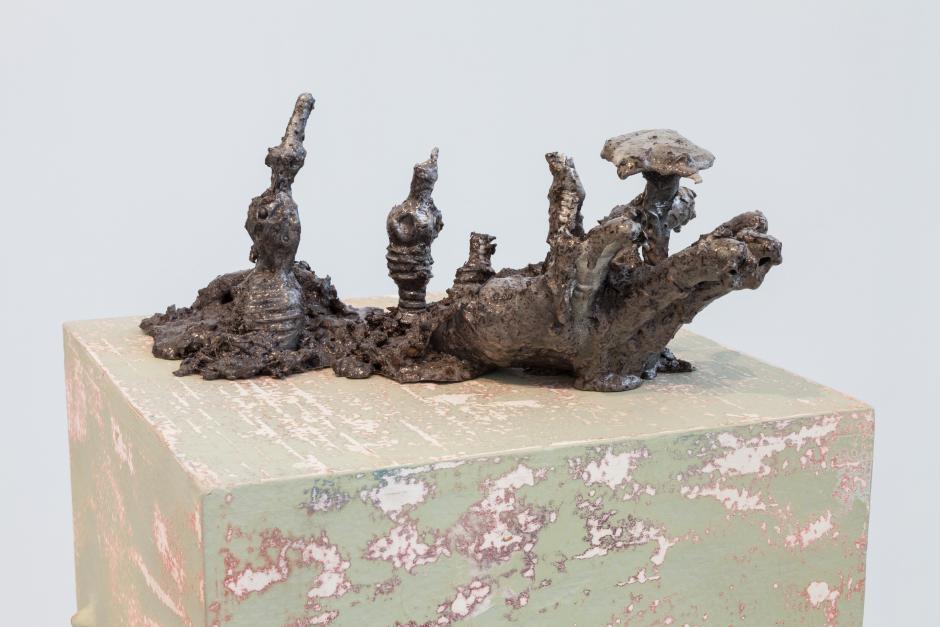 Young Joon Kwak
THE CAVE 
with Marvin Astorga, Shawna Dempsey and Lorri Millan, Adrian Stimson, and Kim Ye
September 29 - December 14, 2018
Organized by Acting Curator Jacqueline Bell
Walter Phillips Gallery, Main Space
Banff Centre for Arts and Creativity
Opening Reception 
Friday, September 28, 6:00 – 9:00 p.m.
Young Joon Kwak and Kim Ye in conversation with John Tain 
Saturday, September 29, 1:00 – 2:00 p.m.
Exhibition Tour
Wednesday, October 17, 5:00 p.m.
Exhibition Tour
Wednesday, December 5, 5:00 p.m.
The Banff Springs Snail is an endangered species found exclusively in the thermal pools of Banff's Sulphur Mountain. Like many similar species, the snail has the capacity to self-reproduce, displaying both 'male' and 'female' sex organs. Most numerous within Banff's Cave and Basin, it has a shell unlike many others; for rather than spiralling to the right, it curls to the left. Around the size of a small fingernail, it often goes unseen and is subject to strict regulations with human interaction. The Banff Springs Snail is an important feature within Young Joon Kwak's THE CAVE, marking it as a space for contemplating the radical potential of marginalized bodies.
This exhibition, which is the Los Angeles-based artist's first in Canada, builds on pre-existing work which counters the aesthetic of the "man cave" through a queered reading of the masculinist tendencies within these domestic spaces, as well as within social concepts of nature and outdoor culture. Unique to this exhibition is Kwak's response to Banff National Park and the legacy of artistic practices which have engaged with the present and historical complexities of the region. A new series of bronze sculptural works make reference to these local snails and are displayed in a fountain repurposed from a mirrored security dome, alluding to the surveillance of non-normative bodies within the everyday. Stalactites are evoked through works that drip in resin, while others transform familiar geometry and architecture into beings with orifice-like holes. Kwak's sculptural work resonates with current discourses on queer abstraction, which writer Joseph Henry notes opens "new strategies for the imaging of non-binary genders [1]." These objects are also imbued with the parody of a queered camp aesthetic; a productive tension, where a visual withholding and the excess of slapstick are alternately wielded as political tools [2].
In a spirit of homage, the exhibition also includes works by artists which similarly employ Banff as a touristic backdrop or film set. Like Kwak, these artists interrogate the region's history through strategies of public performance, camp aesthetics, and elements of drag [3]. In Shawna Dempsey and Lorri Millan's Lesbian National Parks and Services: A Force of Nature (2002), Banff becomes a stage to perform the intersections between heteronormative understandings of gender, the natural world, and the ways in which these conceptions inform Canadian national identity. Adrian Stimson's work, Buffalo Boy's Why Not? (2009), follows Stimson's performative character, Buffalo Boy, through the streets of Banff in an acerbic but playful reflection on the town's colonial history. Through Buffalo Boy's performance, Stimson's experience as a person of Blackfoot descent makes the land visible as the traditional territory of Indigenous peoples.
The exhibition also includes a new collaborative video work by Kwak and Los Angeles-based artist Kim Ye that presents a fragmented storyline of a fictional family holiday. Drawing attention to the constructions of gender in an intentionally exaggerated performance of femininity, Ye plays a "mommy" figure to Kwak, the "baby," and aims to mentor the youth in the difficult process of learning to "be a woman." This performative reflection on the process of gender transition experienced by many individuals who identify as trans is interspersed with other vignettes. Taking inspiration from a selection of photographs of Marilyn Monroe shot while the celebrity was in Banff filming the 1954 film, River of No Return, the work satirizes idealized expressions of femininity connected with the townsite's history. A nod to their own positions as Angelenos, who, like Monroe, experienced Banff as tourists, Kwak and Ye's video, Maternal River of No Return (2018), also critically reflects on the stereotypes and misrecognitions of identity in relation to touristic populations in the town of Banff.
[1] Joseph Henry, "Queering Queer Abstraction," The Brooklyn Rail, October 5, 2017.
[2] This reading is aligned with curator, writer, and translator, Ana Iwataki's interpretation of Kwak's work in relation to the exhibition Hermy (2017).
[3] Katheryn Walter, "Introduction: The Set, The Situation, The Cast of Characters" in Private Investigators: Undercover in Public Space, ed. Kathryn Walter and Kyo Maclear (The Banff Centre Press, 1999), 1 -8.
Young Joon Kwak
Young Joon Kwak (b. 1984, Queens, New York) is a Los Angeles-based multi-disciplinary artist working primarily through sculpture, performance, video, and collaboration. Kwak's work aims to change how we view our bodies by reimagining their form, functionality, and materiality—from static and bound to pre-inscribed power structures, to an expanded sense of bodies and their environs as mutable and open-ended. Kwak is the founder of Mutant Salon, a roving beauty salon/platform for experimental performance collaborations with their community of queer, trans, femme, POC artists and performers. Kwak is the lead performer in the electronic-dance-noise band Xina Xurner. Performances and exhibitions include: The Hammer Museum, Los Angeles; The Broad, Los Angeles; REDCAT, Los Angeles; and ONE National LGBT Archives, Los Angeles; Regina Rex and Smack Mellon, Brooklyn; Southern Exposure, San Francisco; Museum of Contemporary Art, Denver; Museum of Contemporary Art, Chicago; Pavillon Vendôme Centre d'Art Contemporain, Clichy; and the Art Museum of the National University of Colombia, Bogotá. During summer 2018, Kwak was Artist-in-Residence at Los Angeles Contemporary Exhibitions. Kwak was recently awarded the Rema Hort Mann Foundation's Emerging Artist Grant and the Art Matters Grant. Kwak received an MFA from the University of Southern California, an MA in Humanities from the University of Chicago, and a BFA from the School of the Art Institute of Chicago. Kwak's work has been reviewed in Artillery Magazine, Artforum, Hyperallergic, and LA Times, among others.
Marvin Astorga
Marvin Astorga (b. 1982, El Paso, Texas) is a Los Angeles-based artist, producer, and musician. Marvin is one half of the electronic dance/noise duo Xina Xurner, and a Mutant Salon collaborator. Marvin explores queerness, Xicanismo, and transformation through sound and electronics. Past performances and exhibitions include: The Hammer Museum, Los Angeles; The Broad, Los Angeles; Los Angeles Contemporary Exhibitions; Smart Museum Art, Chicago; and Material Art Fair, Mexico City.
Shawna Dempsey & Lorri Millan
Shawna Dempsey (b. 1963, Winnipeg) and Lorri Millan (b. 1965, Winnipeg) are among Canada's best-known performance artists. Collaborators since 1989, they were catapulted into the international spotlight with the performance and film We're Talking Vulva (1990). Since then, their live work and videos have been exhibited in venues as far-ranging as women's centres in Sri Lanka; the Istanbul Biennial; Sydney Gay/Lesbian Mardi Gras and Museum of Modern Art, New York. This duo has also created installations such as Archaeology and You (2003), Royal Ontario Museum, Toronto; books such as Bedtime Stories for the Edge of the World (Arbeiter Ring Press, Winnipeg, 2012); and public art projects such as Winnipeg Tarot Co. (2010), Winnipeg Cultural Capital. Performance documentation and artifacts are held in collections including the National Gallery of Canada, Ottawa; Canadian Museum of History, Gatineau; and Dia Center for the Arts, New York. Dempsey and Millan have contributed to arts publications as writers and editors, and have curated festivals, programs and exhibitions for Hallwalls Contemporary Arts Centre, Buffalo; Gallery YYZ, Toronto; and the Winnipeg Art Gallery; among others. But to most they are known simply as the Lesbian Rangers, serving the lesbian ecosystem from dawn to dusk and well beyond. shawnadempseyandlorrimillan.net
Adrian Stimson
Adrian Stimson (b. 1964, Sault Ste. Marie) is a member of the Siksika (Blackfoot) Nation and an interdisciplinary artist known for his performances exploring identity construction. He re-appropriates stereotypical identities—such as the Indian, the cowboy, the shaman, and the Two Spirit being—to form the basis of his two reoccurring hybrid personas: Buffalo Boy and The Shaman Exterminator. 
Stimson holds a MFA from the University of Saskatchewan, Regina and a BFA with distinction from the Alberta College of Art and Design, Calgary. He is a recipient of the REVEAL Indigenous Arts Award (2017), Blackfoot Visual Arts Award (2009), Queen Elizabeth II Golden Jubilee Medal (2003), and Alberta Centennial Medal (2005). He has performed and exhibited his work in national and international venues such as grunt gallery, Vancouver; Glenbow Museum, Calgary; Nuit Blanche, Saskatoon; AKA Artist-Run Centre, Saskatoon; Plug In Institute of Contemporary Art, Winnipeg; Urban Shaman, Winnipeg; Agnes Etherington Art Centre, Kingston; National Arts Centre, Ottawa; Art Gallery of Ontario, Toronto; Canadian Cultural Centre, Paris; and Campbelltown Arts Centre, New South Wales. Stimson's work can be found in collections such as Siksika Nation; Glenbow Museum, Calgary; Canadian Museum of History, Gatineau; and The British Museum, London; among others. In 2010, the artist was selected to participate in the Canadian Forces Artist Program in Afghanistan. 
 
Kim Ye
Kim Ye (b. 1984, Beijing, China) is a Los Angeles-based interdisciplinary artist whose work incorporates social practice, installation, video, performance, sculpture, and the written word. She received her MFA from University of California Los Angeles (2012) and her BA from Pomona College, Claremont (2007). Her work traces the circulation of power by exploring concepts of labor, intimacy, and the exchange between an artist and their audience. She has performed and exhibited nationally and internationally at The Hammer Museum, Los Angeles; Getty Center, Los Angeles; Morán Morán, Los Angeles; Human Resources, Los Angeles; Machine Project, Los Angeles; Visitor Welcome Center, Los Angeles; California Institute of the Arts, Valencia; Pomona College Museum of Art, Claremont; Satellite Art Fair, Miami Beach; Material Art Fair, Mexico City; and ACRE, Steuben; among others. She has been invited as a visiting artist and given talks at institutions such as Virginia Commonwealth University, Richmond; Pomona College, Claremont; University of California Los Angeles; and Loyola Marymount University, Los Angeles.