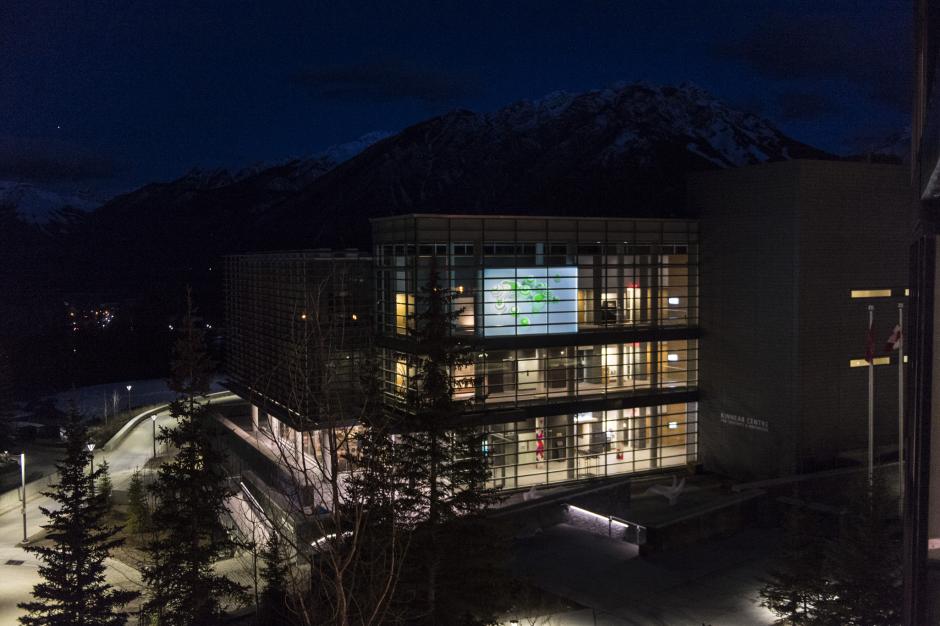 Toronto-based artist Alex McLeod constructs hyperrealistic 3-D environments using CGI technologies. In CONVERGENT EVOLUTION, a green and white-striped spherical form splits apart into gooey, rhizomatic microcosms. Palpitating with energy, these liquid forms stretch and pull amongst themselves, only to abruptly recoil back into a singular shape. McLeod stages otherworldly scenes that oscillate between hybrid spaces of the real and virtual; the organic and the manufactured. CONVERGENT EVOLUTION is part of a larger body of work of looping short videos, which often employ seductive polished surfaces and floating geometric abstractions rendered in candy-coloured palettes. 
Commissioned for The Banff Centre in conjunction with residency, Convergence: Electronic Music + Visual Art. CONVERGENT EVOLUTION will be projected from dusk to dawn from the third floor of the Kinnear Centre, and will be viewable from both within and outside the building.
Artist Biography
Alex McLeod lives and works in Toronto. An OCAD graduate, McLeod studied drawing then switched to making computer-generated digital imagery. His works have been presented widely in Canada and internationally and are featured in many private and public collections, notably TD Bank, the Royal Bank of Canada, Museum of Contemporary Art of Canada, Bank of Montreal, and MMPI Canada. Alex McLeod is represented by Division Gallery, Toronto.