Free Outdoor Performances at Banff Centre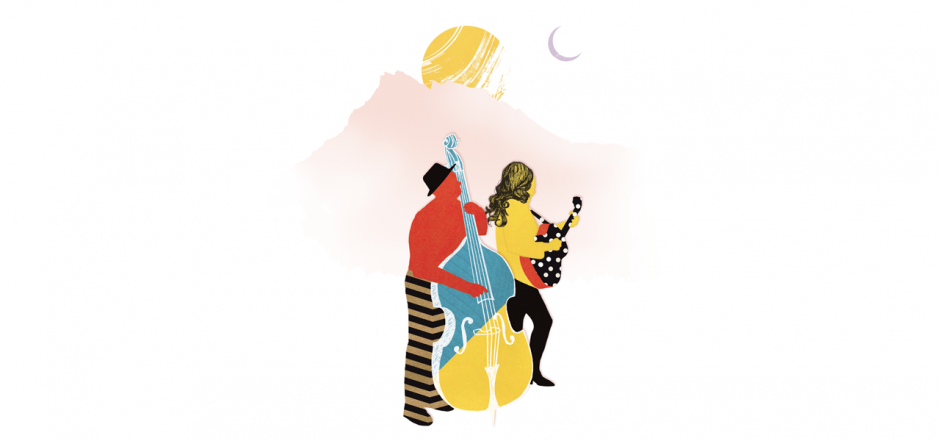 Tuesdays in the Shaw Amphitheatre
August 1, 8, 22 & 29 | 5 - 6 p.m.
Free!
Join us on Tuesdays in August for a laid-back and fun-filled musical happy-hour break at the Shaw Amphitheatre!
Bring your whole crew, pack a picnic or get food from Maclab Bistro, and grab your lawn chair to soak up some sunshine while enjoying the incredible talents of Bow Valley local artists.
August 1|5 - 6 p.m. | Riley Hana
August 8|5 - 6 p.m. | Liam Cowan
August 22|5 - 6 p.m. |Todd Clarkson CANCELLED DUE TO INCLEMENT WEATHER
August 29|5 - 6 p.m. | Heather Jean Jordan
Weather permitting. Subject to change.
August 1 | Riley Hana
Riley Hana is a singer-songwriter based out of the Bow Valley. She began playing music at the young age of two years old and has been playing passionately ever since. She is a classically trained pianist but has found a love for singing and playing the guitar at a variety of public and private settings including restaurants, hotels, and weddings. She began studying with the Royal Conservatory of Music in 2014 and achieved a Level 8 certificate including an Advanced Rudiments of Theory certificate in 2017.
Riley is a multi-instrumentalist and has enjoyed playing various instruments such as the guitar, the bass, and the French horn in orchestras and bands over the years. She has performed with renowned musicians such as Tim Stiff, The Abrams Brothers, Emily Fennell, and The Redhill Valleys. She has recently taken the jump to pursue full time music and is excited to see her life-long dream start to come true.
August 8 | Liam Cowan
Born and raised in the Canadian Rockies, Liam Cowan is a multi-instrumentalist singer/songwriter and producer. Taking his influence from the likes of Hendrix, Neil Young and Bowie to the Arctic Monkeys, Soul, Motown and old Blues greats like BB King and Buddy Guy, Liam has been riffing on guitars for as long as he can remember. 
A five-year stint travelling the Scottish and UK music festival circuit exposed Liam to a brand-new music scene and sounds from every corner of the globe, as well as Scottish acts like Paolo Nutini and The Fratellis. Channeling this energy Liam honed his craft along the way, performing gigs and open mics at venues ranging from Glastonbury Festival to small pubs around Glasgow. 
Since returning to Canada, Liam has made his mark in the Bow Valley. Gigging continuously at a wide selection of renowned music venues, bars, and pubs, Liam has worked closely with local artists and has opened for talented acts on tour including electronic/folk duo Moontricks, folk rock group Shred Kelly and jazz rock music collective Apollo Suns. A forced pause in a busy schedule during the 2020 lockdown gave Liam the chance to write, record and produce his debut album "Between Bars" in his home studio he built, which was released in February 2022.
August 22 | Todd Clarkson
Show cancelled due to inclement weather.
Meet local singer/songwriter Todd Clarkson. Using a guitar, looping and artificial harmonies, Todd tells stories of the highs and lows of life in Banff. Expect to hear influences from The Red Hot Chili Peppers, Jack Johnson, and The Black Keys.
In 2018, Todd along with his band The Ladder Mics recorded their album A View Askew. This album was composed in Banff Centre's own music huts and to this day you can still hear their single DTS on local radio station Mountain FM.
August 29 | Heather Jean Jordan
Heather Jean Jordan is a singer-songwriter based in Banff, AB. Stunning vocals and sweet ukulele sound meet in this talented chanteuse. 
Crafted in the traditional folk style, her music is the tune you wake up whistling, the tall tale told by a crackling fire, the sweet song of a meadowlark on a clear summer's day. Finding new inspiration in the Folk genre, Heather Jean will guide you through a magical world where animals speak, mountains move, social justice anthems reign supreme and sing-alongs prove irresistible. 
Enjoy a sneak peek at songs from Heather Jean's upcoming album 'Some Dappled Night,' set to be released in fall 2023. Centered around the stories we tell ourselves, mythic themes meld with earthly concerns in this nocturnal exploration of our place in the family of things. Soaring vocals, delicate ukulele, and supernatural keys- Think 60's Judy Collins meets David Lynch.
Contact Us
For questions please contact Banff Centre Box Office.
Box Office Phone Hours:
Tuesdays / Wednesdays / Thursdays
12 pm - 4 pm (Mountain Time)
1-800-413-8368 or 403-762-6301