Open Studios, Artist Talk and Performance by Chrysanne Stathacos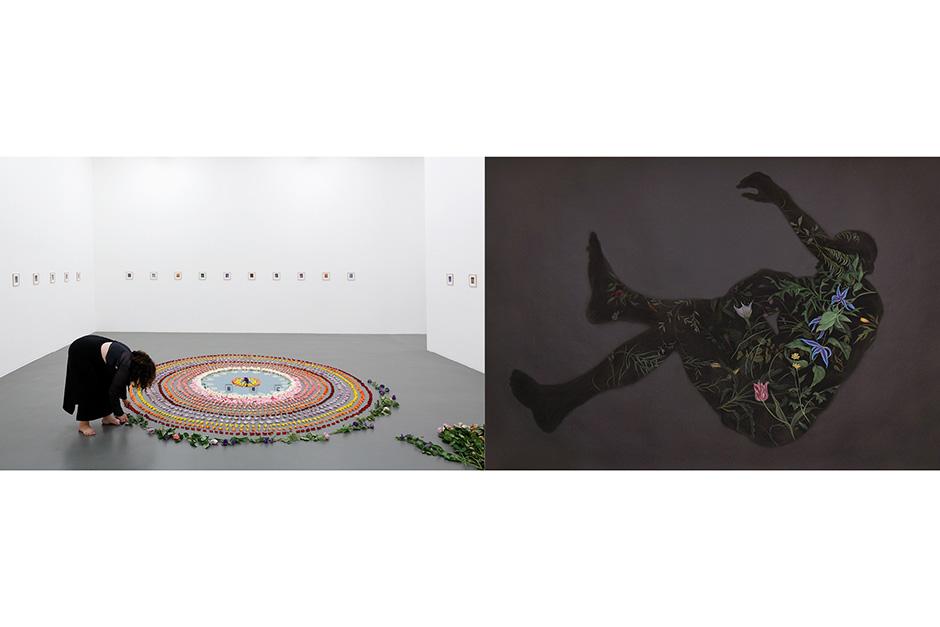 Visual Arts Thematic Residency, Rewilding the Body Eclectic Open Studios and Walter Phillips Gallery Artist Talk and Performance, Sky Gazing by Chrysanne Stathacos
December 13, 2023
Open Studios: 4:00 p.m. - 7:00 p.m. 
Artist Talk and Performance, Sky Gazing by Chrysanne Stathacos: 7:00 p.m.
Please join us for Open Studios for the Visual Arts thematic residency program, Rewilding the Body Eclectic and attend an artist talk and performance by Chrysanne Stathacos at Walter Phillips Gallery in conjunction with the exhibition, In the Present Moment: Buddhism, Contemporary Art, and Social Practice, guest curated by Haema Sivanesan.
At the end of the five-week residency Rewilding the Body Eclectic, participants as well as faculty, Zachari Logan, will open their studio doors to share the artistic research and artwork created, as well as the pertinent conversations generated in the program. Learn more about the artists and their creative processes by touring the studios of Glyde Hall. You are welcome to explore at your leisure and engage with artists around their work and experiences while in residence at Banff Centre for Arts and Creativity.
Directly following Open Studios at 7 p.m., please join us at Walter Phillips Gallery for a talk and performance titled Sky Gazing by Chrysanne Stathacos, marking the close of the exhibition. Chrysanne Stathacos has been a Buddhist practitioner for more than two decades. She is interested in Buddhism as a religion that recognizes and embraces female empowerment. Stathacos' mandalas, such as the work in the exhibition, offer a space of temporary pause and refuge in otherwise secular spaces. In her performance Sky Gazing, her mandala work of the same title will be disassembled, speaking to ideas of impermanence and change. 
Whether you are an artist, art appreciator, or a curious first-time viewer, all are encouraged to attend. 
Zachari Logan
Canadian artist Zachari Logan (b. 1980) works mainly with large-scale drawings, ceramics, and installation practices, evolving a visual language that explores the intersections between identity, memory, and place. Using his body as a site of exploration, and employing a strategy of visual quotation, Logan re-wilds his body as a queer embodiment of nature. This narrative shift engages ideas of beauty, mortality, landscape, and overlapping art-historic motifs that underline a fundamental interconnection of the human as nature. 
Logan has exhibited throughout North America, Europe and Asia and is found in private and public collections worldwide, including National Gallery of Canada, Art Gallery of Ontario, Remai Modern, McMichael Canadian Art Collection, and the Leslie-Lohman Museum, among others. Logan has participated in numerous residencies, including Vienna's Museums Quartier MQ21 Program, the International Studio & Curatorial Program in Brooklyn, and Little Bird Residency in Bulgaria and was artist in residence at the Tom Thomson Shack at the McMichael Gallery. Logan has worked collaboratively with several celebrated artists including Ross Bleckner and Sophie Calle.
Website: www.zachariloganart.com 
Instagram: @zachari_logan 
 
Chrysanne Stathacos
Chrysanne Stathacos (b. 1951) is a multidisciplinary artist of Greek, American and Canadian origin. Her work has encompassed printmaking, textile, painting, installation and conceptual art. Stathacos is heavily involved with and influenced by feminism, Greek Mythology, eastern spirituality and Tibetan Buddhism, all of which inform her current artistic practice. She has participated in countless international exhibitions in various media, but she is most known for her unique combination of performance and installation.
Stathacos draws inspiration from personal experience. During the HIV/AIDS pandemic, she lost many close friends. In response she created 1-900-Mirror Mirror, an interactive installation using the video-phone technology of the time. The work was first presented in 1993 at Andrea Rosen Gallery at the height of the AIDS pandemic and presented again in 2020 during the COVID pandemic in the exhibition, There are more than four at Cooper Cole, Toronto, curated by Jacob Korczynski.
Stathacos' recent solo exhibitions include The Return, anonymous gallery, NYC, (2023) Cooking with Roses, The Buffalo Institute of Art (2022), Pythia, The Breeder, Athens (2017) and Gold Rush, Cooper Cole, Toronto, (2018), and Do I Still Yearn for My Virginity?, Situations, New York (2018). Stathacos presented The Three Dakini Mirrors (of the body- speech and mind) in the 13th Gwangju Biennial Minds Rising Spirits Tuning curated by Defne Ayas and Natasha Ginwala (2021); she also presented Five Mirrors of the World (2019) at The Sculpture Park, Madhavendra Palace, Nahargarh Fort, Jaipur. Recent exhibitions also include Every Moment Counts: AIDS and its Feelings at Henie Onstad Kunstsenter in Norway, curated by Ana María Bresciani and Tommaso Speretta (2022). Her Rose Mirror Mandala series was presented to the Dalai Lama in 2006 for his visit at the University of Buffalo, and was later included by AA Bronson in many exhibitions including The Temptation of AA Bronson, Kunstinstituut Melly (Formerly known as Witte de With) for Contemporary Art, Rotterdam (2013). She is a founding Director of Dongyu Gatsal Ling Initiatives, a non-profit organization that works to help Tibetan Buddhist women practitioners in the Himalayas, inspired by the life work of Jetsunma Tenzin Palmo. She is represented by The Breeder, Athens.
Stathacos' works are included in public and private collections including The Buffalo AKG Art Museum, formerly known as the Albright–Knox Art Gallery; the Art Gallery of Greater Victoria; the Art Gallery of Ontario, Toronto; and the National Gallery of Canada, Ottawa. The Chrysanne Stathacos fonds are located in the Archives and Library, National Gallery of Canada, Ottawa. Her works have been reviewed in Frieze, The Brooklyn Rail, Artforum to name a few. Stathacos was also featured as a contributor to AA Bronson's House of Shame, published by Edition Patrick Frey (Zürich). Stathacos currently lives and works between Athens, Greece and Toronto, Canada.