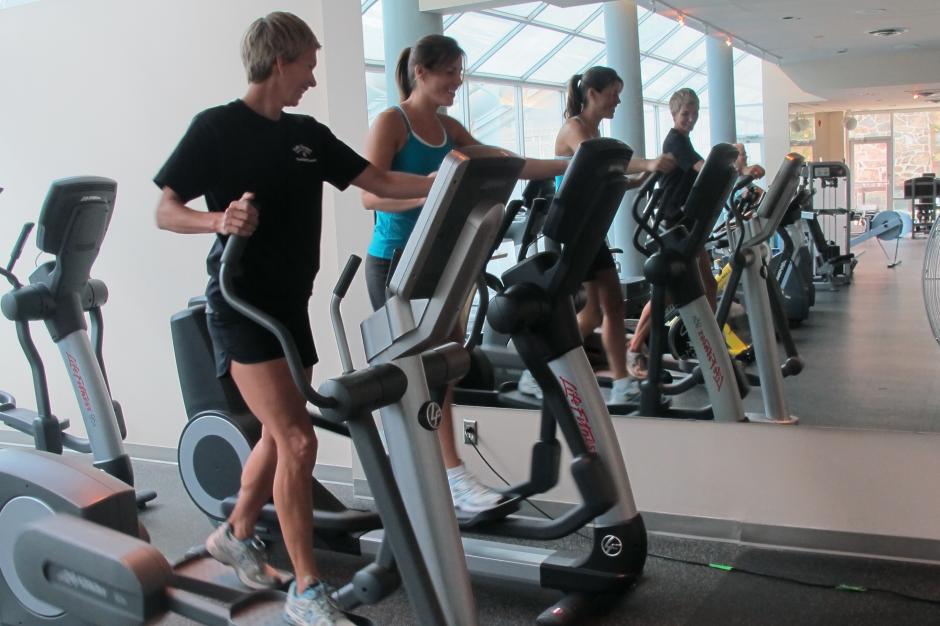 Enjoy the natural light in our fitness and weight room and take in the great mountain views while you workout. The spacious setting of 2500 square feet is fully equipped to meet all fitness and training needs.  You will find a variety of cardio equipment, weight machines, free weights as well as balls, bosus and other accessories to assist in body weight and functional training exercises.  
Cardio Equipment
Life Fitness:
Elliptical trainers
Treadmills
Upright bikes
Recumbent bike
Stairclimber  
Lemond: 
Concept II: 
Free Weights
The weight room is equipped with a wide selection of dumbbells ranging in weight from three to one hundred pounds as well as both olympic and standard barbells, two squat racks and a variety of benches. 
Weight Machines
Life Fitness / Apex / Body Master / Hammer Strength:
Leg press
Leg extension
Leg curl
Smith machine
Seated Calf Raise
Chest Press
Shoulder Press
Lateral Raise
Assisted Pull-up / Dip
Dual Cable Cross
Seated Row
Lat Pulldown
Leg press
Private Training
Need some training, motivation, inspiration or instruction - Sally Borden Fitness and Recreation offers fitness services including weight room orientations, fitness assessments, fitness consultations and personal training.