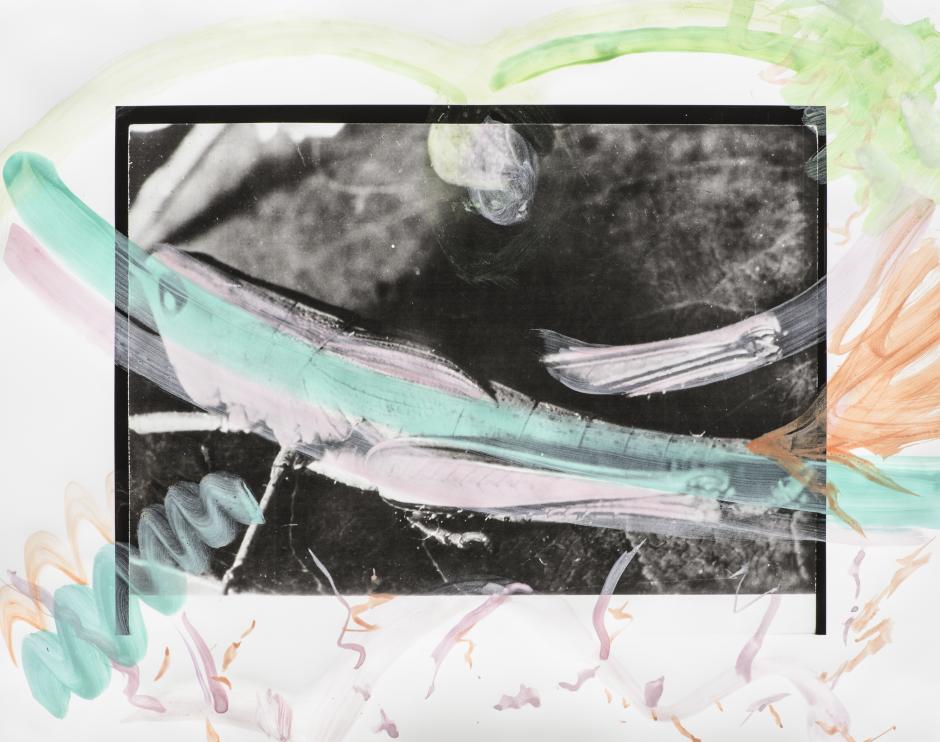 September 29 - December 22, 2017
Tiziana La Melia and Maryse Larivière
Walter Phillips Gallery, Main Space
Guest curated by Peta Rake
Exhibition Opening Reception
Friday, September 29, 6:00 - 9:00 p.m.
Artist Talk and Performance
Saturday, September 30, 2:00 p.m.
 
Gossip as critical thinking. Gossip in plain sight. With attentiveness, gossip moves plots in the garden, the flowers jizz and stutter. As a theoretical practice, gossip proposes a narrative of understanding. The secret social life of plants is the gossip of the gardens. The gossip of women is the gossip of the plants, which release chemical language trails though leaves and roots.
The exhibition Garden Gossip cultivates form through reflection on the language act of "gossip," which originally had meant "female friend." During the period of the witch hunts of the Middle Ages, the definition of gossip took on a largely negative connotation; a "sign of the degree to which the power of women and communal ties were undermined."1 Featuring new collaborative commissions and existing work by Vancouver-based artist Tiziana La Melia and Montreal-based artist Maryse Larivière, the exhibition brings together feminist and ecological concerns articulated through tableaus, film, painting, sculpture and rot. Both sound and scent expand on the paintings and sculptural works in the exhibition, as earthy smells of wormwood, witch hazel, cedar and skunk cabbage greenly permeate and compost the space. A filmic study for love songs-cum-interview for flowers from the future implicates the viewer into this rooted network.
Inside the gossip garden, whispers graft onto fruit, arbours, quilts, basins, g-strings and flowers. Many bird species have been observed performing the "whisper song," a quiet, complex vocalization with moments of intensification. Other conversations in the garden take place underground: communiqués reverberate from anthills; echoes spring through the shallow tunnels of voles; and a silent exchange of information takes place within the entangled roots of trees. Well above, the wind becomes another conduit for stories, promoting interspecies communication via pollen and seeds.
The works in Garden Gossip probe the social function of gossip, as well as the conditions and languages through which these exchanges take place. Here, the garden is a site to cultivate, to question, to dig up, to bed, to work and to live among a smaller scale of desire.
[1] Silvia Federici, Caliban and the Witch. Brooklyn: Autonomedia, 2004. p.117 
Walter Phillips Gallery would like to acknowledge the vital support of Canada Council for the Arts and Alberta Foundation for the Arts. This exhibition is generously supported by the Gail and Stephen A. Jarislowsky Outstanding Artist Award. Walter Phillips Gallery would like to individually thank Vivienne Bessette, Marc Boucrot, Julian Hou, Lambert et Fils Luminaires Inc. Montréal, Joe Missio, Sasha Stanojevic, Ed Renzi, Michael Doerksen, Ed Bamiling, Wendy Tokaryk, Don Lee, Kenny Lozowski, Gina Bennett, Caitlin Ferguson and Jennifer Chiasson.
Artist Biographies
Tiziana La Melia is an artist and writer based in Vancouver. Recent exhibitions include The pigeon looks for death in the space between the needle and the haystack (2017), LECLERE Centre d'art, Marseille; Broom Emotion (2017), galerie anne baurrault, Paris; Johnny Suede (2017), Damien and the Love Guru, Brussels; Down to Write You this Poem Sat (2016), Oakville Galleries; A Pool is Water (2016), Galerie Division, Montreal; and Innocence at Home (2015), CSA, Vancouver. Her writing has appeared in Agony Klub, The Interjection Calender, Organism for Poetic Research, The Capilano Review, and C Magazine. La Melia was the 2014 winner of the RBC Canadian Painting Competition.
Maryse Larivière is an artist, writer and scholar based in Montreal.  Recent exhibitions include Under the Cave of Winds (2017), Untitled Arts Society, Calgary; Echoes from the Bosom (2017), DNA Artspace, London; In Some Far Place (2017), The Rooms, St. John's;  A Pool Is Water (2016), Galerie Division, Montreal; Down to Write You this Poem Sat (2016), Oakville Galleries; Talking Back, Otherwise (2016), Art Museum University of Toronto; Where Wild Flowers Grow (2015), Kunstverein Toronto; and L.S.D. Your Delusion, My Reality (2015), 8Eleven, Toronto. Her books of poetry include Hummzinger (2016) and Where Wild Flowers Grow (2015). Larivière is the 2016-2017 writer-in-residence at Gallery 44, Toronto, and has contributed experimental writings to a variety of platforms including C Magazine, Esse Art+Opinions and Organism for Poetic Research. 
Walter Phillips Gallery Hours
Wednesday - Sunday 12:30 - 5:00 p.m.
Located at Banff Centre in Banff National Park, Alberta. Ground floor of Glyde Hall and is wheelchair accessible. The gallery is closed for public holidays.
Contact Us
For questions about the Walter Phillips Gallery, please contact:
Email: walter_phillips_gallery@banffcentre.ca
Phone: 1.403.762.6281
Walter Phillips Gallery
The Banff Centre 107 Tunnel Mtn Dr
Box 1020
Banff, Alberta
T1L 1H5 Canada