Radical System Art: Epilogos | House Program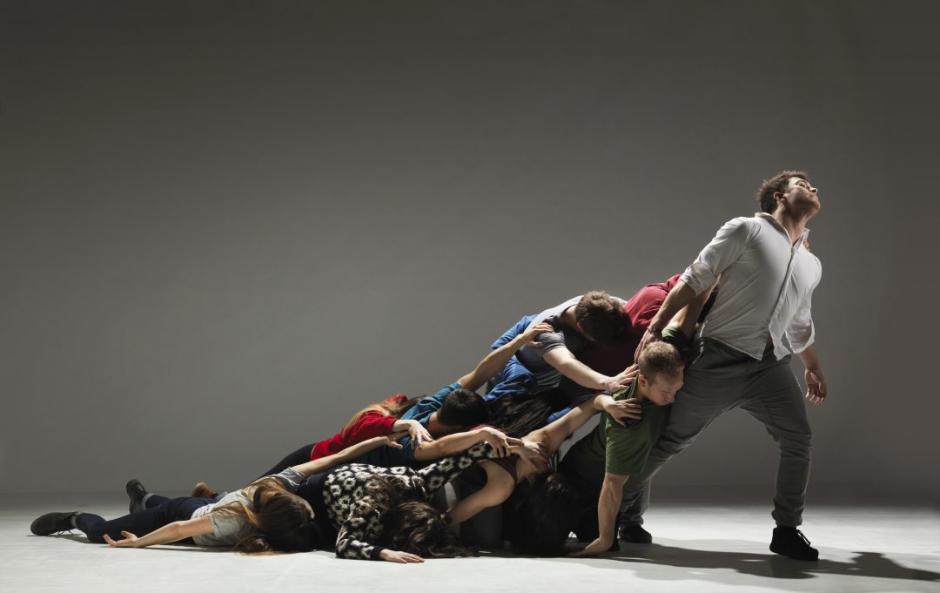 About the Program
Epilogos: The point in a speech where the reader attempts to build an emotional response from the audience
"Rhetoric then may be defined as the faculty of discovering the possible means of persuasion in reference to any subject whatever." ― Aristotle, Rhetoric
Epilogos Performers
Aiden Cass
Isak Enquist
Shay Kuebler
Tia Kushniruk
Katie Lowen
Odile Amelie Peters
Calder White
RSA co. artists and apprentices: Keiran Bohay, Ellie Bishop, Sarah Hutton and Kennedy Knopf
Choreography: Shay Kuebler and performers
Artistic Direction: Shay Kuebler
Please note:
Strobing and moving lights will be used during the performance.
Please turn off all cellphones, photo/video cameras.
Message from Artistic Director
Epilogos was an initial exploration into moral codes, value systems and the appropriation of these systems. This would lead into the research of "the art of rhetoric", systems of power and the use of the media to affect our perception of reality.
Morality and values are deeply connected to a unique aspect of human beings and that is the creation and belief in our inter-subjective reality. Over our history, humans have believed in the unseen and things beyond and above us. We have seen these entities as impactful forces on our existence. Our beliefs in something greater then ourselves and something beyond our physical self has two potentialities: it enables us to create a more universal understanding and global connection to each other, and it creates greater division through our need to prove which expression, system or code is right. Systems of power have harnessed our inter-subjective realities to further support aspects of control and create greater division.
In close, Epilogos became the exploration into how our inter-subjective realities – what is believed but not seen – and how they are manipulated by the media and systems of power. And, that are values can determine our actions and define our purpose.
- Shay Kuebler
About the Company
Radical System Art was formed in February of 2014, in Vancouver, BC. RSA aims to expand the art of physical performance through the lens of Artistic Director Shay Kuebler and a versatile amorphous language of dance, martial arts, theatre, music and other forms – harnessing both film and stage as mediums to promote, disseminate and enhance performance art. Blending multiple genres of art, the company pushes the boundaries of physical performance and is constantly researching and redeveloping its artistic form to reach new audiences. The goal of the company is to balance visceral, risk-taking physicality with precision, detail and structure. Furthermore, RSA focuses these numerous art forms around new technologies and a theatrical sensibility, creating more affecting and unique projects. The diversity and accessibility of the company's creative projects is key in expanding support for the art of physical performance, while also pushing to discover the furthest edges of innovation in choreography and performance.