No One's Safe | House Program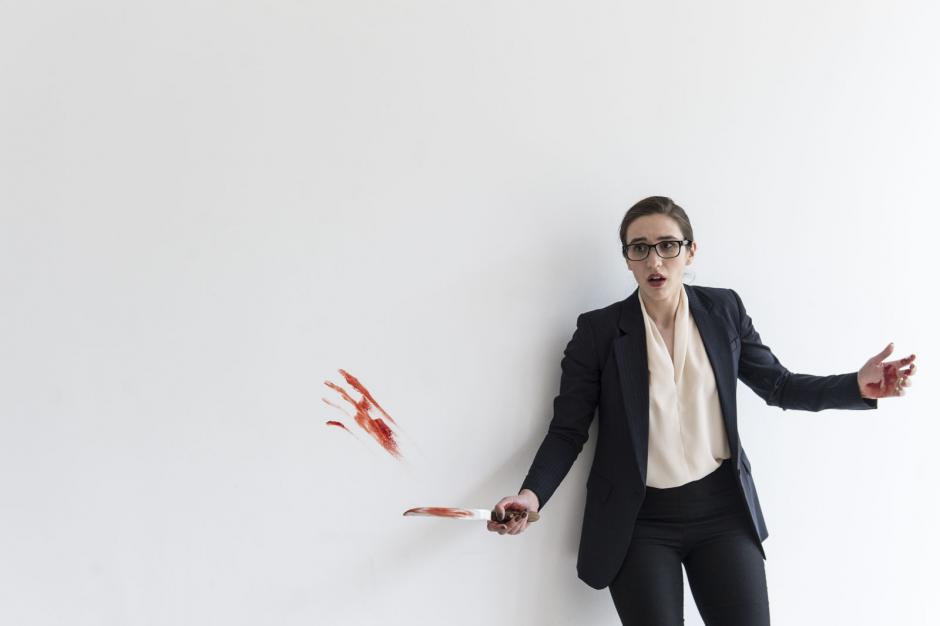 About the Program
At the Marshall family reunion, you're invited to immerse yourself in a murder mystery of operatic proportions. Once you choose which character to follow, you will begin an interactive experience that takes you into the complex and intimate world of the Marshalls. You will witness the discovery of a murdered family member, and you will follow your character as you wind your way through the Leighton Studios and the lives of this complex group of people. Any one of the players could be the murderer, and with a little detective work, all might be revealed…or not...
Please Note:
This performance features mature themes, violence, graphic video content of a sexual nature, nudity, blood, strong language. It also has a limited audience capacity and takes place outdoors, please wear appropriate clothing and footwear for walking level forest trails. Electronic cigarettes will also be used during the performance.
Please turn off all cellphones, photo/video cameras.
Message from Artistic Director
Welcome! It is my absolute pleasure to welcome you all back to another season of Opera at Banff Centre for Arts and Creativity. This is my sixth summer as Artistic Director of "Opera in the 21st Century" and one of our best ones yet.
Our opera program continues to grow and expand year to year. This summer, we welcomed 29 participants from all over the world to come and experience opera at Banff Centre. We offered positions to 14 singers, 10 instrumentalists, 2 pianists, 2 stage directors and a conductor. This is our third season welcoming instrumentalists, which I believe is unique to any opera program that exists. The reason is to foster a new, more theatrical orchestral musician, who is integrated with the action of the music and performance practice.
We supported these participants by providing a world class faculty to work with them on all the skills needed to not only survive but thrive in the world of arts in 2019.
I believe strongly in the need to connect with our communities. We had over-capacity audiences at both our #OperaPub series at the Royal Canadian Legion #26 Colonel Moore Branch in Banff and held community concerts in both Banff and artsPlace in Canmore.
Our programming/training this summer focused on creation and working with living composers.
We're presenting a work-in-progress in our Leighton Studios called No One's Safe. This opera is loosely based on some of Mozart's melodies, but we have commissioned Canadian composer Nicole Lizée to bring her unique voice to the music of this show. The staging calls for the audience to travel around the different studios and has proven to be a fun challenge for our production and artistic teams.
You'll also see a new opera commissioned by Banff Centre called Silent Light. Music by Paola Prestini and text by Royce Vavrek. This work features our Artist-in-Residence Daniel Okulitch and is directed/designed by Thaddeus Strassberger. Creation is the way forward and a skill that is becoming more important than ever before.
Opera at Banff Centre will continue to thrust forward, while acknowledging and building on the foundations of the past.
Finally, I would like to thank the team here at Banff Centre for providing the support needed for us to achieve the success we are all striving for. They allow us to dream bigger and accomplish more. I hope to see you at the opera this summer.
Sincerely,
Joel Ivany
Artistic Director, Opera
Additional Messages
Note from the Composer
"A series of turntables lie in the hot sun and send forth the dripping, skewed sounds of the Time Life® Mozart Opera Collection as the grooves melt into each other, morph and become twisted. They meld with records and cassettes from the Nicole Lizée collection, forming new sounds, genres and future Time Life® collections. This opera is constructed as a surrealist TV series in the spirit of Twin Peaks, The Twilight Zone and Black Mirror. It transports opera down the rabbit hole and reimagines the multisensory opera experience in the 21st century, drawing upon aspects of game culture, rave culture, technostalgia, technophobia, malfunction, hauntology, paranoia, voyeurism, and psychedelia while examining modern society."
Nicole Lizée
Banff Centre, June 2019
Opera performances at Banff Centre are generously supported
by the David Spencer endowment encouragement fund.