Diane Borsato, Raven Chacon, Dylan Miner, Pauline Oliveros, Amanda White
Walter Phillips Gallery, Satellite Space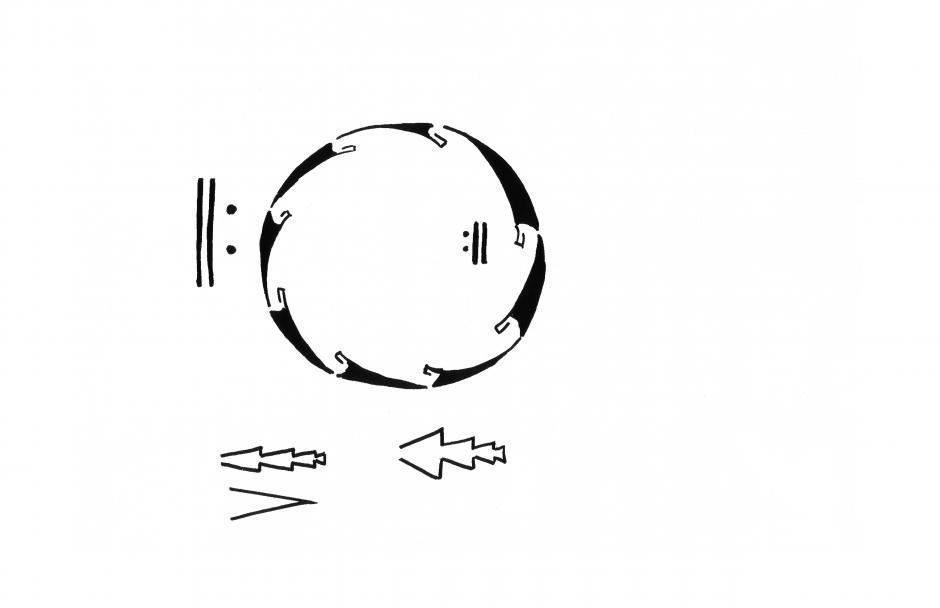 Improvise Everything 
Diane Borsato, Raven Chacon, Dylan Miner, 
Pauline Oliveros, Amanda White
September 10 - October 23, 2016
Walter Phillips Gallery Satellite Space
Eric Harvie Theatre, West Lobby
Curated by Jacqueline Bell and Justin Waddell 
Within a musical context, improvisation has been defined as "a practice where actions and responses are not enforced, but also do not arise completely independently. Much like daily life, musical improvisation is a complex system of integration [and] negotiation."[1]  Whether informed by a musical score, a specific site, or simply produced within the context of a performance, improvisation occurs at the interstices of ourselves and others—a relational space.

Improvise Everything explores the terms of engagement that inform the fluid structures of performance and proposes these terms as potential strategies for generating mutual responsibility within our everyday relations. The artworks in the exhibition highlight the potential of participation in forms of internal and external listening, demonstrating how an ethics of improvisation might apply between individuals, collectives and in some cases, with entities in the natural world.

Why, how, when, to whom or to what do we choose to listen? These practices aim to ground us in the present, where we might hear the political potential of listening itself.


[1] Tracy M. McMullen, "Subject, Object, Improv: John Cage, Pauline Oliveros, and Eastern (Western) Philosophy in Music." Critical Studies in Improvisation 6, no. 2 (2010).
Walter Phillips Gallery would like to thank Patricia Fedkenheuer and Al Fedkenheuer of ALCLA Native Plants for their generous donation of the plants for Amanda White's A Breathing Room (2016).

Reception
Eric Harvie, West Lobby
Thursday, September 29, 2016
5 - 7 p.m.
ARTIST BIOGRAPHIES
Diane Borsato has established an international reputation for her social and interventionist practices, performance, video, photography, and sculpture. She was twice nominated for the Sobey Art Award (2010, 2013) and was winner of the Victor Martyn-Lynch Staunton Award for her work in the Inter-Arts category from the Canada Council for the Arts (2008). She has exhibited and performed at major Canadian institutions including the Art Gallery of Ontario, Toronto; The Power Plant, Toronto; the Art Gallery of York University, Toronto; Museum of Contemporary Canadian Art, Toronto; the Vancouver Art Gallery; the National Art Centre, Ottawa and in galleries and museums in the US, France, Mexico, Taiwan and Japan. She holds an MFA from Concordia University, Montreal and an MA in Performance Studies from the Tisch School of the Arts, New York University. She is currently associate professor in Studio Arts at the University in Guelph where she has taught advanced courses that explore the relationships between art and everyday life, including Food and Art, Special Topics on Walking, OUTDOOR SCHOOL and Live Art.
Raven Chacon is a composer of chamber music, a performer of experimental noise music, and an installation artist. He performs regularly as a solo artist as well as with numerous ensembles in the Southwest USA, and is also a member of the American Indian arts collective Postcommodity. Chacon has presented his work in different contexts at Vancouver Art Gallery; ABC No Rio, New York; Chacon Canyon; REDCAT, Los Angeles; Musée d'art Contemporain de Montréal; SITE Santa Fe, San Francisco Electronic Music Festival; Ende Tymes Festival, New York and The Kennedy Center, Washington.  
Dylan A.T. Miner is a Wiisaakodewinini (Métis) artist, activist, and scholar. He is director of the American Indian and Indigenous Studies Program and Associate Professor in the Residential College in the Arts and Humanities at Michigan State University, East Lansing. Miner is adjunct curator of Indigenous art at the MSU Museum, a founding member of the Justseeds artists collective, and on the board of the Michigan Indian Education Council. Miner holds a PhD from The University of New Mexico, Albuquerque and has published approximately sixty journal articles, book chapters, critical essays, and encyclopedia entries. He was granted an Artist Leadership Fellowship from the National Museum of the American Indian, Smithsonian Institution (2010), and has been featured in more than twenty solo exhibitions. He is the author of the book Creating Aztlán: Chicano Art, Indigenous Sovereignty, and Lowriding Across Turtle Island (University of Arizona Press, 2014). 
Pauline Oliveros is a senior figure in contemporary American music. Her career spans fifty years of boundary dissolving music making. In the 1950s she was part of a circle of iconoclastic composers, artists and poets gathered together in San Francisco. Recently awarded the John Cage Award from the Foundation of Contemporary Arts (2012), Oliveros is distinguished research professor of Music at Rensselaer Polytechnic Institute, Troy, and Darius Milhaud Artist-in-Residence at Mills College, Oakland.  Oliveros has been as interested in finding new sounds as in finding new uses for old ones—her primary instrument is the accordion, an unexpected visitor perhaps to musical cutting edge, but one which she approaches in much the same way that a Zen musician might approach the Japanese shakuhachi.  Oliveros' life as a composer, performer and humanitarian is about opening her own and others' sensibilities to the universe and facets of sounds. Since the 1960s she has influenced American music profoundly through her work with improvisation, meditation, electronic music, myth and ritual. Oliveros is the founder of "Deep Listening," which comes from her childhood fascination with sounds and from her works in concert music with composition, improvisation and electro-acoustics. Oliveros describes Deep Listening as a way of listening in every possible way to everything possible to hear no matter what you are doing. Such intense listening includes the sounds of daily life, of nature, of one's own thoughts as well as musical sounds. Deep Listening is my life practice," she explains, simply. Oliveros is founder of Deep Listening Institute, formerly Pauline Oliveros Foundation, now the Center For Deep Listening at Rensselaer.
Amanda White is an interdisciplinary Toronto-based artist whose practice incorporates site-specific, participatory and collaborative elements as well as research and writing, examining cultural imaginings of nature. She has presented her work in galleries such as The Harbourfront Centre, Toronto; PlugIn ICA, Winnipeg; the Ontario Science Centre, Toronto; Nuit Blanche, Toronto; Forest City Gallery, London; and Modern Fuel, Kingston as well as independently producing many public interventions and engagements. She has participated in residencies at the Banff Centre for Arts and Creativity, The Neighborhood Spaces Residency Program, Windsor; and KIAC, Dawson City.  White received an MFA from the University of Windsor and is currently a PhD candidate in the Cultural Studies program at Queen's University, Kingston.