Tishna Marlowe, Dene Couture | Calgary, Alberta
My name is Tishna Marlowe and as an Indigenous artist I was raised in a traditional family with traditional elders in an isolated community north of sixity. A one-hour plane ride from Yellowknife, NT.
I come from a place called Lutselke, 'Place of Small Fish'; we resided on the east arm of the great slave lake in the Northwest Territories, on the caribou migration route.  My people, 'Ethen Dene' people of the caribou have resided here generation upon generations. We are Chipewyan, keepers of the caribou on 'Land of the Ancestors'. 
This community is what inspires me; the way of life of the people; the country and most of all my family.  I feel traditional fashion is such a vital component to all cultures.  With traditional knowledge, and arts being lost at a rapid pace, I feel relearning these arts is so very vital for all nations across this globe.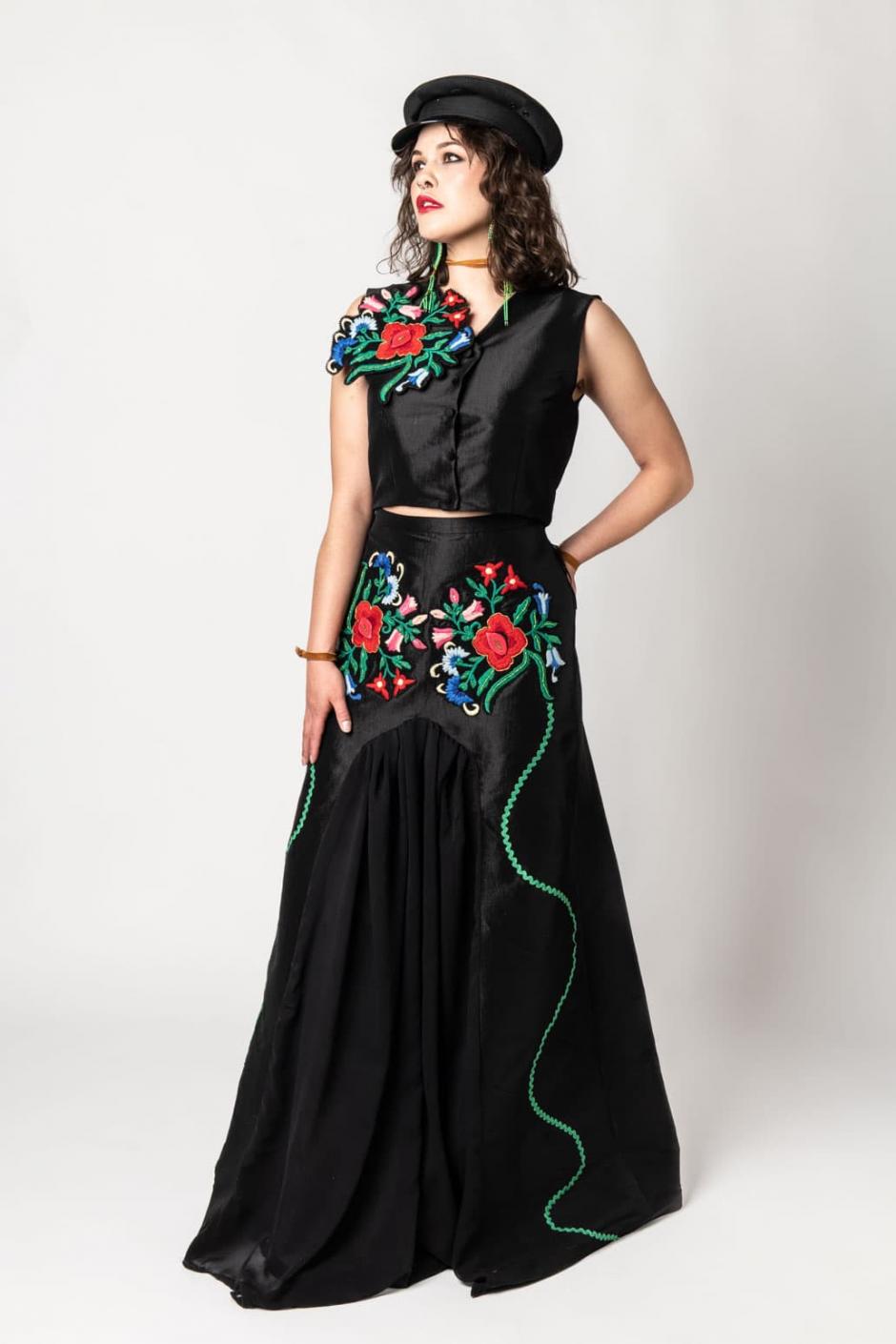 Hidden but exposed is the name of my peices.  We were asked to create these garments out of others garments and upcycle them into Indigenous Couture.
It is two peices, a vest and an A-line skirt with a chiffon insert. It is made of black taffita and a wool vintage skirt with embroidery both souced at a trift store, 24 karat Japanese beads, dyed caribou antlers, size 11 beads and ricrack were used to enhance the embroidery. I used techniques from the 1800 as I am also a Costume Designer and very intrested in that Era.
Hidden but Exposed is about me, an Indigenous woman having been treated like a wall flower in society. I felt hidden, and exposed at the same time, I felt unsafe in society, always question my place in society. I felt like an Imposter.
We are finally in an Era where the nations of the Indigenous, Inuit and Metis peoples are being valued. Our voices are finally being heard, our stories are being told, our songs are being sung.  I truly believe we are in a mist of an Indigenous Renaissance.
Places like Banff Centre create a culture on campus that allows for tremendous artistic growth . As an artist I did not know or trust my artistic capabilities.  The support and the encouragement from the staff and facility help that artistic growth. They truly care. The equipment they provide opens so many ideas and inspires creative flow.
The garments represent my personal growth and the feeling of being seen and valued as an Indigenous artist.
The Indigenous Haute Couture program here at Banff Centre has given me the confidence to pursue biggers dreams and ideas. the Inspiration to create a new line. I leave here a better artist and person. Thank you for your interest in my Art.
Tishna Marlowe