Heather Bouchier, Heather Bouchier Design | Edmonton, Alberta
Heather Bouchier is from Beardy's & Okemasis Cree Nation in Saskatchewan Treaty Six Territory. She attended Academy of Fashion Design (Saskatoon, SK) in 2001-2002. Heather received a Certificate in Sewing & Design (1st yr) and a Diploma of Fashion Design (2nd yr).
Heather has been in Edmonton since 2005. After years going to university, working and training as a professional seamstress and also starting a family, she showed her first clothing collection at Western Canada Fashion Week as an emerging designer in 2013. She's designed garments for red carpet events such as Toronto International Film Festival, the Juno Awards, and Aboriginal Peoples Choice Awards. Heather has shown her collections all over North America and Japan. She also taught regalia making and beading to at-risk youth in Edmonton with the Organization IHuman.
Her designs feature up-cycled materials with touches of Cree techniques. Heather is inspired by vintage styles and blends them with modern design. Currently, Heather runs her own business providing Jewelry, Alterations, Bridal wear, ready to wear couture, Custom Sewing, and cosplay. She serves as a board member with the Heart of the City Festival and has received the AWPA award for Red Dress Design. Heather is also a founding member of the Indigenous Empowerment Collective.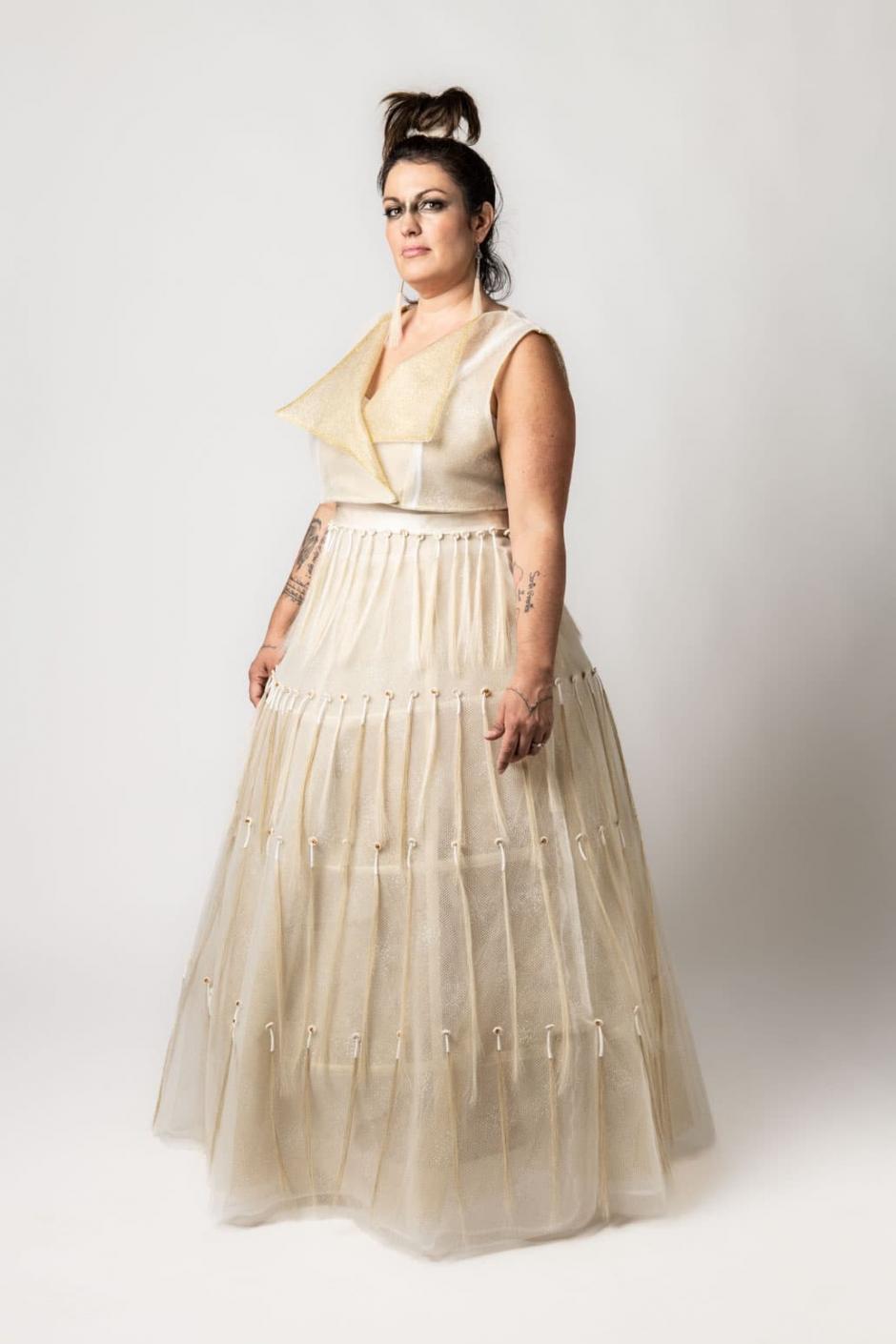 The pieces I've created here represent my aesthetic as a designer and Plains Cree Woman. Mixing modern design with Indigenous technique and materials, I aim to show how modern fashion and tradition can co-exist in beautiful ways.
The dentillium shell horsehair tassels were hand made by myself, Lucy Ann Yakeleya and Suzan Marie. 
Materials provided by the Banff Centre Wardrobe Department, D'arcy Moses, and myself.
I've been on a journey to reclaim my culture that was lost due to Residential schools. While here, I've learned how to use porcupine quills and work with some furs and leathers. Along with traditional technique, I've learned how to work with 3D rendering/printing that I can use to mix modern technology and traditional materials. This residency has been a wonderful journey that has given me an opportunity to embrace my skills, make new connections with others and most importantly myself. Hiy Hiy.
Heather Bouchier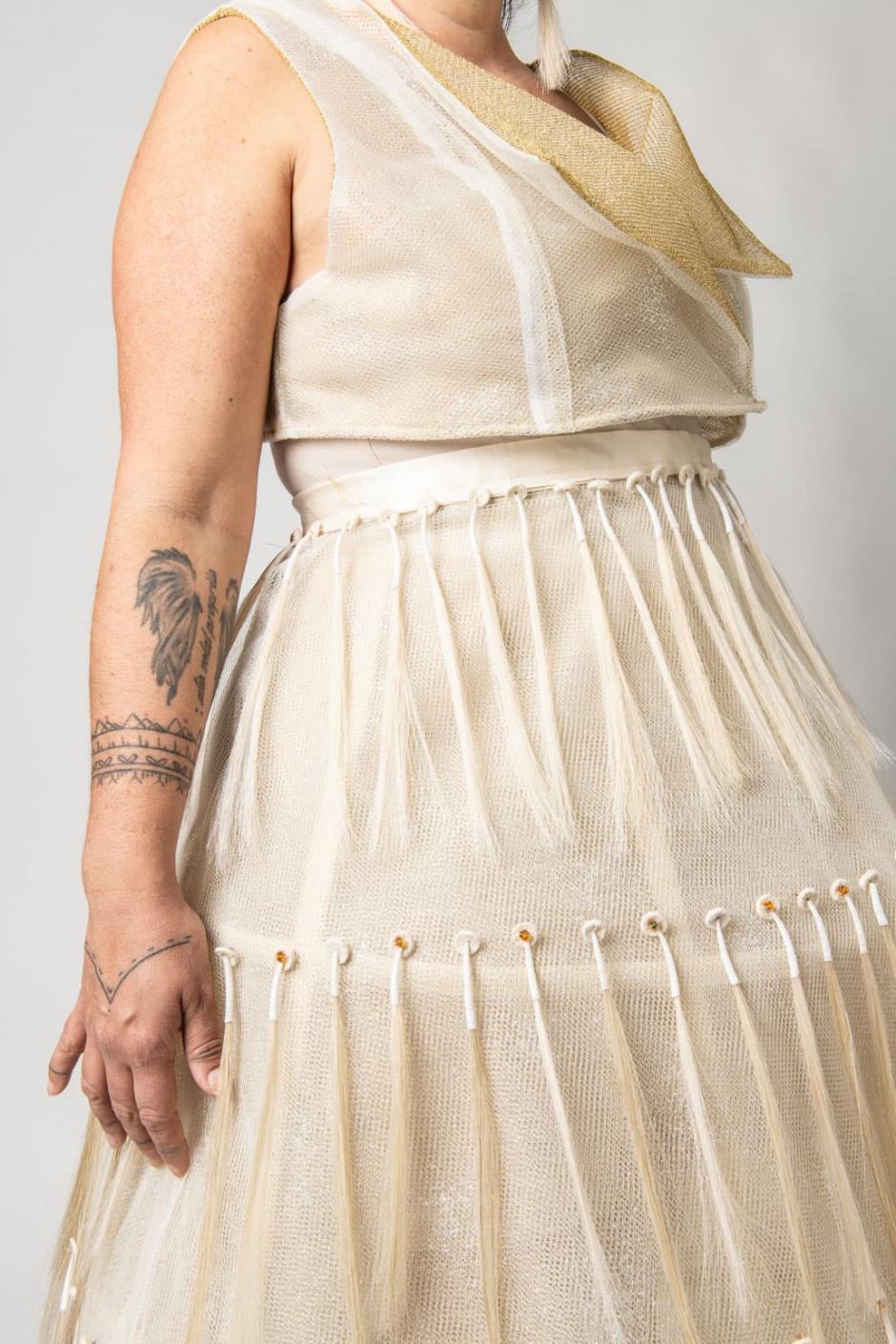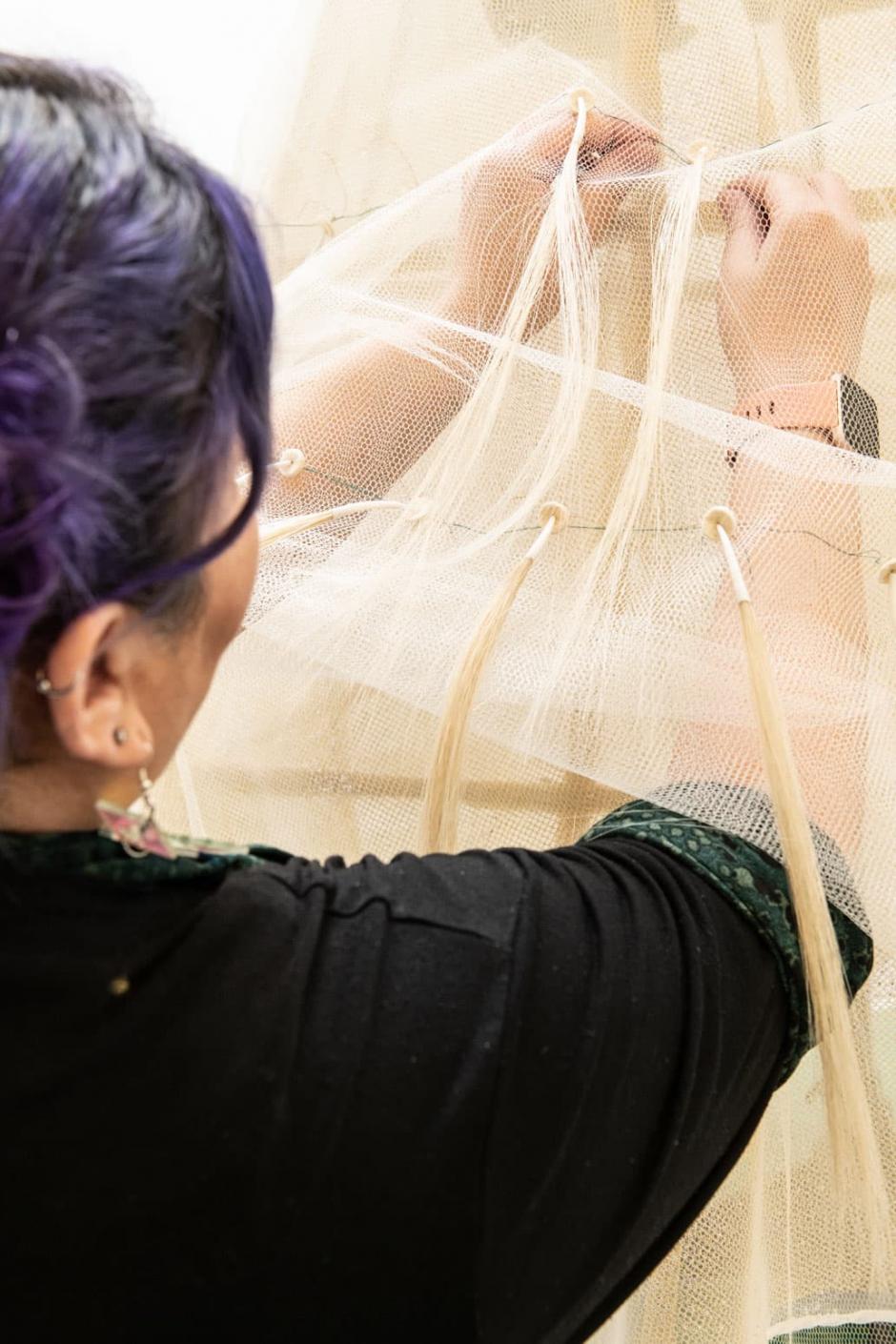 Follow Heather's work on Instagram @heatherbouchierdesign
Heather is generously supported by Louis Bouchier and the Slaight Family Foundation