40 Years of Walter Phillips Gallery
Maggie Groat and Jimmy Limit, Julia Crabtree and William Evans, Liz Magor, Amy Malbeuf, Lisa Myers
Walter Phillips Gallery, Main Space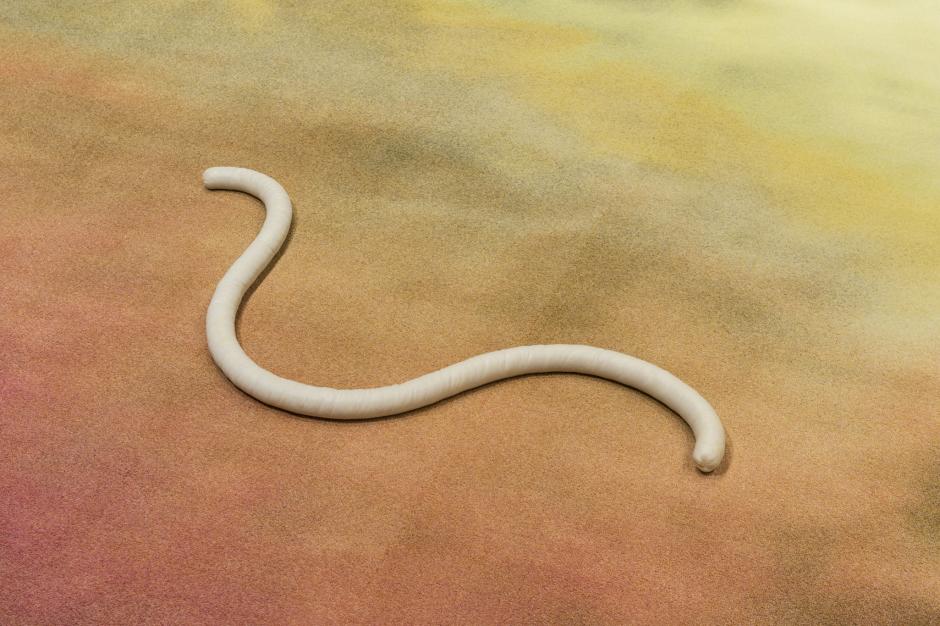 No Visible Horizon
40 Years of Walter Phillips Gallery            
Maggie Groat and Jimmy Limit, Julia Crabtree and William Evans, 
Liz Magor, Amy Malbeuf, Lisa Myers
October 7, 2016 – January 22, 2017
Walter Phillips Gallery, Main Space
No Visible Horizon dissolves perspective, embraces groundlessness, and imagines possible futures through a series of new and existing contemporary artworks and an anthology of commissioned texts.
To celebrate its 40th anniversary, Walter Phillips Gallery examined its history and dedicated its fortieth exhibition to a series of new and existing works by a group of contemporary artists. As a starting point, each artist was invited to create a new work that takes Walter J. Phillips' unusual Flying Island (1923) print as an open-ended starting point. The floating untethered landmass he depicted hovers above a body of water with no visible horizon. Conjuring divergent connotations; artists' were invited to respond directly or as a thematic starting point. 
Alongside the exhibition will be a partial rehang of Walter J. Phillips' works from the Gallery's inaugural exhibition in 1976, which marked the official opening of the Gallery and Glyde Hall, home of Visual and Digital Arts residency programs. This selection of works will be on view in the Jeanne and Peter Lougheed Building.
An accompanying anthology includes newly commissioned texts by alumni and is edited by WPG Curator, Peta Rake. The logic of the anthology takes up both the subjective and objective and towards multiple intersecting 'horizons', with each individual reconstituting, or dismantling typical renderings of this subject from their own worldview. Of the six invited contributors, three writers—cheyanne turions, Amelia Groom, and Andrew Berardini—have framed their essays through pre-existing texts of other writers and artists. Richard William Hill, Katherine Ylitalo, and Lisa Myers all addressed works from the Walter Phillips Gallery's Permanent Collection. Richard William Hill writes on Rebecca Belmore's work, "Ayum ee aawach Oomama mowan: Speaking to Their Mother" (1991); Lisa Myers writes on her own series of works, entitled "Blueprints" (2015/16); and Katherine Ylitalo pens a letter to artist Mike MacDonald about his work, "Butterfly Garden" (1999). These intersecting texts all speak to the concept of horizon in divergent ways, positing these artworks as sites of inquiry, tension, reckoning and reciprocity.
No Visible Horizon, the exhibition and the publication, was supported by the Gail and Stephen A. Jarislowsky Outstanding Artist Program.

Walter Phillips Gallery


Walter Phillips Gallery

Wednesday, October 12
1:00 p.m.
Walter Phillips Gallery 
Thursday, November 24
1:00 pm 
Walter Phillips Gallery 
Wednesday, December 7
4:00 p.m.
Walter Phillips Gallery 
Friday, January 20, 2017
1:00 p.m.
Walter Phillips Gallery