Applications are now open for Spring/Summer 2024 programs. For Fall 2024 progams onwards you can sign up to the Newsletter to receive an alert when applications open.
The Application and Payment systems will be closed from the 20th December to 3rd January as part of the Institutional Holiday Closure. SlideRoom will remain open for portfolio submissions.
Questions please contact the Admissions Office or call 403 762 6180.
Program Information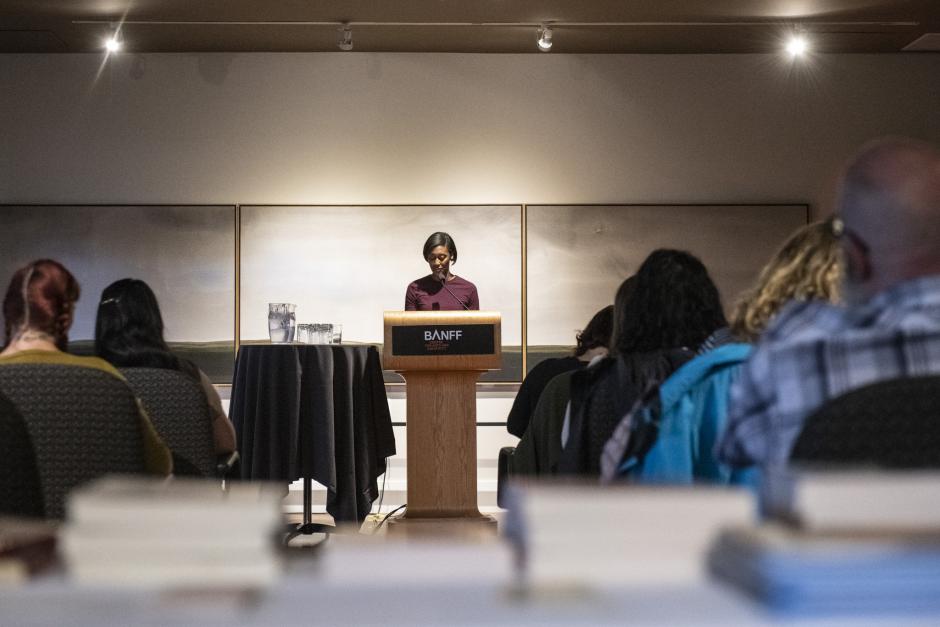 Overview
An ideal environment for artistic inspiration and growth, Writing Studio provides writers and poets with an extended period of uninterrupted writing time and one-on-one editorial assistance from experienced writers/editors. 
You'll also have the opportunity to engage with a community of working writers, work with a voice and movement coach, and to share your work at a weekly reading event.
What does the program offer?
This program is designed to offer the freedom of unstructured time for each individual participant's needs and desired outcomes. The residency also offers the opportunity to work with our esteemed faculty mentors over five weeks. 
Writing Studio also features a weekly reading series, as well as one-on-one sessions with a voice and relaxation instructor to help you develop your public reading skills. 
Who should apply?
Early and mid-stage career writers of fiction (or other narrative prose) and poetry who are seeking a period of dedicated time to develop a book-length manuscript with the guidance of an experienced mentor. This program is designed for published poets, writers of fiction, and other narrative prose.
We welcome writers from all backgrounds, and all gender identities and expressions.
Fees & Financial Assistance
Application fee: $65
*Financial Aid up to approximately 50% is available for this program. 
If you would like to be considered, please complete the Financial Aid section when uploading your supporting materials to SlideRoom.
Help fund your experience at Banff Centre! View a compiled list of national and international opportunities here.
How to Apply
Applications will only be considered for one genre of writing, i.e. either narrative or poetry.  Please note, Writing Studio does not accept applications for children's literature or screenplay projects.
Writing Studio only accepts projects that are being written in English.  
 
Adjudication
Participants are selected by impartial adjudicators on the basis of their submitted material. In addition to artistic merit, consideration will be given to the likelihood that the artist's work will benefit from the program.
Applicants will be notified of their status as soon as adjudication is complete.
Eligibility
Applicants will normally, but not necessarily, have published a body of work (a book of poetry, fiction, or other narrative prose, or substantial publication in magazines and/or anthologies). Applicants are accepted to Writing Studio to work on a book-length manuscript, which they will develop during their time in the program. The preferred situation is that the participant be already at work on the manuscript, so that material exists that can be discussed and edited.
Banff Centre is unable to offer editorial assistance to writers who have manuscripts already submitted and are in the editing process with a publisher.
Please note: Past participants of Writing Studio must wait at least one year before applying again, and should be working on a different project. Those accepted as participants to the program who subsequently find themselves unable to attend for the full program schedule are asked to withdraw and re-apply another year.
All programs, faculty, dates, fees, and offers of financial assistance are subject to change. Program fee is subject to applicable taxes. Non-refundable fees and deposits will be retained upon cancellation. Any other fees are refunded at the discretion of the Banff Centre. The application deadline is 11:59 p.m. Mountain Standard Time.